Posted 10th February 2015 | No Comments
Government calls for urgent rail supply chain strategy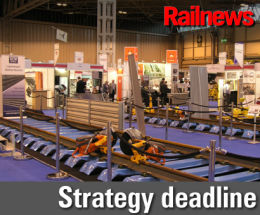 THE Government has told the newly-formed Rail Supply Group that the Group needs to have completed its industrial strategy by July.
This was revealed by the RSG's co-chairman and president of Alstom UK Terence Watson at a speech in London.
He pointed out to his audience at the Institution of Mechanical Engineers that the rail supply sector in Britain has lost much of its export markets since the 1960s, although the automotive sector has recovered from a critically low point 30 years ago to become a major exporter again.
"A car, van or bus comes off a production line somewhere in the UK every 20 seconds," he said, "and most of them are exported. By comparison, the rail supply sector in Britain is only exporting about 10 per cent of its products and services. Currently 66 per cent of members of the Railway Industry Association export from the UK and a further 10 per cent plan to do so. But some of our major overseas competitors export proportionately more. "
He believes the next decade will be crucial, with the sector needing to double its exports by 2025. It also needs to attract the best possible talent, to maintain a sustainable skills base.
He said: "Most young people have not seen the rail sector as an attractive or exciting option for a long time, although that attitude has started to change over the past three years or so."
He maintained that small and medium-size enterprises have a vital part to play, because of the energy and drive they could harness and the innovations they could make.
Mr Watson also called for the UK to become a global leader in High Speed Rail. He said: "We need to look forward. Too often the next generation trains are specified in terms of what we have now. If you had asked an engineer with this kind of attitude to specify today's trains half a century ago, they would probably have been steam-hauled."
He sounded a warning about the important of the next ten years, saying that it could be a make-or-break decade for the UK railway supply chain, which has fallen dramatically behind countries such as China and Japan in registering new patents.
His call for action follows the unveiling of a supply chain vision by the Business and Transport departments last month, when Business secretary Vince Cable said: "Britain's valuable train supply chain is renowned for excellence in an array of disciplines from train design to signal solutions. We are committed to keeping the industry on track as a global leader which is why we are creating a unique partnership through the Rail Supply Group.
"The group will work together to future proof this valuable sector through a long-term Rail Supply Chain Industrial Strategy -- creating more jobs and ensuring the UK can capture a share of the global rail market, worth £150 billion per year."
The Rail Supply Group is inviting contributions and suggestions about the shaping of the supply chain's forthcoming industrial strategy by 5 March.