Posted 27th January 2015 | 3 Comments
Thameslink is back on track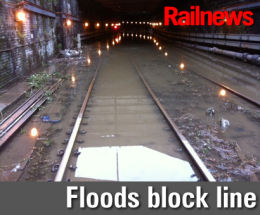 THAMESLINK trains are running through central London again today following the removal of floodwater from the Clerkenwell tunnels.
Network Rail gave the green light to operator Govia Thameslink after pumping half a million litres of water out of the tunnel, between Farringdon and St Pancras International.
The problems began on Friday when a water main ruptured, but Thames Water engineers did not succeed in repairing the damage until Sunday, by which time the double track railway was flooded to the depth of a metre. Matters were made worse by a continual flow of water into the tunnel from ground nearby which had become saturated.
Stuart Cheshire, passenger service director for Thameslink, said: "After four days of disruption we're pleased to confirm that we will be able to operate to our normal timetable. This has been incredibly frustrating for everyone and I would like to thank our passengers for their patience as well as railway staff for all their hard work."
Phil Verster, managing director London North East and East Midlands at Network Rail, added: "We have had engineers on site since the weekend, working tirelessly and continuously, to pump out over 500,000 litres of water from the Clerkenwell tunnels following the failure of Thames Water's main."
Reader Comments:
Views expressed in submitted comments are that of the author, and not necessarily shared by Railnews.
Trains back on track? better check NotWorkFails website today no trains till the end of service! how much longer is the useless organization going to be allowed to play with railway and wasting billions in the process? cant wait for HS2 to open imagine the chaos on that when 'signalling problems' rear their head! they couldn't run a bath

When one considers the billions being invested in the Thameslink Project it begs the question as to whether more should be invested in what is the most important part of Thameslink !

Likewise major station upgrades have been undertaken on the original Thameslink route and yet little has been invested in Finsbury Park Station which deserves as big an upgrade as London Bridge both on mainlines and underground creating an integrated fully accessible interchange with both lifts and escalators . Instead we have the farce that occurred over Christmas which will only happen again if nothing is done to this station.