Posted 26th January 2015 | No Comments
Thameslink flood continues to disrupt trains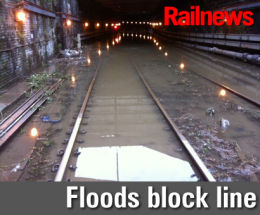 A BURST water main is continuing to disrupt services on the busy Thameslink route through central London, and Network Rail is warning that no trains will run for the time being between St Pancras International and Farringdon.
The other Thameslink routes will also have reduced services.
The problem began on Friday. Network Rail said: "A major leak was discovered in a water main near Farringdon which has flooded the railway between Farringdon and St Pancras. Thames Water has been working to fix the main, but the leak continued to flood the tunnels throughout Saturday and into Sunday."
NR added that there is still a metre of water at the site of the burst, and there are also fears that lineside equipment may have been damaged.
After water had flooded the tunnel Thameslink services were sharply reduced, with only one train in four running during the Friday evening peak.
There is no forecast of when trains can run through the section again, but there will certainly be none today (Monday).