Posted 22nd January 2015 | 1 Comment
Strategic vision unveiled for supply chain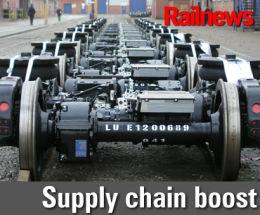 A NEW direction for the railway supply chain has been set by the unveiling of a 'strategic vision' for several thousand rail-related firms.
The announcement was made jointly by business secretary Vince Cable and transport secretary Patrick McLoughlin.
This development follows the recent creation of a Rail Supply Group which is intended to co-ordinate and encourage companies who sell to the industry. With a domestic annual turnover of more than £12 billion, the railway industry in Britain is a major market and sustains many thousands of jobs outside the 'core' railway of operators and Network Rail.
Looking ahead for the next decade, it is hoped that by 2025 the rail supply chain will have more than doubled its export volumes, attracted the best skills and talent and be a 'global leader' in High Speed rail.
In addition, emphasis is being placed on the importance of innovation.
The vision statement also confirms that over the coming months the Rail Supply Group will develop an Industrial Strategy for the rail supply chain with a clear plan of action.
Business secretary Vince Cable said: "Britain's valuable train supply chain is renowned for excellence in an array of disciplines from train design to signal solutions. We are committed to keeping the industry on track as a global leader which is why we are creating a unique partnership through the Rail Supply Group.
"The group will work together to future proof this valuable sector through a long-term Rail Supply Chain Industrial Strategy -- creating more jobs and ensuring the UK can capture a share of the global rail market, worth £150 billion per year."
He was accompanied at the launch by his colleague, transport secretary Patrick McLoughlin. His Derbyshire constituency is close to the heart of the supply chain, because the city of Derby is said to offer the largest cluster of rail-related businesses in the world.
Mr McLoughlin said: "We are investing record amounts in the UK's rail network, and other countries around the world are following in our footsteps. This is a massive opportunity for British rail suppliers to capitalise on this investment and win new business at home and abroad."
The Rail Supply Group is co-chaired by the two ministers, plus Terence Watson, the president of Alstom UK. He said "All the UK's industrial companies should be watching the rail sector closely. There are opportunities for growth not only for established players, but for digital, manufacturing, engineering and service companies of all sizes and from all industries. We need the best of the UK's talented, innovative and entrepreneurial people to help us create a truly world class rail supply industry -- and to make the UK a global leader in rail again."
Reader Comments:
Views expressed in submitted comments are that of the author, and not necessarily shared by Railnews.