Posted 19th January 2015 | 1 Comment
Eurotunnel delays continue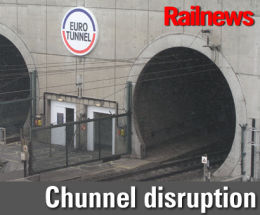 TRAINS between London and the continent are continuing to be delayed, after a weekend of major disruption in the Channel Tunnel.
The problems began on Saturday, when fire broke out on board a Eurotunnel shuttle near the French portal. Eurotunnel said a 'smouldering' load on a lorry had triggered two fire detectors at 11.25 on Saturday.
Both Eurostar and Eurotunnel services were affected by the resulting closure of the Tunnel.
Then power supply faults on Sunday continued to cause further cancellations and delays, after the Tunnel closed again for a while. Eleven Eurostars were cancelled, including six departures from London.
Eurostar said that services are running again today to both Brussels and Paris and departures from London are being advertised as 'on time', but the operator warned of delays of up to 60 minutes en route, while Eurotunnel said its shuttles could be up to 90min late.
The Tunnel opened just over 20 years ago, and fires aboard vehicles being carried on shuttles have been the most frequent cause of emergency shutdowns. The most serious disruption which was not related to a fire occurred on the night of 18 December 2009, when five Eurostars became stranded in the tunnel after snow had melted in their engine compartments.
This incident was followed by a full-scale inquiry and modifications to the Eurostar fleet.
Reader Comments:
Views expressed in submitted comments are that of the author, and not necessarily shared by Railnews.
This latest incident shows that Eurostar has still not put in place a system of alternative transport when an incident closes the Channel Tunnel.

For example why not transport passengers by Javelin trains to Dover where they could then be transported by ferry to France and then arrange for the to transfer to either a TGV or waiting Eurostar for onward transport ?

I suggest Javelins as being not part of Schengen Agreement passport checks could then be carried out at Dover instead of St Pancras International as given the fuss our present government would make allowing passengers to use eurostar trains from international platforms despite no channel tunnel would have Teresa May pulling her hair out !