Posted 16th January 2015 | 4 Comments
Report critical of Government's rail plans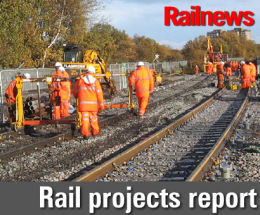 A NEW report by MPs which follows an inquiry into the Government's plans for rail has concluded that there is no clear strategic plan, that projects such as Thameslink are tending to run behind time and over budget, and that the Department for Transport has not convinced its critics that it can deliver value for money.
The report also calls for a 30-year transport plan to be drawn up. It points to the slow start experienced at Ebbsfleet on HS1, which was opened seven years ago but is only now being supported by a local development plan.
The Commons Committee of Public Accounts took evidence from senior officials from the DfT, including Rail Executive director general Clare Moriarty and the department's permanent secretary Philip Rutnam.
The Committee has also looked ahead to the development of high speed rail, and voiced concern that there had been a piecemeal approach, so that there was no DfT assessment of possible HS3 before it gave approval of HS2. This meant that no one apparently considered whether HS2 itself or improved connectivity in the North deserved priority.
Margaret Hodge, who chairs the Committee, said: ""Investment in major rail infrastructure programmes takes a long time and costs a lot of money. It is therefore hugely important to ask the right questions and make properly informed judgements on priorities. Yet the Government takes decisions without a clear strategic plan.
"The Department has still to publish proposals for how Scotland will benefit from High Speed 2, including whether the route will be extended into Scotland.
"The Department should set out a long term strategy covering the next 30 years for transport infrastructure in the UK, and use this strategy to inform decisions about investment priorities and specific investment decisions.
"We are sceptical about whether the Department can deliver value for money for the taxpayer on High Speed 2. The overall funding envelope of £50 billion includes a generous contingency, and we are concerned that this will simply be used to mask cost overspends, rather than valid calls on contingency funds."
The report, 'Lessons from major rail infrastructure programmes', has been met with an immediate response from high speed rail lobby group Greengauge21, which warns that the Committee's conclusions are 'only telling part of the story'.
Greengauge 21 director Jim Steer said: "The PAC should be aware that it is the private sector that will design, build and operate HS2, creating a much stronger UK-based rail capability in the process.
"So whereas the PAC presumes that it is for Government to deliver the development around high-speed stations, saying the work around Ebbsfleet has come seven years too late, it's much better that the private sector makes a leading contribution too. It would only add to wider project costs falling to the taxpayer if Government were to 'force' development prematurely, rather than leverage private sector investment as is now happening at Ebbsfleet.
"Of course, it is fair for the PAC to point out that there are risks in a project whose two phases have a £42 billion budget. But Greengauge 21 believes that any balanced assessment would also note opportunities too – for instance, to ensure that the planning lead time is used to ensure that the project addresses wider social and environmental objectives, as well as the primary aim of supporting balanced growth in the national economy."
Reader Comments:
Views expressed in submitted comments are that of the author, and not necessarily shared by Railnews.
A report published today indicates how Towns and Cities away from London are losing jobs. I find the interesting one is Swindon. It's lost over 6% of jobs in the last 10 years. Yet it has excellent links to London and Heathrow via the M4 and the original High Speed Rail Line to Paddington. Reading and the rest of the M4 corridor to London are booming. Does this indicate that good communications draws jobs away to nearer London, - and will that happen if and when the new High Speed 2 Rail Line is built to Birmingham and beyond ?

Best remind Margaret Hodge which party was in government 7 years ago and had been since 1997 !



The Government has no Transport Policy - full stop. Are they - and where - going to build a new Runway ? Very important to the Rail Network and any new lines. Are they just going to let certain areas quietly die - eg Liverpool and its Docks. Where are new roads and Motorways going to be build and expanded ? No plan - all piecemeal with very little joined up thinking.

Anyone would think there was an Election coming up.