Posted 9th December 2014 | 7 Comments
Court rejects legal challenge to HS2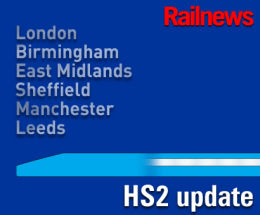 The Court of Appeal has found in the government's favour by agreeing with the High Court's previous judgment that a Strategic Environmental Assessment was not required before making safeguarding directions to protect the planned route for Phase One of HS2.
Transport secretary Patrick McLoughlin said: "The courts have once again rejected a legal challenge against HS2 as they have done on repeated occasions. The government has now won 20 out of 21 challenges to the project. The House of Commons has approved the hybrid Bill in a vote of 452 to 41. I invite interested groups to work with us to make HS2 the very best it can be, and not waste more public money on costly and fruitless court cases.
"HS2 will deliver jobs, skills and free up space on our congested network for more trains and more passengers, that is why we are continuing to press ahead with the Parliamentary process which will ensure spades in the ground by 2017."
Reader Comments:
Views expressed in submitted comments are that of the author, and not necessarily shared by Railnews.
Antis seem determined to waste more time and money, when they could actually look at the facts rather than their own pre-conceived notions about why HS2 is being built. I do believe that there can be some changes made to the project which will be of social, economic and environmental benefit. The Woodlands Trusts compiled a good report on how to compensate for the environmental damage of HS2, which I think needs to be taken much more seriously. The antis could use their time better coming up with good suggestions rather than rubbish. As of yet there has not been one single good alternative that has been provided by them.

They don't really expect to win these cases, they just want to delay and increase the costs and hope that the next government cancels it.

Agree with Melvyn, Jim & Chris! Passenger ridership is being limited by the current capacity limits. Hence HS2 is needed!

Whoever is advising these anti HS2 people seem to have very little knowledge of the way the law works, and some of these cases involve councils who should know how the legal system works !

The silence on these actions by local authorities from Community Secretary Eric Pickles is deafining despite the millions spent by local councils according to one rail magazine on these court actions .



Looking at the comments re the extra trains on the West Coast line and the lack of capacity, HS2 cannot come soon enough.
And get extra publicity out, the general public just do not understand how congested this route is.

What? They're STILL doing legal challenges?