Posted 22nd November 2014 | 15 Comments
Plan to link HS2 to Birmingham New Street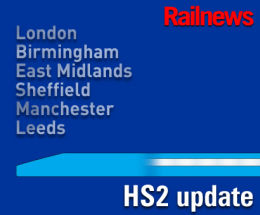 THE West Midlands Integrated Transport Authority and the Rail Delivery Group are proposing that HS2 should be linked to the existing railway in central Birmingham so that some trains could serve New Street station as well as the new Curzon terminal planned alongside Moor Street station. The suggestion has come at the same time as an independent think tank has concluded that high speed rail is a catalyst for economic regeneration.
A New Street link would mean that, after the second phase of HS2 is completed to Manchester and Leeds, cross country services to and from the South West of England and South Wales could make use of HS2 to reach destinations in the North West, North East and Scotland.
It would also mean that some 'classic compatible' HS2 trains from London could continue via New Street to Sandwell & Dudley and Wolverhampton – and even to Telford and Shrewsbury, if electrification is extended by 2026 – and also to Worcester if electrification is extended beyond Bromsgrove.
There would appear to be two opportunities to connect HS2 to Birmingham New Street – near Water Orton, or in the Washwood Heath/Saltley area. At both locations, the new railway is planned to run alongside the existing Derby-Birmingham tracks.
The idea of such a connection is disclosed in written evidence from the West Midlands Integrated Transport Authority (WMITA) to the House of Lords Economic Affairs Select Committee, which is conducting an in-depth study into the economic case for HS2.
The WMITA document includes the following statement: "It should also be recognised that HS2 Phase 2 services will also offer a faster alternative to the Cross Country services on West Midlands to Manchester and West Midlands to East Midlands/Yorkshire/Newcastle/Scotland corridors.
"There could therefore be some advantage in combining some Cross Country services into the future HS2 franchise, especially if (as proposed by Centro/WMITA, the Rail Delivery Group and others) through 'classic compatible' HS2 services are to operate from the North of England to Bristol/Cardiff via a new connection between HS2 and the existing West Midlands rail network."
More details may be given on 25 November when witnesses to be questioned by the Lords' select committee will include Chris Tunstall, Director of West Midlands Integrated Transport Authority, and Jerry Blackett, chief executive of Greater Birmingham Chambers of Commerce.
Meanwhile, a report from an academic group the Independent Transport Commission has concluded that investment in high speed rail can help to 'increase the long-term capacity of the UK's transport infrastructure and act as a catalyst for the economic regeneration of cities and regions'.
The Commission is a research charity and think tank. John Worthington, Independent Transport Commissioner and Chairman of the HSR working group whose report was published on 20 November, said: "Our research on the impacts of high-speed rail in France, Belgium and the Netherlands, has shown that, far from being a white elephant, there are very many examples where investment in HSR has been the catalyst for significant urban and regional renewal.
"This has happened when HSR has been properly integrated with the local transport network, when co-operation has been strong between all interest groups, and when cities have planned ahead and understood that regeneration is a long-term process.
"We hope that this report will act as a call-to-arms for the UK's cities and regions and will, through the lessons it contains, help them to grasp the opportunities that HSR investment offers."
Reader Comments:
Views expressed in submitted comments are that of the author, and not necessarily shared by Railnews.
An independent think tank has concluded that HSR is a catalyst for economic development - we really didn't need a report to suggest that. HSR done well can become the arteries of a country, e.g. in Japan.

The small city of Kakegawa used to lie on a Shinkansen route but didn't have a station nearby. After a station was built there it's economy improved enormously. I'm sure there are countless other examples in Japan and elsewhere in the world.

Cross Country really does need all the help it can get :)

This seems good though. HS2 is now becoming more about integrating with the current system which absolutely should happen. But what are the costs, and would it be of significant benefit to run the trains to smaller towns nearby?

The sensible solution is to simply lower Curzon Street into the ground. If the station is placed 10 to 15m subsurface in a large Stratford style box, it allows future generations the possibility to build an additional tunnel beyond Curzon Street (towards Bromsgrove and/or Wolverhampton). This could be done at this stage easily, with the extra cost of the box covered by additional development over the station. Add on some platforms on the New Street approach lines and Birmingham finally has an integrated station. The original terminus station in Bristol came to be seen as a huge mistake and ended up being replaced. Lets not make the same mistake with HS2.

This suggestion raises the question as to whether HS2 needs to become both a terminal and through station in Birmingham ?

The present plans have Birmingham as a terminal station for HS2 services which would surely affect the possibile connections from Birmingham to Leeds/ Manchester. The scheme could be built like Thameslink in London with through HS2 platforms underground linking Curzon Street to New Street and then running north to connect with stage 2 of HS2.

A similar solution has been proposed for Euston with a sub surface station with through platforms to HS1 .



As a point of fact, this concept has been around in official HS2 documents for nearly two years, if not more.

For example, see the map on page 9 of "High Speed Rail:
Investing in Britain's Future – Phase Two: The route to Leeds, Manchester and Beyond" published in January 2013.

I for one had been wondering when it would reappear in the debate.

Not as smart as it seems. The two main ideas of HS2 are to abstract the maximum number of passengers between London, Birmingham and the major cities of the North from classic lines, and to eliminate 80% of internal air travel, eventually, by extending to Scotland at 200 mph. Keeping the HS lines segregated and using "off the shelf" Continental Loading Gauge trains is intended to maximise reliability and minimise the number of expensive "classic compatible" trains to be purchased. Curzon Street would be much improved by being put far enough below grade for an eventual extension to Bristol and Cardiff, bnut running more relatively short distance classic compatibles onto the HS2 track is a typical silly British compromise, which will likely make running 18 trains an hour reliably down the Birmingham Interchange to Old Oak section impossible.

If press reports in the Daily Telegraph this weekend about the demise of the redevelopment of London Euston are true, then another link, between HS2 at Old Oak Common and Clapham Junction, would be an excellent alternative for the southern end of the HS2 scheme.

A Clapham/HS2 link would reduce platform capacity needed in the capital, as trains can run through London onto conventional lines to Gatwick Airport and the South Coast, serving Brighton, Lewes, Hastings, Portsmouth, Southampton and Bournemouth.


It has always seemed a ridiculous idea to have a separate station for HS2 - HS2 needs not only the through connections, but also the main service needs to terminate at New Street for connectivity. Curzon Street station has the potential for becoming a grandiose folie brought about by a pompous council with more money than sense.

This connection has been proposed by a number of parties for 2-3 years. It would not alter the fact that the HS2 Curzon St station would still be a terminus and would be inconvenient and time-consuming to access for all users arriving at or seeking trains from New Street (including the heavily used Cross-City service). For all of them, a long walk through the ugly concrete bus route tunnel under the Bull Ring will still be necessary. There would still be two separate main stations in the city. And the outer end of the HS2 platforms will be 1 km from New Street. The WMITA proposal also assumes that the route from Birmingham to Plymouth will be electrified.

However, once this principle of a connection is conceded, the next step is to press for the Curzon St station to be built with through platforms, on the lines of the 'Grand Central' station proposed by Arup in 2007. It makes no sense to have the four tracks from Proof House into New Street running alongside Curzon St station with no platforms.

'Grand Central' also allows the expensive 'Camphill Chords' at Bordesley to be dumped. These are a Centro idea for which the economics are very poor. The money saved (£300 million) could be much better spent on the extra costs of making Curzon St a through station.

It emerged at the Select Committee hearing in September 2014 of Petitions opposing the Washwood Heath HS rolling stock maintenance depot that the 6 (8?) platforms in the Curzon St 'terminus' will actually be used in part for turning round empty trains running to and from the depot, as access will only possible from its western end. This is a poor reason for devoting so many platforms to HS trains and wastes expensive trackage. 'Grand Central' proposed 14-16 platforms which is perfectly feasible.

Railnews supported 'Grand Central' in 2007-08 and criticised the Birmingham City Council blocking of it. It would be good if this new initiative from WMITA could be picked up by 'Railnews' as a starting point for a larger station at Curzon Street with through platforms.


To Chris Neville-Smith, a number of connections - including one between HS2 and the Derby to Birmingham line in the Saltley corridor - were suggested in the submission I sent to those undertaking the consultation process on phase 2 of HS2 last January.

I also suggested that the alternative HS2 route developed by hs2 Ltd through Derby should be adopted; if portion trains were then run (as some HS1 services are) its possible to serve Derby, Nottingham, Chesterfield, and Sheffield Midland by direct trains, using the classic network north/east of Derby. The direct London - Sheffield journey time using HS2 to Derby then the MML north is faster than with a change at Meadowhall.

A further junction should be constructed at Walton (near Hare Park Junction); this allows Wakefield to be added to the high speed network, and there's no reason as to why trains couldn't be extended beyond Leeds to Bradford or Harrogate.

Finally, if a connection is constructed between HS2 and the Leeds - Selby line in the Garforth/Micklefield area, a high speed service could run between London and Hull; it sounds a long way round, but the potential journey time is about an hour better than that provided at present by Hull Trains from King's Cross.

The ITC report is interesting; most of their analysis has been of established city centre stations, and the vast majority of them are served by high speed trains extended over classic infrastructure beyond the new, high speed railways (and some - Uttrecht and Paris Austerlitz, for example - aren't even served by high speed trains). But the message seems to support conclusions found by a German consultancy called Civity; high speed railways give the best results when the trains which use them go beyond the new infrastructure. In other words, what has been done here in the UK with southeastern highspeed.

Looks as if we are going to have a north-south divide with high speed as well as with everything else! Based upon Civity's findings (and the French Court of Auditors) high speed rail perfoms best when distances are over 300km, but we seem to have developed a product with southeastern highspeed which works well over much shorter distances; so why can't we try to replicate the success of this service - which only uses HS1 as appropriate - north of Watford?

Why aren't we "tweaking" the basic design of HS2 so that the majority of the people who live in the English Midlands and North can benefit from having DIRECT high speed trains to London?

As it can be done, why are the benefits of HS2 just being given to a chosen few?

Fully support the idea. Cost would be negligible and the value of keeping open options of through services to the south west is worth it many times over.

My only complaint is why it's taken so long for someone to suggest this.

It is a really brilliant idea to link HS2 into New Street. Not only could cross country trains from Bristol, Plymouth Southampton and Reading have faster services to Leeds and Manchester, but HS2 trains from London could go on to serve Walsall, Wolverhampton, Telford and Shrewsbury bring the full benefits of HS2 to those towns and a better return on the cost investing in HS2.
HS2 has already been connected into the main station at Leeds rather than a stand alone station that would reduce the number of people making onwards journeys, let us now do this at Birmingham.

If we can stick a Thameslink station in a tunnel under St Pancras, why can we not stick the Birmingham HS Station in a tunnel under New Street with all of the associated passenger interchange benefits ?

This connection seems to make a lot of sense and As the proposed Central Birmingham HS2 station is to be adjacent to the current route into the eastern end of New St. It must be relatively straightforward if adopted now at the design stage. It would also enable other parts of the country to benefit from high speed rail.

This is an interesting development, appearing to be the start of a switch of emphasis towarde Very High Speed ( VHS ) infrastructure being integrated with the existing network rather than a separate provision.

I'd be interested to see people's ideas on possible implications of this.