Posted 1st October 2014 | 2 Comments
Major safety concerns highlighted by Network Rail chief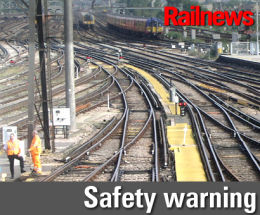 THE current level of workforce safety "is simply unacceptable" – according to chief executive Mark Carne.
Writing exclusively in the October edition of RAILNEWS, Mark Carne tells employees: "Safe behaviour is a requirement of working at Network Rail. ... My message here is clear and stark – if you insist on working unsafely, then you have no future role at Network Rail."
He explains: "Over the last five years, 10 of our employees or contractors have lost their lives in work-related accidents. In 2013-14 there were three fatalities and 122 major injuries, an increase of 17 per cent on the previous year.
"These accident rates have been remarkably stubborn over the past few years, which is why we need a fresh approach that puts safety back at the heart of what we do and the mindset we have."
Compared with other 'safety critical' industries, Mark Carne says Network Rail's current level of workforce safety "is simply unacceptable" – being in the region of 10 times worse than in the oil and gas industry.
Ironically, it appears some of worst safety incidents have occurred while staff have been driving to or from railway locations. As a result Network Rail has now banned the use even of hands-free mobile communications, and is also giving special attention to staff breaking speed limits.
Mark Carne writes in RAILNEWS: "Using hands-free while driving is more dangerous than being under the influence of alcohol or certain drugs. Nearly half of the fatalities in our industry have been whilst driving.
"Speed has also been a significant factor and thus we are now clarifying the consequences of excessive speed. If we want everyone home safe every day we need to lead the way in removing the risks associated with driving."
Highlighting safety risks on the rail infrastructure itself, Mark Carne declares: "Almost half of our slips, trips and falls, some of which are serious workforce injuries resulting in broken bones and dislocated knees, happen within a few hundred metres of our people going on to the railway by tripping over the rubbish left behind from previous jobs.
He adds: "The rubbish has to go. The left-over railway components have to go. The waste rail has to be recovered. The buddleia has to be cut."
In its health and safety report for 2013-14, the Office of Rail Regulation states: "We are determined to see better workforce safety. Network Rail's record is poor compared with other sectors, including other parts of the railway industry and we expect a major improvement.
"We will continue to work closely with the company and enforce changes where necessary to ensure that this is effectively managed. We are saddened to report on the deaths of three mainline track workers this year. We welcome the focus of Network Rail's new chief executive on prioritising worker safety over the coming year. Leadership is critical to securing better safety standards. Safety culture remains key."
Reader Comments:
Views expressed in submitted comments are that of the author, and not necessarily shared by Railnews.
Well done Network Rail, youre leading where others should follow,now just brand ALL Network Rail road vehicles eg cars,so we know who to report speeding drivers to, not just the van and lgv drivers.

Speeding kills people, and you still get paid if you drive at legal speeds