Posted 18th September 2014 | 3 Comments
No railway plan if Scotland votes for independence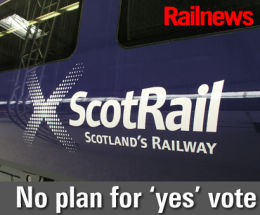 RAILNEWS has been told that the Department for Transport has no contingency plan for the railway industry if the Scottish people vote in favour of becoming independent today. The admission has come from a transport minister.
There are numerous unanswered questions about how a division of the United Kingdom would affect the railway, including the management of border security and its implications for operators as well as passengers, the position of Network Rail and how the reclassification of Scotland as a separate country could have an impact on rolling stock leasing.
Railway suppliers are also concerned about how a 'foreign' Scotland would affect them, particularly the large concentration of railway supply chain companies in Derby. Those with Scottish customers could then become exporters, but if Scotland does not succeed in its bid to become a standalone member of the European Union, cross border transactions could become vulnerable to new tariff regulations.
Although there are are many potential changes on the horizon if Scotland votes 'yes', the Department for Transport has not prepared a 'Plan B', according to rail minister Claire Perry.
She told Railnews: "There is no contingency plan. There might be some secret proposals in a box somewhere, I suppose, but if there are I haven't seen them."
As Parliamentary Under Secretary of State, Ms Perry's railway responsibilities include franchising and fares, commercial matters, major projects, freight, transport agencies and regulation.
Reader Comments:
Views expressed in submitted comments are that of the author, and not necessarily shared by Railnews.
It was the Governments policy not to plan for Scottish Independence; this extends across all departments and agencies - so the task would far bigger than implied.

Contracts would continue as currently defined until alternative arrangements are made or other changes make them invalid. So there would be a monumental task ahead for all concerned.


Surely is Alex Salmond responsibility to have plans in place for a yes vote , given how most Scottish rail services are already devolved to Scotland .

One interesting point would be if Scotland signed up to Schengen Agreement would be if direct services to Europe could operate without stopping in England ?






I presume that all 'Inter-Country' trains from Scotland will have to have seperate platforms behind security fences at Glasgow and Edinburgh as is common throughout Europe - and as it used to be at Waterloo for Eurostar trains. All passengers will need Passports checked before departure. Terrorism and illegal Immigration will be the reasons unfortunately.