Posted 11th September 2014 | 2 Comments
Southeastern franchise extended by direct award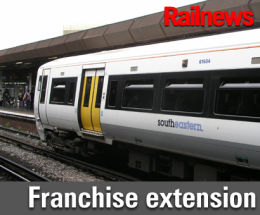 THE Southeastern franchise has been extended until June 2018 by a direct award from the Department for Transport. The new contract includes a commitment to spend more than £70 million on improved passenger information systems, additional staff and maintenance of stations and trains.
Rail minister Claire Perry said: "I know passengers on this route haven't always received the service that they deserve, which is why I am absolutely determined that today marks a fresh start for the Southeastern franchise. This decision has been taken after careful work by the Department for Transport with Go-Ahead Plc, to ensure that the franchise can genuinely improve its services against a challenging backdrop of vital improvements to the tracks and stations on which their trains operate.
"Given these challenges, we believe that continuing the franchise rather than entering into a new one at this point will provide passengers with the best service for the next three years as well as offering the best value to all of us who help fund the railway through our taxes.
"But I am determined that through this contract passengers will get more seats on improved trains, better journey connections, upgraded stations and overall more focus on their needs in London and the South East with the change starting from today. My job, and the job of the Department, is now to make sure that Southeastern delivers."
Some of the benefits include more than 95,000 extra seats, including 1,000 extra seats on Southeastern's high speed Javelin services to London St Pancras. A new hourly high speed service will be run via Gillingham, Ramsgate, Dover and Ashford, and Snodland, Martin Mill and Walmer will be served by Javelins for the first time. There will also be a new peak hour Hastings Business Express service, which will be 10 minutes quicker than the existing services. This news follows growing pressure in the area for the Ashford to Hastings line to be electrified for Javelins.
Oyster smartcard ticketing will be extended to Dartford and Swanley, and on the Javelins to St Pancras. Southeastern is also one of the operators managing services at London Bridge, which is currently being rebuilt for the Thameslink Programme.
Southeastern is run by Govia, a consortium of Go-Ahead Group and Keolis. Go-Ahead chief executive David Brown said: "We're looking forward to delivering these plans and are wholly committed to improving performance and services for customers and our local communities. New managing director David Statham will be joining next week and will lead the company through this mission. We're proud of our team at Southeastern and know they're ready to take on the challenge of supporting our customers through the major Thameslink upgrade work."
However, some are less happy. Labour shadow transport secretary Mary Creagh responded: "Long suffering Southeastern passengers, whose franchise is rated the worst in the country, face four more years of misery because of Tory incompetence on rail franchising, which has already cost taxpayers more than £50 million.
"This franchise extension stands in stark contrast to David Cameron's rush to sell off the East Coast line, run by a not-for-profit public operator which will have returned over £1 billion to the taxpayer by April 2015."
Martin Abrams of the Campaign for Better Transport said: "Today's announcement comes with a welcome promise of service improvements, but the fact remains that Southeastern have been given a four-year extension despite having more dissatisfied passengers than anywhere else on the network. Passengers deserve more clarity in how decisions are being made and should have a bigger say in who runs their trains."
The RMT's acting general secretary Mick Cash added: "This is a reward for total and abject failure which speaks volumes about the racket which is rail privatisation. No matter how badly these private train companies let down the travelling public they can still rely on the government to protect them and the fat profits and subsidies they are robbing from the rail network.
"With even the minister accepting that this franchise has been a disaster for passengers it is scandalous that the publicly-owned option was not even considered. Passengers can expect more meaningless drivel about improving services while in reality fares continue to rocket and jobs and safety are threatened in the drive to continue milking the Southeastern routes for every penny that can be extracted."
Reader Comments:
Views expressed in submitted comments are that of the author, and not necessarily shared by Railnews.
I think there is a major failure in these contract extensions in that they have not addressed wild-cat strikes. These new contracts must require companies to introduce no-strike clauses so that the agitators can be jailed.