Posted 18th July 2014 | 9 Comments
Crossrail operator named by TfL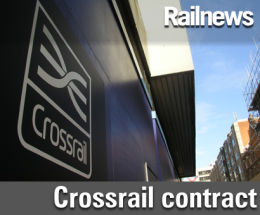 TRANSPORT FOR LONDON has announced its intention to award the concession to operate Crossrail services to MTR Corporation (Crossrail) Limited. The £1.4 billion contract will be for eight years, with an option to extend to ten years.
MTR operates the Hong Kong metro and is also a partner with DB on the present London Overground concession. The operator is expected to employ around 1,100 staff for Crossrail, with up to 850 new posts. The jobs will will include almost 400 drivers and over 50 apprenticeships for people from communities along the route.
TfL said Crossrail will be 'fully integrated' as part of the TfL network. Crossrail stations will be integrated with existing London Underground, DLR, London Overground and National Rail stations.

London Underground and London Rail managing director Mike Brown said: "Appointing an operator is a huge step towards the new railway coming to London. The decision to appoint MTR was reached after a thorough and competitive procurement process and we look forward to working with them to transform rail services in the capital. Crossrail will help cut journey times, make it easier for people travelling across the city and create jobs and support growth and regeneration along the route.
"As our population grows faster than any other European city, the case for stable and sustained investment in London's transport network has never been stronger."
The Mayor of London Boris Johnson, said: "As hardworking engineers beaver away underneath our feet on the final construction of Crossrail's tunnels, we are putting the final pieces of the jigsaw puzzle together above ground. I am delighted that we can now announce the new operator of this landmark railway, bringing it one step closer to welcoming passengers aboard. Crossrail will revolutionise east-west transit in the capital, making London an even more attractive place to visit and invest. As has been the trend throughout this project, many hundreds of additional jobs will be created for local people, with MTR expected to employ around 1,100 staff including almost 400 drivers."
Transport secretary Patrick McLoughlin said: "This is great news for passengers across the capital and marks a significant milestone in the project. Crossrail will provide a better and faster service for millions of commuters and will help create up to 30,000 additional jobs in central London by 2026.
"Crossrail is a part of our long-term economic plan and one of the many rail infrastructure projects benefitting from record levels of Government investment. Together with Thameslink, investment in rail in the north and a major electrification programme we are creating jobs, boosting business and generating lasting economic growth across the UK."
MTR's chief executive officer Jay Walder added: "MTR and TfL are recognised as two of the world's leading railway operators and we are delighted to have the opportunity to bring our worldwide capabilities, experience and knowhow to Crossrail, which is truly a 21st century railway for a 21st century London. Crossrail's success will be finally realised through pioneering and sustaining a culture to deliver world class performance. We will work passionately, with TfL, to achieve this as we have in Hong Kong and our international operations, including the highly successful London Overground service."
MTR will start running services from 31 May 2015 between Liverpool Street and Shenfield, taking over the stopping services currently operated by Abellio Greater Anglia and using the existing trains. New trains to be built by Bombardier at Derby will start to enter service from 2017. The route through Canary Wharf, the City and the West End is scheduled to open in late 2018, with the full service between Shenfield and Abbey Wood in the east to Heathrow Airport and Reading in the west set to start in late 2019.
Reader Comments:
Views expressed in submitted comments are that of the author, and not necessarily shared by Railnews.
Guy, London: "I don't see what the naysayers have against MTR".

The answer is simple: MTR is majority owned by the Hong Kong government. This is not a charitable exercise for them; profits will be repatriated for the benefit of HK taxpayers and HK metro commuters.

The fact that large parts of the UK railway system is gradually being nationalised (but by foreign governments rather than our own) blows apart the entire rationale for privatisation. What we are 'naysaying' to is the flogging of our vital strategic national assets to be bled dry.

@Karl. Totally agree but the UK Government and EU Transport Commissioners have to keep plugging away at the government in Paris, to persuade them to open the door to non-French companies.

@MikeB: While the French market may indeed be closed by the state, there are plenty of examples of British companies operating trains and buses elsewhere in Europe.

Arriva, which was a British-owned group prior to its takeover by Deutsche Bahn, owned a number of train and bus operators in Germany, Denmark, the Czech Republic and Poland. First Group was part of a recently collapsed joint-venture operator for the Oeresundtog concession (trains running across the Oresund between Denmark and Sweden). National Express owns one of the largest Spanish coach operators, ALSA and, if I remember correctly, it is also a shareholder of Eurostar. Stagecoach also used to own ScottURB, a large bus operator in the suburbs of Lisbon.

As you can see, British companies have been quite successful at operating services in Continental Europe. Just not in France...

[I don't think NXG is still a shareholder in Eurostar following E* restructuring, but NXG has won one German rail franchise and is bidding for another.--Editor.)

Politicians in this country have long been proud of the fact that we have an "Open Economy" whereby foreign companies (private or state-owned) are welcome to bid for contracts within the UK. I do not know whether any UK-based companies have been successful in bidding for railway-related contracts in Hong Kong or any other part of China but it is a fact that the French transport system, is still a closed door to outsiders. Consecutive governments have continually failed to assist British companies to penetrate certain foreign markets, such as France. Unless they do start giving meaningful support to British companies, we could see a time when all our rail services (passenger and freight) are operated by foreign companies.

One thing puzzles me about TfL's involvement in the contract. A substantial part of the Crossrail operation will run outside the Greater London boundary- perhaps some 18 miles or so to Reading from West Drayton (the current boundary of TfL responsibility and pricing with Oyster Card etc) and to the east into Essex. So is this to follow the Watford Junction model of London Overground, i.e. a line outside Greater London where The Mayor is ultimately in control of the service through his chairmanship of Transport for London? Or are those parts of the service considered private franchises, rather than publicly-owned as London Rail and London Overground, for the moment remain. I can imagine commuters and users outside the London boundaries might have concerns about pricing and fares as a result of this.

MTR is undoubtedly a qualified and good operator of urban and sub-urban services. But the question has to be asked; why in both the case of CrossRail and London Overground, do there seem to have been no suitable British companies to run the service?

One point that comes to mind is that TfL does not seem to have it's own internaltional services unit. Given it's international reputation I would have thought that TfL, like Network Rail, would offer it's expertise overseas as well.

MTR has been running the Hong Kong Metro very well for a long time.

They've cut their teeth on UK Heavy Rail by running LOROL and now they've been selected to run Crossrail.

I don't see what the naysayers have against MTR.

I can't say I'm too pleased about this. They're a fairly new operator and they're a foreign company. I would have thought Serco would have been a better choice as they are a British company and they've operated the DLR services for so long.