Posted 27th June 2014 | 4 Comments
National Express keeps c2c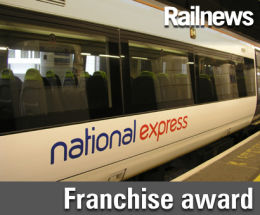 National Express Group has won a new 15-year franchise to operate Essex Thameside, which is currently branded c2c.
The company said it was 'delighted'.
NXG has contracted to pay £1.1 billion in premiums, and also to enlarge the fleet with 68 vehicles. The existing Class 357s will be 'significantly upgraded', while £33 million will be invested in stations, which will become completely step-free.
An extra 438 services will run from December 2015, and by the end of the franchise there will be 25,000 additional seats in the morning peak every week. Free wifi will be available on trains and stations.
The franchisee is also committed to a new 'Personal Performance Promise' that will provide automatic compensation for delays over two minutes for registered users.
A new Passenger Charter will guarantee a right to be sold the cheapest ticket, detailed personalised travel information, service performance reports and a commitment that every station will be staffed throughout traffic hours. There will also be new types of ticket, including flexible seasons, discounted advance fares and smartcards.
NXG chief executive Dean Finch said: "I am delighted that we will continue to serve the people of East London and South Essex for another 15 years. National Express is very proud of our record on c2c, transforming it from the 'Misery Line' into consistently the best performing railway in the country.
"We have listened to our customers and local stakeholders and we have challenged ourselves to be at the forefront of innovation. We have identified where to invest to enable c2c to be truly tailored to meet customers' needs and to pioneer new levels of service not seen in UK rail.
"We believe our ambitious plans will transform the franchise again. We will introduce more services, new trains and a ground-breaking Personal Performance Promise. Our ambition is for c2c to stay at the forefront of reliability and punctuality but also set new standards for customer service. Today's announcement is good news for passengers, taxpayers and shareholders alike."
The franchise will start on 9 November and run until 2029.
The award keeps National Express in the rail business in Britain, although it has won a German franchise and is bidding for others here.
Reader Comments:
Views expressed in submitted comments are that of the author, and not necessarily shared by Railnews.
The news that extra trains will be introduced is most welcome and should allow longer 8 carriage trains to operate on trains on Tilbury loop services where platforms have been extended but lack of rolling stock at peak times has prevented longer trains .

One other change from December 2015 is news that weekends will see a regular service from via Stratford to Liverpool Street thus creating a link to Westfields shopping centre at Stratford and better underground connection at Liverpool Street .

News that C2C will become the first fully accessible network will only help the disabled but many other people who have problems using stairs and demonstrates how out of touch Boris Johnson is with his failure to continue his predecessor Ken Livingstone plans for better tube access.

Full details including a route map showing what's proposed at each station can be found on DFT website.

These franchises are far too long. If mistakes have been made they will be locked in for far too long. In a few years time they could be making huge amounts of money and the DfT won't be able to claw any of it back or secure any extra investment.

Automatic compensation for delays over 2 minutes is ridiculous. Surely 5 minutes would be reasonable, passengers getting on trains slowly can easily delay a train when they have luggage etc, not to mention people trespassing on lines. I'll be watching this one with great interest. Hopefully, it won't be catching on elsewhere where demanding timetable schedules at complex junctions can mean knock on effects on other trains when things that are out of the hands of the railways can go wrong.