Posted 27th March 2014 | 4 Comments
Direct award extends Northern franchise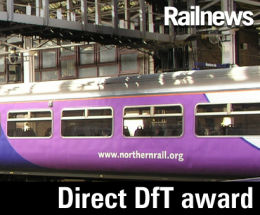 THE Department for Transport has revealed some of the terms of a new Direct Award to Abellio and Serco which will extend the Northern franchise until February 2016.
The timing of the award is in line with the franchise programme published by the DfT last year, and has been co-signed by the five Passenger Transport Executives in Northern's area.
Northern Rail managing director Alex Hynes welcomed the news. Northern has agreed to make various improvements, including better facilities for ticket purchase, greater availability of tickets for advance travel, more effective information systems which include display screens at a further 100 stations and some new environmental initiatives.
Northern said it will also continue to work with the DfT on the introduction of electric trains as these are cascaded from the south east.
Alex Hynes said the agreement had been 'shaped by the current period of economic austerity and the Government's ambition to reduce the cost of rail for taxpayers', although no financial details have yet been released.
He continued: "The next 22 months is about being more efficient and more effective, seeking and delivering new ways of working. That doesn't mean taking short cuts or risks. It's about achieving a balance: delivering a safe and improved service in a new way: doing more with less.
"We're already delivering enhancements across our network; our services are more punctual and reliable, and the commitment is there to drive further efficiency with our partners. Crucially today's announcement gives us the opportunity to start consulting with all our stakeholders on the requirements for creating a step change in rail services for the North under the next long term franchise."
David Stretch, Serco's managing dfirector for transport services, said: "Serco has a strong track record of providing high quality rail services in the UK and internationally. We are delighted that the strong performance of our partnership with Abellio, and focus on doing the right thing for our passengers, has been recognised with the award of this new contract. This is down to the commitment of our team at Northern Rail who work tirelessly to provide an excellent standard of service across the north of England. We look forward to continuing to work alongside Abellio, the PTEs and other regional stakeholders to help drive improvements and greater efficiencies – benefiting both our fare-paying passengers and the taxpayer."
Dominic Booth, Abellio UK's managing director, commented: "We've been negotiating very hard with the Department for Transport to secure the best outcome for Northern's passengers. With our Joint Venture partner we will now be working hard with the Northern Rail team to bring the benefits of the extension to passengers safely, quickly and efficiently. During this time our focus will also be on determining the long term rail requirements of the next franchise. This represents the real opportunity to create a rail service that will drive and sustain the socio-economic prosperity of the North of England."
Shadow transport secretary Mary Creagh said: "This direct award is the result of this Government's rail-franchising fiasco, which has already cost taxpayers more than £50 million. Labour will be holding the Government to account. Passengers struggling with David Cameron's cost-of-living crisis must not pay the price for the Government's incompetence through higher ticket prices and worse train services.
"Passengers will want reassurance on fares and timetables, particularly following Ministers' mismanagement of the TransPennine Express franchise extension which means the number of trains may be cut in April 2015."
When Northern was created ten years ago there were expectations that the DfT would seek to economise by trimming its network, but in fact the operator has seen a 47 per cent growth in passenger numbers since then, with 94 million journeys made last year. Its annual PPM, expressed as a 'Moving Annual Average', has risen from 83.7 per cent to 90.9 per cent.
Reader Comments:
Views expressed in submitted comments are that of the author, and not necessarily shared by Railnews.
(yet)another useless TOC given an open cheque book of Government subsidies Northern have the worst rolling stock and service one drop of rain or a puff of wind,they collapse oh and good luck with the 319s you are more than welcome to them

I must say, although I know it's a bit more complicated than the transfer of 170s ftom Transpennine to Chilterns (there's a three-way swap going on for Thamslink to northwest, northwest to Transpennine and Transpennine to Chiltern), I do find it ironic that the county than has complained the most that there's no capacity crunch on the railways (and everyone uses cars anyway and the internet is replacing the need to commute and northern cities would be better serves with local trains rather than the new line they don't like etc. etc.) don't seem to have any objection over taking trains away from the north for their own benefit.

All very well, but we MUST HAVE MORE CARRIAGES IN THE NORTH, and currently the system is skewed to benefit the fat-cat south-east. It is a true obscenity that a whole tranche of diesel cars is to be transferred south shortly. What are northern MPs doing about this? They should be yelling their heads off in rage. (And actually ALL MPs should be so doing because of the cheer unfairness of it.)