Posted 12th March 2014 | 4 Comments
DRS unveils new Class 68 diesel in Crewe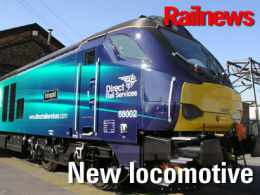 A NEW Vossloh locomotive has been formally unveiled by Direct Rail Services at its depot in Crewe.
DRS ordered 15 EuroLight UK machines in January 2012 for a reported €70 million, and the first arrived in Britain in January, with trials starting on the British network last month.
The 160km/h (100mph) Class 68 locomotives will be used for a variety of purposes, including spot hire to other operators as well as intermodal work.
The fleet is being built at Valencia in Spain and is arriving in Britain via Southampton, after being brought to this country by ship.
Reader Comments:
Views expressed in submitted comments are that of the author, and not necessarily shared by Railnews.
Bi-modes (didn't we used to call these Electro-diesels?) are surely the way forward, but for a rail enthusiast such as myself, will never ever compare to the likes of English Electric's products! Somehow a Class 66 or 68 at full chat dosen't stir the senses like a Deltic blasting through Doncaster or double or even triple-headed Class 37s on Llanwern ore trains used to! I think I finally understand how my dad fealt at the end of steam, when I look at todays technologically advanced, eco-offerings that seem to have all the character and appeal of a caravan site.

A second thought to add to my earlier one. Why are Bo-Bo locos being built, both 68s and 88s? Have they learned NOTHING about adhesion problems on wet rail on gradients in this country?

More and more diesel locos pouring into Britain with only 10 Class 88 bi-mode engines having been ordered despite the electrification programme. Yet it is bi-modes which will in the end be needed. When are we going to get mentally up-to-date?