Posted 28th February 2014 | 7 Comments
TfL prepares for driverless tube with new trains order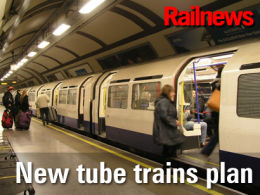 TRANSPORT FOR LONDON has unveiled plans to buy 250 new tube trains for the Bakerloo, Central, Piccadilly and Waterloo & City Lines. They may be able to run without drivers -- although no decision has been made, with TfL saying only that the new trains would be 'capable of full automation'.
Some of the fleets which the new air-cooled fleet will replace go back to the 1970s, although the Central and W & C trains only date from the early 1990s.
TfL has dubbed its procurement plan as 'New Tube for London', and said that the new fleet would boost capacity by at least 25 per cent and as much as 60 per cent on the Piccadilly, which serves all five terminals at Heathrow Airport. The increased capacity will also be essential as the population of London continues to grow.
TfL's subsidiary London Underground Ltd was placing a notice today with the Official Journal of the European Union, seeking expressions of interest in building the new trains. A formal Invitation to Tender is expected in early 2015.
The Mayor of London Boris Johnson, said: "This vital modernisation of our trains and signalling will ensure an even more comfortable, frequent and reliable service for hardworking commuters and visitors to the capital. Much like our Victorian forebears, we will make what was once thought impossible possible when 250 brand-new, air-cooled, walk-through trains are introduced to the network. This is a hugely important step in the continued evolution of our world-famous Tube and one that will see an iconic new fleet of trains to keep London and its economy moving."
LUL managing director Mike Brown added: "New walk-through, air-cooled trains are already running on the Circle, Hammersmith & City and Metropolitan Lines and will soon be on the District Line too.
"However, we can't stand still and must continue to invest to meet the needs of London's rapidly growing population. Alongside modern signalling, these new trains will modernise and drastically improve capacity, allowing us to run more frequent and reliable trains, faster and closer together.
"Working with the rail industry, we want the New Tube for London to encompass the very latest technology as well as respecting our design heritage."
Reader Comments:
Views expressed in submitted comments are that of the author, and not necessarily shared by Railnews.
Walk-thru trains - great!

I would have thought that in a fully automated system, "dead end tunnels" - and other fixed points - are easier to account for than other moving trains, and these are not seen as issues on stretches of line which are already safely automated (e.g. the Victoria Line, if I am right*, or the DLR). The fact that disasters such as the one at Moorgate sadly happened also serve as a reminder that human operation is not infallible.

I do, however, see the need for personnel on-board the train. The Unions should pick their battles accordingly. They already have a reputation for bleating about "safety" as a way of justifying strike action, and if they focus on hyping up some of the issues with automation in the same way then they risk being dismissed for crying wolf too many times. Where there exist legitimate concerns, such as the need for personnel, then these should be expressed clearly and fairly, without being clouded by other issues.

(*You are quite right, and the Victoria has been automated for normal running since the first section opened in 1969. However, a fully-qualified driver remains in the cab, although the actual job mostly consists of monitoring the doors and pressing two buttons to start the train.--Editor.)

c, London, you are correct there are ove-run tunnels at Elephant.

Melvyn, i think you are doing a great injustice to London Underground. This is a press relaese, not a detailed case study! When the latter is published, then it would warrant more detailed inspection and comment.

And Bob Crow? if someone buys the wrong tea bags he gives out, so as far as I am concerned, his posturings are pointless and no way intended to satisfy public views or needs.

I thought the Bakerloo tracks went on down Walworth Road rather than a dead stop?

Having just read the notice on the TFL site it seems that TFL simply plans to order new trains for Bakerloo , Central, Piccadilly and Waterloo And City lines with no mention of whether driverless trains will be suitable for all the different types of route these lines operate over. For while the Victoria Line largely operates in tube tunnel the other lines run in tube tunnels, sub surface, on viaducts and even share sections of track with sub surface and even overground trains !

Yet instead of looking starting by looking at the network and more importantly section like the highly curved Central Line at Bank and whether even a case to transfer sections of route to separate operation the plan simply talks of 100 trains for Piccadilly Line...etc

And what of stations for it mentions running more trains on these lines but as former tube chief Tim O'Toole said on an earlier TV series about the tube " it's no use running more and more trains if stations can't empty of passengers delivered before next train arrives!" And given the number of stations where passengers have to trudge up and down stairs at platform level surely this needs to be dealt with first?

On BBC London local news Bob Crow said he would be talking to ASLEF as he thinks not having a driver at the front poses dangers to passengers and raised the important point is where is train captain going to be and how will they get though to front if an incident arises ?

As for Bakerloo Line well that currently ends with dead end tunnels so could trains be trusted in light of the Moorgate disaster to stop every time !

Boris has already wasted millions on useless vanity buses so someone needs to call a halt to wasting money on trains that are not suited for a system a century old.

The Waterloo & City is an obvious candidate for full automation.