Posted 20th December 2013 | 10 Comments
Britain has 'best major rail network' in Europe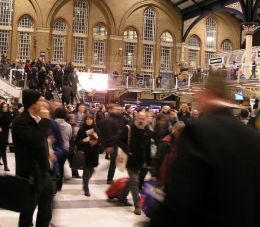 A SURVEY of railway passengers in the European Union has concluded that more passengers in the United Kingdom are satisfied with their rail journeys than in any other country, with the sole exception of the small system serving Finland.
However, Finnish trains only carry some 67 million people annually, which the Rail Delivery Group pointed out is 6 million fewer than the passenger total each year at London Victoria alone.
British railways are often reported to be carrying more than 1.5 billion people annually, but this figure is inflated by around 17 per cent because ticketing databases count each operator involved in a journey, and the actual number of passengers is more likely to be about 1.28 billion, a figure which is still approaching some of the busiest years before the Second World War.
The survey, which covered all 26 EU countries with a railway system, concluded that passengers elsewhere in Europe are usually less happy. The percentage of passengers giving a 'high' or 'good' rating was 80 per cent in Finland and 78 per cent in the UK, where nearly all the railways are in England, Scotland or Wales, with the rest in Northern Ireland.
By contrast, the figure for both Belgium and France was 74 per cent, the Netherlands 67 per cent and Germany 51 per cent, where recent staffing problems and disruption to services may have affected the responses. In Poland and Italy only 39 per cent of rail users were satisfied.
The survey of over 26,000 Europeans by the European Commission was conducted to examine rail passengers' satisfaction with domestic rail services, including trains, railway stations and accessibility for people with reduced mobility.
In other categories, the often sensitive subject of information during train journeys also yielded a comparatively high UK figure, 70 per cent, while the equivalents for France and Germany were 43 per cent and 40 per cent.
Satisfaction with punctuality and reliability was greatest in the UK (73 per cent), while in France it was 57 per cent and Germany 48 per cent.
Rail Delivery Group director general Michael Roberts said in many areas Britain was 'setting the standard for our European neighbours to follow', but he also warned that the job is not yet complete, when he said: "As record numbers of passengers choose to travel by train, we need to improve even further."
Reader Comments:
Views expressed in submitted comments are that of the author, and not necessarily shared by Railnews.
Better then DB & the RegioBahnen?
DON'T BELIEVE YOU!

(Readers of the print edition of Railnews will know that Deutsche Bahn has faced major problems in the past year. The important hub at Mainz was semi-closed last summer because staff leave led to serious rostering problems [the city's mayor Michael Ebling complained to the Süddeutsche Zeitung that Deutsche Bahn's management strategy was 'out of the stone age']. More recently, CEO Dr Rudiger Grube has warned that a budget crisis is set to leave 1,000 bridges unrepaired, and that closures may be the only option. And as for Berlin S-Bahn, that once-excellent system has experienced frequent problems since a crash in 2009. There is a lot which is very good about DB, but it seems likely that it is incidents like these which have depressed DB's score when passenger surveys are carried out.--Editor.)

Who wrote that headline? If Finland scored 80% satisfaction, how can UK be best? "Major" is irrelevant - we are stuck with what we have.

Other media report these figures as "UK most improved" - not difficult if starting from a dismal recent past. Maybe expectations colour people's opinions, which is why Dutch and French rail appear to have scored lower.

While the 1.5 billion figure may be inflated by ticketing issues then it's also worth remembering that some rail journeys are not included because they are counted as not part of Network Rail with TFL tube passengers being a large number of rail users who just happen to use lines that were once part of the national network but transferred to London Underground. The same applies to the increasing number of tram passengers on systems like Metrolink which again took over former rail lines and carries more passenger numbers than when it was part of BR!

As to comparison with mainland Europe well we always think of the TGV type of services but forget the bulk of users still use normal lines many of which use trains much older than we use even if they are electric.

(Allowance is made for Travelcard use on National Rail in London when the figures are compiled, and London Overground is still included in the ORR statistics (unlike the Underground). I am not familiar with any London Underground lines which have been 'gained' from the main line network since the 1940s. The passenger total on Metrolink, at present some 26 million annually, would not make a significant difference to the National Rail figures.--Editor.)

Obviousy written before the Christmas shambles! my local TOC threw the towel in on Christmas Eve its a scandal that money is thrown at a railway no one wants at the expense of the rest of the network

If the above is the case then we do not need Hs2 to destroy 40 ancient woodlands and all the other lovely places that are needed to keep us sane.

Although a handful of anecdotes can't be described as data, I'd have to say that from my own experiences of travelling by train abroad this all seems about right. The last two journeys I made in France were both delayed (and that was on the TGV which is the best of SNCF). And the last trip in Germany involved the (IC) train stopping in the middle of nowhere with no announcements. After five minutes or so people began wandering off the train to find a bus waiting (for a train load of passengers) because the line had been blocked all morning. The bus dropped us off at an end-of-line metro station and we had to find our own way to the main station.

And in the UK travelling by rail is more predictable than flying or driving, so it's good to see UK railways getting some recognition.

What all the first class passengers you interviewed you mean!!


Based on commuting experiences in parts of the EU I would tend to agree with survey results; there is investment in pet projects in places but most of the EU's continental railways are dreadful,though France for one has now recognised that there is a problem.This improvement over the dreadful standards of BR is attributable to consistent, and ongoing effort to improve services in all aspects.

Just shows what low expectations we have