Posted 25th September 2013 | 6 Comments
Higgins to take the reins at HS2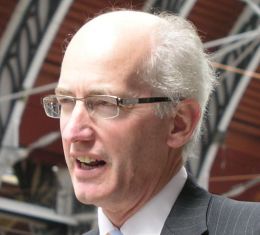 NETWORK RAIL's present chief executive is to take over as the chairman of HS2 in the New Year as the successor to Doug Oakervee, who is standing down.
David Higgins will join HS2 Ltd on 1 January on a part time basis before taking up the post full time from March.
Doug Oakervee, a distinguished civil engineer and former Chairman of Crossrail Ltd, took up the post at HS2 in April 2012, and has overseen the development of the detailed proposals
Transport secretary Patrick McLoughlin said: "The fantastic work that Doug Oakervee has delivered as Chairman of HS2 Ltd is testament to the experience and expertise that he brought to this role.
"His energy and professionalism have ensured that the detailed proposals for Phase 1 of the country's first high speed line north of London will be introduced to Parliament on schedule later this year."
David Higgins said: "I am delighted to be taking up this role. Working at Network Rail I know the challenges we have ahead with capacity on the railways – they are real and we need to take action now. I also know the significant benefits that improved journey times between our northern cities will bring not just to the north, but the UK economy as a whole.
"HS2 is the right solution. It is vital for both passengers and the economy and will put the UK in a different league in terms of infrastructure. My first priority will be to rigorously scrutinise costs to ensure they remain under control.
"HS2 presents a strategic opportunity for this country and I am determined to make sure we take it by delivering a railway that will allow business and communities to prosper in the long term."
Mr Oakervee will remain at his desk to oversee the introduction of the Government's Hybrid Bill before the end of this year. The Bill is intended to secure Parliamentary approval for Phase 1 of the route between London and Birmingham, allowing work to start in 2017.
Mr Oakervee said: "I believe HS2 is vital to the growth of the UK economy and will deliver the capacity our rail network sorely needs. Sir David is the right man to continue the delivery of this project. I am delighted at his appointment and am confident that alongside Alison Munro our Chief Executive he will continue to drive the scheme forward.
"I am proud of all that I have achieved, particularly that we will be bringing the Hybrid Bill to Parliament by the end of the year, after which I will be standing down. I am pleased to have been able to play a key role in delivering this project which will serve the country for many generations to come."
HS2 Ltd chief executive Alison Munro added: "Doug Oakervee has been an inspirational Chairman who brought industry knowledge and a proven track record of delivering large, complex rail projects to his tenure at HS2 Ltd.
"In David Higgins HS2 Ltd has secured a proven leader with drive, passion and experience. My team and I look forward to working with him as we move into the next chapter of delivering this vital project."
Reader Comments:
Views expressed in submitted comments are that of the author, and not necessarily shared by Railnews.
"I wonder what his real brief is ?"

Probably to counteract all the rubbish that's been spouted out as fact. Where to begin? The £80bn claim? The width the size of Wembley stadium? The £7bn cuts?

Decisions, decisions.

I wonder what his real brief is ? See what you can rescue from the current shambles ? Review the whole thing before Ed Balls does ? See if you can get the costs down by altering a few of the requirements ?

I believe that the first thing Sir David Higgins should address is the amount of misinformation, scaremongering, and downright blatent misinformation that is presented as fact around the HS2 project. You don't seem to go a day without hearing the same old waffle over and over again, today it was the Taxpayers Alliance - who will it be tomorrow?

This is good news for HS2 as it puts someone in charge who has experience of running Network Rail and therefore can bring this experience to the HS2 project and hopefully work with his successor where HS2 meets the current network and thus install lets say a new HS2 bridge when upgrade work is planned even if it may be many years before it's used.

Much has been made of Ed Balls comments at the Labour conference but how much has the reaction simply been people hearing what they want to hear rather than what has been said ?

As for his talking about spending £50 billion in different ways well that would only apply if full HS2 project was delivered in a single parliament ( !) when in fact only London to Birmingham is planned and so total spend is half this amount and in fact only about £8-10 billion will fall in the next parliament so that's the real saving !

Of course whether HS2 should be built in a different way by using Birmingham as a start point and then moving out wards and thus getting benefit of HS2. much earlier is open to debate and would still be possible even if legislation is introduced as presently planned!

I am very much in agreement for the need of such an investment, it is not only vital, but without it this country will be only a secondary plauer in Europe and the world.

My only concern is the cost rising costs and the construction time scales! Each phase should not take no more than 2 years for planning, and no more than 4-5 years constructing, whilst at the current pace it is at least 13 years before the first phase opens and nearly 20 years before Phase 2, in my opinion both phases should be open by no later than 2022!