Posted 9th September 2013 | 8 Comments
MPs level critical broadside against 'vital' HS2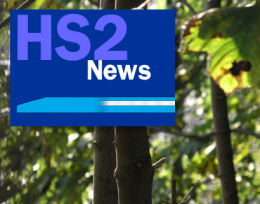 A REPORT from the Commons Public Accounts Committee has levelled a new broadside at HS2, claiming that the business case remains flawed. In particular, MPs on the Committee are unconvinced that the regions, rather than London, will benefit.
But transport secretary Patrick McLoughlin said the justification for the line between London, Birmingham, Manchester and Leeds remained 'absolutely clear'. The Prime Minister had anticipated today's report, by saying that he was ready to fight back against the 'unholy alliance' of various interests and lobby groups opposing the scheme. There is growing speculation that Mr Cameron is set to appoint a Minister for HS2.
Network Rail has also defended the scheme today, saying that HS2 is 'absolutely vital', while Birmingham Chamber of Commerce has dubbed it 'hugely misleading'.
Today's report from the Public Accounts Committee said that the Department for Transport 'has not yet presented a convincing strategic case' for the project. It acknowledged that more than £14 billion of the budget is a contigency margin, but said: "The programme's large contingency appears to be compensating for weak cost information. The Department is 95 per cent confident that it will stay within the £42.billion indicative budget it has agreed with HM Treasury for the full Y-network (excluding the £7.5 billion cost of trains).
"This figure includes £14.4 billion (a third of the total budget) for contingencies, although even this large contingency would not cover significant changes in scope, such as new stations or tunnels. The Department has allocated a higher level of contingency for Phase Two because its cost estimates are not as developed as those used in Phase One."
Committee chairman Margaret Hodge commented: "The pattern so far has been for costs to spiral - from more than £16 billion to £21 billion plus for phase one – and the estimated benefits to dwindle.
"The Department has been making huge spending decisions on the basis of fragile numbers, out-of-data data and assumptions which do not reflect real life, such as assuming business travellers do not work on trains using modern technology.
"In my Committee's experience, not allowing enough time for preparation undermines projects from the start. A rushed approach contributed to the failure of the Intercity West Coast franchise award. The Department has increased its High Speed rail team, but getting the right mix of skills is challenging and the Department lacks the commercial skills necessary to protect taxpayers' interest on a programme of this size."
The report also voiced the Committee's concerns about the realism of the regional benefits which the DfT is claiming, saying: "The Department should publish detailed evidence which clearly shows why it considers High Speed 2 to be the best option for increasing rail capacity into London, improving connectivity between regional cities and rebalancing the economy."
However, the Prime Minister was evidently braced for another unsympathetic assessment from the Public Accounts Committee, which has previously expressed doubts about the scheme.
Mr Cameron, speaking at the G20 summit in St Petersburg, said: "I would urge the doubters to think big [about] what this can mean for the country. I accept the government needs to step up and make a really powerful argument."
Transport secretary Patrick McLoughlin, who is expected to unveil a new official assessment of HS2 this week, added that the classic rail network was in danger of being 'overwhelmed' by rising demand. He said: "The project will free up vital space on our railways for passengers and freight, generate hundreds of thousands of jobs and deliver better connections between our towns and cities."
Meanwhile other opponents to HS2 have reacted to the PAC's conclusions. Joe Rukin of StopHS2 said: "The problem is that the Government just do not want to listen. Now that every argument they have put up for building HS2 has been destroyed, they are ready to invent some new ones. It doesn't matter if it is the Public Accounts Committee, the National Audit Office, the Institute of Economic Affairs, the Institute of Directors or even Treasury officials trying to explain that HS2 is a bad idea to the rump of politician. Trying to get the point across to a pig-headed Government is like talking to a brick wall."
But the industry is moving to defend the plans. Network Rail group strategy director Paul Plummer said: "HS2 is absolutely vital for the future of Britain's rail network.
"Unprecedented growth in the last ten years has seen the number of passenger journeys increase by 50 per cent to almost 1.5bn a year and demand continues to grow. We are already delivering the biggest capacity improvement programme since the Victorian era, but even this is not enough. Without HS2, the West Coast Main Line – our busiest and most economically important line – will be full in a little over a decade.
"The alternative schemes offer some incremental benefits but they would be a costly and disruptive short-term fix. There is already a critical shortage of space at the southern end of the West Coast Main Line and we need a step-change in capacity if we are to meet future demand. The only way to solve this is to build a new line.
"HS2 offers a rare chance to stop playing catch-up on rail capacity. If we get ahead of the game we can create huge opportunities for growth and connectivity while providing the capacity we need for the future."
Jerry Blackett, chief executive of Birmingham Chamber of Commerce Group, claimed HS2 was the only choice. He said: "There are no alternative options which provide the step change in capacity that HS2 will deliver. It has the potential to transform the region economically. In the short-term, the stimulus created by its construction will be an enormous boost. In the longer-term, the region becomes a much more viable prospect for potential investment, and we could see a massive benefit from migration further north."
Reader Comments:
Views expressed in submitted comments are that of the author, and not necessarily shared by Railnews.
With regards to "is evidence that additional rail capacity will be required?" the answer is sort of yes and no.

Yes, in that since the 2010 report (using 2009 as a base line) detailing the need for HS2 was published passenger numbers have grown by 15.8% (to 2012), whilst the report had "assumed" that by then passenger growth would have only reached 7.7% above the base line. As such it can be seen that passenger number are currently growing and even if they fall off a bit from the assumed rate of growth (the report assumed 2.5% per year, but with the current growth which has already occurred future growth can fall to 1.7% and there still be the same number of passengers in 2033 as there would have been with a level growth of 2.5% per year) then there will still be sufficient demand for HS2. This needs to be born in mind with the number of rail projects which are due to take place over the next 7 years, all of which should then provide extra capacity and therefore is likely to carry on attracting more passengers to the rail network.

No in that no-one can be certain that past experiences prove future experiences. In that car usage had almost always previously grown, however since 2009 car usage has fallen to about 2002 figures.

Although it should be noted that until such time as a change is observed then the assumption that the currently valid are likely to remain the default. As otherwise it is the responsibility of those questioning the validity of the assumptions to provide evidence to the contrary. The only time when heavy investment in the railways resulted in a reduction in rail passengers was when there was also heavy investment in new roads when road traffic levels were very low.

It would seem that there is a degree of denial that although there is evidence that additional rail capacity will be required, the HS2 scheme in it's current form is too expensive, the benefits have been overstated, and thus the nett benefit will be negligible or worse.

The task then is to revisit the proposals, ad eliminate costs; perhaps loose the Leeds leg, shift to high-density commuter model, ad sell seats like a low-cost airline with rigorous cost assignment like extra charges for children,baggage, food etc.


tony, you say "That means increased opportunities for rail in conveying passengers to airports and container trains. " You are correct. It is therefore fortunate that HS2 will connect some airports (and should directly connect at Heathrow to allow easy plane train transfer). It is also fortunate that HS2 will release capacity on existing lines to allow more container trains to be run.

By decline I mean numbers of Population. For example inspite of recent immigration to the UK Liverpool's population has fallen from 780,835 (1951), 469,017 (2001) to 466,400 (2011). Rural Populations have also declined rapidly. These numbers have to be taken into account in calculating demand as does the movement of the 'richer' members of our Community (they are the ones who use and can afford train travel) to the suburbs. Interestingly there has been a significant growth in the South West in places like Exeter. Have Rail services reflected this yet ?

Baron Heseltine would make an excellent HS2 minister. He has experience on HS1 and regional cities.

May be he could review the current Phase 1 route and terminal at Euston. The current route was chosen as the initial line out of London was going to use an existing surface corridor and now it's in tunnel almost all the way from Euston to the North of the Chilterns the alternatives might come back in to play again.

London is currently getting £20Bn+ of investment in a decade on just Crossrail and Thameslink (not including the completed Overground Network, DLR extensions and 3-car programme). £50Bn for a network that spans most of England's major population centres sounds like a bargain.

Various people are arguing that improving transport links to the North from London will impoverish the North. Then keeping to that logic making the transport links worst will make the North richer. So are they saying that closing the M1, M40, WCML, MML, ECML and domestic flights is the way forward?

@Tony Pearce
I'm not aware of Manchester, Leeds or Birmingham being in decline.
Most people still do commute to work from 8ish to 5ish Monday to Friday (over ever increasing distances).
Most people go to the seaside once a year (plenty go more than once)
Investing in one new Railway line that takes long distance passenger trains off the West, East and Midland Mainlines plus vastly improves the connections between Birmingham and both the North West, North East and the East Midlands sounds like a good idea.
Do nothing because we don't know what the future holds doesn't sound like the best way forward.


A minister for HS2 ? - Given we have a coalition government and the project is supported by all 3 major parties how about Lord Adonis !

He began this project as Transport Secretary and knows all about it so can soon respond to nonsense reports etc. like the recent one that added Crossrail 2 to HS2 and many other projects some nowhere near HS2!

No doubt Antis will take today's finding by Margaret Hodge of the Public Accounts Commitee to heart but in reality she is just doing her job of holding the government of the day to account and if their was a General Election this week and a change of government then Labour would continue HS2 and a Tory MP would do Margaret Hodges job !



The world and the UK is today facing a period of enormous change. For example the Internet and Mobile Phones are going where no-one thought possible a few years ago. The 'Third World' is rapidly developing and making everything we need from Toy Trains, Bicycles to Steel and other metals. Our Town are dying as shops shut. There is absolutely no reason to think that everything we did only 5 years ago will be there in another 5. People used to commute to work from 9 to 5 Monday to Friday and then go on holiday to the seaside once a year. That is virtually gone. Many people need a train or bus at 3 am in the morning now which of course is non-existant. And all that change will affect how people use the rail system. If you look carefully change is already hitting short-haul airlines like Flybe and Ryanair. I can't work out what is going to happen but here is my guess. I think that long-distant Air Travel will increase as will imported goods, both manufactured and raw. That means increased opportunities for rail in conveying passengers to airports and container trains. I think Cities other than London will continue their decline whatever Governments do. Investing in one new Railway Line on the grounds that everything is going to increase the way it has been for the last 10 years just isn't being sensible.

If we look behind the hype, all this report is saying is that the government should explain why HS2 is the best way of addressing the capacity problems into London. And that is pretty easy. All they need to do is restate:

* The cheap upgrades proposed by 51m and the like might solve the long-term capacity problems on long-distance services (if we're lucky), but they do nothing to solve the problem on commuter services which the antis keep banging on about.

* There are other solutions that might solve the problem (that involve building new lines or adding new tracks to existing lines), but they are expensive. And ...

* Whilst there are other lines into London than have similar overcrowding problems at the moment, they will be relieved in the next few years through solutions such as Crossrail, Thameslink Programme, GWML upgrade, MML electrification, and various train lengthening programmes. None of those will help the Euston corridor. Unless there is an unprecedented change of growth before 2019, it will be a very different story then.