Posted 27th August 2013 | 24 Comments
HS2 dubbed 'grand folly' by Institute of Directors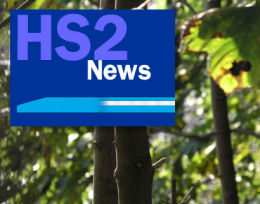 ANOTHER group has added its voice in opposition to HS2, claiming that the scheme amounts to a 'grand folly'. But former transport secretary Andrew Adonis has warned that cancelling HS2 would be an act of 'national self-mutilation'.
The Institute of Directors says a survey carried out in early August has revealed that fewer of its members support the scheme, with 41 per cent of respondents now rating HS2 as 'important', compared with 51 per cent in August 2011.
The IoD is the latest organisation to give HS2 a thumbs down, following an earlier claim by the free market think tank the Institute of Economic Affairs that the real cost could be £80 billion, rather than the official budget of £50.1 billion, which includes a contingency allowance of £14.4 billion and £7.5 billion for rolling stock.
The IoD, like some other critics, wants the HS2 budget to be invested in alternative transport schemes, which it believes should include upgrades to roads as well as railways.
Its director general Simon Walker said: "Some of the specific claims that the Government has used to support its economic case for the project have been challenged by our members, who by and large do not feel that their business will benefit.
"We recognise that some of our members are in favour of this project, and there is a plurality of opinion amongst the business community. But overall there appears to be little enthusiasm amongst IoD members, not even in the regions where the benefits are supposed to be strongest. Indeed, our research shows that almost every region expects London to benefit the most.
"We agree with the need for key infrastructure spending, but the business case for HS2 simply is not there. The money would be far better spent elsewhere and in a way that will benefit much more of the country. Investment in the West and East Coast main lines combined with a variety of other infrastructure projects would be a far more sensible option."

HS2 Ltd chief executive Alison Munro responded: "Passenger numbers are continuing to grow on our main north/south rail arteries and the time when we reach capacity crunch is fast approaching. Network Rail have made it clear that they cannot deliver the required capacity by piecemeal upgrades to the existing network. There are after all only so many trains you can fit into a section of track, and the East Coast and West Coast main lines are virtually full already.
"IoD have not yet released their polling data but it is clear that their members are strongly in favour of increasing capacity with 80 per cent supporting investment in long distance trains and 41 per cent supporting HS2."

However, it is reported that Labour's support for the scheme is also weakening. Although leader Ed Milliband remains supportive, shadow Chancellor Ed Balls has warned that there 'can be no blank cheque' for the project, while former Labour Chancellor Alistair Darling has withdrawn his earlier support, claiming that investment on the scale required by HS2 would absorb all the funds available for railway improvements. He said: "My fear is, if you build this visionary project that you will have a nightmare on the rest of the network because you don't have the money to spend on it."
However, transport secretary Patrick McLoughlin responded that the real nightmare would come for the railway network if HS2 was not built. He told the BBC: "There's no doubt in the government's mind as to the importance of our railway network.
"The simple fact is, Mr Darling says that it would be a nightmare if we do HS2. It would also be a nightmare if we didn't do HS2 because what we have seen is massive growth in our railways over the past 20 years."
"I want to see freight continue to increase on our railways, I want to see more people using our railways, but there's a big capacity problem."
Labour's last transport secretary Lord Adonis is also maintaining that HS2 is essential. In an article in the New Statesman, he argued that the lessons of history had to be heeded, and that the country was still being held back because of its past failures to take decisions about major transport schemes.
He said: "We are still paying the price in the current impasse over a third runway at Heathrow when the international airports serving Amsterdam, Paris and Frankfurt have six, four and four runways respectively. It would be a similar act of national self-mutilation to cancel HS2 in 2015, six years into the project."
Reader Comments:
Views expressed in submitted comments are that of the author, and not necessarily shared by Railnews.
Seems £80 billion cost includes provision of many other transport projects some not even confirmed to be built .

One of the biggest being Crossrail 2 using an argument that HS2 will need Crossrail 2 to be built., the fact Crossrail 2 is just new name for Chelsea to Hackney line first proposed as part of Abercrombie Report produced during WWII is totally ignored!

Oddly their report still has HS2 cost just below £50 million but reporters have chose to ignore this basic fact !

Given they have a history of being Anti public spending and indeed rail perhaps the government could call their bluff and give go ahead to Crossrail 2 on the basis that a recent report said it was needed alongside HS2!



There is next to no basis for these £80bn claims. Yes, it might escalate to that amount, but all the arguments being made with these figures are based on the flimsiest of assumptions (usually contradicting each other), usually by people people with an agenda. If news outlets are reporting these figures, all that proves it that journalists mindless quote figures such as these without scrutinising them. If you want best and worst case scenarios, they are roughly 22bn best-case (if none of the anticipated 60% optimism bias comes into play), 33bn median (with the expected 66% overrun of forecast costs), or 44bn worst-case (which is in case the 66% turns out of be an underestimate). Argue with these figures if you want, but it's not true to say these figures don't exist.

If we look at the latest forecasts, public sector debt (excluding financial interventions) is forecast to be £1,627bn in 2017-2018, an increase of £448bn over the 2012-2013 financial year. Over those five years the government will raise £3.302bn and spend £3,715bn. (HS2 won't have properly kicked in by then and we're only looking about £3-4bn expenditure by this point, but even if it was in full flow, we'd be talking £12.5bn over 5 years tops.) So only £448bn of the £3,715 is going to contribute to debt.

And here is my question: when only 12% of expenditure over the next five years is going to add to the debt pile, why should spending towards HS2 count in full? Why not spending on conventional rail? Why not roads? Why not the tens of billions going to other infrastructure projects? Why not spending on benefits? Schools? Health? Come off it, the sole purpose of that assumption is to make the scheme you don't like look bad. Does anyone claim the debt interest on NHS spending goes up by £4bn each and every year?

A conventional line has also been costed. It is about £1.4bn less than a high-speed line. I haven't seen the breakdown for this, but I can tell you the rough answer: the expensive bits of the lines is the new stations, tunnels and viaducts. They don't get any cheaper just because the line is slower. All these figures I've quoted I found on the internet. Just because StopHS2 doesn't quote them doesn't mean they don't exist.

When anyone launches a new product they estimate how many existing customers will upgrade, how many new customers will switch from other manufacturers products and how many totally new customers can be won. For HS2 this means WCML, road and air, and how many new passengers travel. Anyone want to fill in the figures because I haven't seen any apart from guesses. If you don't know these figures to within 10 percent you haven't got a chance of having a successful and profitable product.

To Tony Pearce, Reading:
Firstly spread over 10 trains an hour over 15 hours of a day over 350 days a year your £3.2bn is £6,100 per train. If you assume that there will be 400 people on each train (when each train can hold 1000 people and is just 70% of the current capacity of the 11 coach Pendolino) that works out at just £15.25 per person. Which is hardly going to make much difference to ticket prices or the TOC's profit (depending on who is paying for the interest back to the government).
Secondly, even if the whole scheme costs £80bn and interest is 4%, the last 5 years of construction are currently programmed to include the running of Phase 1. As such, if the passengers/TOC's are paying back £15.25 per passenger this would be higher than the interest at that point in time, meaning that the capital would also be being paid back. This would mean that the amount of debt at the end of construction would be less than the £80bn you started with.

I am aware that my figure of £80 billion is an estimate. Treasury Officials are reported as working on a figure of £79 billion and there are many estimates out there as there are people. Andrew Marr was bandying figures of £70 to £90 yesterday. Boris Johnson, London Mayor, says today HS2 will cost over £70 billion. I expect the official estimate to rise over the years but I thought that £80 billion was a good 'cap'. I don't know what the interest rate will be on this loan either. I thought that 4% was on the low side but it probably balanced out me going for the higher initial borrowing costs figure. But we are talking large sums here - and even if the costs work out at £50 billion and the interest rate 3% overall, in comparison to current total expenditure on the Railways, it is a very significant figure. I used to be a Senior Systems Analyst for a large International Company and I can assure you that even for a company to spend £10,000 on a project, costings had to be done to the nearest £10. We also produced figures of best and worst case scenarios for every project. I haven't seen any of that about HS2. Any company wants to know 'what it is letting itself in for' should everything go 'pear-shaped'. If it were upto me, and it isn't and I don't have a team of researchers, then I would prepare a case for a new line from Birmingham to HS1 but at conventional speeds and with intermediate stations near Nuneaton and Aylesbury preferably Parkway Stations near Motorways. The line would be designed to increase the line speeds at a later date if required. I would also prepare an estimate of initial trains being Diesel 125s. My final report would include many options with costings which would be upto to senior staff to discuss and opt for. Like the 2 new Aircraft Carriers being built in Scotland, the HS2 line smacks of a Political Party trying to buy votes in areas where it is desperate. Comparison with Europe is not really valid as all the UKs population is in the south which is already joined to Europe. The consideration of freight is the big thing missing from any story so far on HS2. Freight has to be moved (the quicker the better and preferably by rail), passengers can work with home via the telephone and internet if they have to - they don't have to travel. But basically the risks of HS2 not being a sucess and therefore costing a great deal of money are very significant - not inevitable, but significant.

Can anyone prove that any new road/motorway with all the associated costs of the environmental protection, police, rescue and health services etc actually makes a profit or even covers its cost?
In comparison HS2 is good value for money and hopefully follow on schemes to link Cornwall and Wales are being planned.
The Victorian engineers proved that long term infrastructure projects are beneficial, so should we.
This country "invented" railways, a pity if we have to put up with second best.

"If your income was £1000 a month you wouldn't borrow money for a house that required you to pay £2000 a month."

Could address all your points in detail, but I thought I'd pick up on this one:

The government's income is about £700 bn per year. Even by your wildly inflated calculations, £3.2 bn per year is not twice the government's income.

If you want to insist that no government should spend money on anything unless it directly recoups the costs, that's fine, but under that system,. we'd probably have to start by closing the NHS.

Lets say that the HS2 project will cost £80 billion and presume the interest rate will be 4%. Then the cost of servicing the debt (ie the interest payments) will be £3.2 billion every year. That means that after paying the running costs of the line (Staff wages, electricity etc.), a profit of £3.2 billion every year has to be made. I personally doubt whether the line will even cover its costs, let alone pay anything towards the interest. So that means the £3.2 billion will have to come from somewhere, - which is either the Taxpayer, other Passengers or both. And that's before any payment towards the debt is made. For comparison purposes the entire Network Rail income in 2012/3 was £6.2 billion and its operating costs £4 billion. If your income was £1000 a month you wouldn't borrow money for a house that required you to pay £2000 a month. This proposed level of borrowing and repayment will have a knock-on effect right across the network for years to come, and may will prevent any more borrowing for other projects.

[Tony, I normally leave responses to other website readers, but I can't resist this one. 'Let us say HS2 will cost £80bn' -- nobody with any authority or engineering knowledge is saying this. Why are you?--Ed.)

Following on from my earlier exasperated moan, we in the UK really do need a high-speed railway and there isn't any reason why we shouldn't have one - ultimately to Scotland. The great thing is to ensure that the costs are well-managed and efficient. And of course these costs are not going to be pennies but a close watch must make sure that they aren't ridiculously high either. And there is the nub because our politicians and civil servants are not noted for exactitude - as witness the latest variations in total costs of the scheme. So for goodness' sake crack on but keep the costs under constant review with a handy axe for the head of anyone who lets them, the costs that is, run away. If European railways can have High-Speed rail then so can - and so must - we. Luddites get lost!

Tony Pearce, I couldn'y agree more with the brief, but that is exactly what is being done (at least by Network Rail - some politicians, I concede, are getting over-excited by the high-speed bit when they should be thinking about the capacity bit). The short analysis of those options is that 1) and 2) have already been done as far they can be done. 3) is doable, but it won't save that much money over 4). The government and Network Rail favour 4). Most antis favour 5), which is to deny the problem exists and propose a cheap alternative that doesn't work.

Anyway, enough of that. I queried the resposne I got from IoD, but I've had not further response so I guess that's all the answers I'm going to get fro them. I won't go over the details, but the basics was that they think they can solve the problem on the LM commuter services by lengthening trains, "upgrading" the line south of Milton Keynes (without specifying what) and changing the ticket rules to allow travel on Virgin trains. I'll let people with more expertise on the WCML judge for themselves, but the immediate problems I can see are that the most crowded trains are already 12 carriages long, the only remaining upgrade mooted is the Ledburn Flyover which would deliver only one extra train per hour, and whilst you might get some temporary relief from transferring some Milton Keynes passengers to Virgin services, I believe the situation on VTs that stop at MK isn't much better. (There was more to the response, but most of the rest of it was a repeat of the usual arguments.)

But, more interestingly, they did not seem aware of the one improvement that is going ahead for LM services, which is the faster rolling stock that will at least provide some short-term relief. It might be that they simply never thought of mentioning it, which would be fair enough. But it might also be that they know a lot less about rail capacity that they'd have us believe and they're bluffing. Or, for the real cynics, it could even be that they know perfectly well about this improvement - but they'd rather peddle the myth that no improvements are going ahead and it's all HS2's fault. Who knows?

This is getting fun. I've also asked this of Mr. D, think I'll chase it up. Heaven forbid, surely a former cabinet minister wouldn't refuse to answer a simple questons, giving us the impression that he doesn't actually know what he's talking about, would he?

I have yet to see a proper analysis for this project. The brief should be ....'What can be done to allieviate over-crowding on the West Coast Main Line between Birmingham and Euston if as predicted passenger numbers carry on increasing.'

It means a proper analysis of what passengers do after arriving at Euston and why they travel in the first place.

The next stage could mean 1) Improving the existing 2 lines with a costing. 2) Pricing excess passengers off at peak times. 3) building a new line with new stations and a speed of 125 mph 4) building a new HIgh Speed line top speed to be discussed.

The options should then be priced and discussed.

The way HS2 was announced was basically a Politicians dream (all of Europe has one why don't we) followed by reasons why it should go ahead. Not the way to ever design and build the most expensive railway project this country has ever seen.

You really have to 'admire' we British. High speed lines being built all over Europe and all we can do is to moan and find reasons why such lines are impossible to conceive much less build in this benighted country. What a lack of drive, imagination and enterprise. For once the Government, and originally the opposition as well, has the right idea - and I never thought I would say that! It reminds me of the awful hullabaloo over HS1.
Incidentally when the French built their high-speed line from Paris to the Tunnel, (ten years before we managed to,) the protests in Amiens were because the line was NOT going to pass near them!

(This comment was withheld because it breaches the Railnews house rules.)

As I have said before, I have nothing against High Speed Rail - but I object to this expensive, biased, spend of public money.

There is a difference between vested interest and waste, which is exactly what this is.

It took my computer a few seconds to find this individual and lo and behold he has links aircraft industry having been Director of Corporate Affairs at British Airways and was also linked to a South African Air company !

So why no mention of these links which make it look like trying to stop HS2 to get funds for other projects like Boris Island maybe?

Its worth remembering that HS2 budget is based on the amount we are now spending on Crossrail and if we can't afford HS2 then we can't afford Crossrail so how come its being built? And where does that leave Boris Island an airport whose costs with transport and infrustructure links makes HS2 look like a branch line re-opening !

A simple £2 billion per year on a new railway the first north south main line since Victorian times . Remember the amounts spent on Motorways and Airports when rail was left to rot away !

As for nonsense about spending money elsewhere we know that money is only made available for projects by The Treasury so NO HS2 = NO MONEY!

£2 billion per year is peanuts in Government spending but can transform our railways and make them ready when oil becomes a luxury only the rich can afford !

"fit only to line the pockets of the privileged."

Yeah, we get it, the only impartial opinion anyone could give on high speed rail is that it's wrong, therefore the only reason anyone can have to support it is because they've got a vested interested.

Or at least, on the rare occasion that anyone attempt to justify this claim, that's what they get at. If that's not your reason, please expand on it, because I have yet to see anyone give a better justification of this sweeping statement.

By the way, I've already got a reply from the IoD - credit where it due, they've replied promptly. They do at least attempt to address the issue of suburban trains, unlike most antis who try to deny the problem exists, but it still doesn't stand up to scrutiny well. I'm going to give them a chance to address the numerous problems I can find, then I'll give you the gist of it.

The worrying thing about the all those media reports about the rising costs is we may do nothing. Not to build a new and re-invigorated sustainable transport system fit for this century, and hopefully beyond, will be a missed opportunity.
The motorists (as a political pressure group), the right wing tabloids and their friends in high places are beginning to say "let's spend this money on roads instead".
If the total cost, to us all, of road building and vehicle use is taken into account, they are probably higher than new railways.
We have enough roads in this country; even though we like to use them at the same time and get stuck on them! As both our own driving and state/local authority costs rise, rail is a viable alternative and a step change is needed now to cope. Procrastination is not an option!


an act of self-mutilation....clever words to disguise the obvious in my view. the IoD are not a stupid bunch, aside from the generalised folly headline. electrify and upgrade other places on the existing network. an act of self-hypocrisy by the powers at be. but not self-mutiltion. HS2 is a dead donkey, fit only to line the pockets of the privileged. lets spend the money on the wider population First, and reverse fifty years of bad decisions and blatant profiteering!

"how many more rail experst have to tell the government that it would be better to spend the money on the current network?"

Yes, plenty of people have been saying it's better to spend the money on the current network. It's just that the vast majority of them do not remotely qualify as experts, if their current level of cluelessness is anything to go by.

"How about upgrading our lines (starting with the most overcrowded, which from my esperience is the South-Eastern line) to take double-decker trains, surely this will be a fraction of the cost,"

Reasonable suggestion, but sadly it's highly unlikely to be a fraction of the cost. If you're looking at Duplex TGVs as a model, it's true to say that you only need another 90cm of clearance height, but unfortunately that will probably still involve rebuilding practically every bridge and tunnel.

The other problem is that Duplexes don't actually increase capacity as much as you think. On the TGVs, you only get a 45% increase in capacity (presumably because you can't stick the intermediate motors under the coach like you can for single-deck). I believe TVG Duplexes also have lower platforms*. That problem might be surmountable - if not, having separate platforms for duplex and non-duplex trains will be an even bigger nightmare.

Still, a 45% increase in capacity on commuter trains is better than the 0% increase in capacity propose by 51m. I'm all in favour of fully costing all these ideas, such as 14/17-carriage trains, duplex, six-tracking the WCML, reinstating the GCR. Even though it may involve a long arduous process before arriving at the original and obvious conclusion, I think we're in the state where the costs need to be spelt out to everyone.

How about upgrading our lines (starting with the most overcrowded, which from my esperience is the South-Eastern line) to take double-decker trains, surely this will be a fraction of the cost, would provide much greater increase in capacity, and could be targeted at the problem lines first.

Too late to moan,its going to be built no matter how many billions the cost,
how many more rail experst have to tell the government that it would be better to spend the money on the current network?,oh and end the NotWork Fail sub contracters gravy train as well i.e the Alton re-signalling debacle
but to do that the DfT would have to get out into the 'real' world the rest of us live in

Yet another group who wants the money spent in their own way. However there is no pot of money. All the money for HS2 will be borrowed. If it is not built the money will not be borrowed.

Hey, just a second, how does 41% of members rating a scheme as "important" equate to a "grand folly"? What did the other 59% say? I suspect it would have been mainly a mixture of "nice to have" and "not that bothered either". I'd be surprised if any single infrastructure project has ever had more than 50% of businesses saying it's important to them. Crossrail, the M25, airport expansion, the Channel Tunnel, all cost a fortune but aren't going to be terribly important to anyone not in the south-east.

Never mind, I think I'll send them an e-mail asking them how they think investment in the West Coast Main Line is going to solve the problem on the Euston commuter services. All of these arguments currently seem to hinge on a claim that there is an alternative. And so far, not one alternative proposed had stood up to five minutes of scrutiny.