Posted 9th August 2013 | 2 Comments
Virgin to lodge second bid for Blackpool, Shrewsbury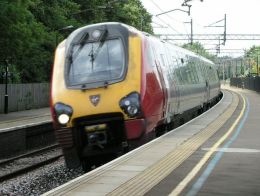 VIRGIN TRAINS is making a second bid to run services to Blackpool and Shrewsbury, after being refused by Network Rail and the Office of Rail Regulation.
The ORR had said on 31 July that it accepted Network Rail's contention that providing the additional paths required would pose an unnacceptable risk to performance, possibly amounting to as much as 0.6 of one percentage point off the route's already weak PPM. However, ORR's chief executive Richard Price had also said he wanted the question of new services to Blackpool and Shrewsbury to be 'looked at again as soon as possible' once performance improvements were made by Network Rail on the West Coast Main Line.
Virgin said it believed that a commitment to improve reliability by Network Rail would ensure that 'there are no further obstacles to providing the new services from next May – six months later than was originally proposed'.
Virgin Trains production director Phil Bearpark added that although he was disappointed with the decisions by Network Rail and the ORR so far, he remained committed to providing the direct train services.
He explained: "The May 2014 timetable changes are 10 months away and we expect Network Rail to significantly improve performance by then.
"The people of Blackpool and Shrewsbury have been absolutely clear about their desire to have a direct train link with London, an ambition we fully support and are working very hard to achieve.
"We have continued to work with Network Rail to ensure that they improve performance. It is now down to them to ensure that they honour their commitments on this and for the ORR to hold them to account."
Network Rail said: "We are not satisfied with the current performance of our infrastructure on the southern end of the West Coast Main Line, and have identified almost £40 million worth of investment aimed at improving performance by targeting some of the most common causes of delay by March 2014. We will continue to work to improve punctuality for our customers and have always said that if performance does improve, additional services might be something we could consider again in the future."
Reader Comments:
Views expressed in submitted comments are that of the author, and not necessarily shared by Railnews.
The solution to this problem is quite simple IMO, and doesn't need to involve any extra trains, WCML paths or electrification.

Just start an existing Wolverhampton-Euston service back at Telford/ Shrewsbury/ Wrexham using Class 57's or hired 67's. The current Wrexham service attaches to the morning Holyhead service at Chester, so use this train to depart around 07:00 from Blackpool and attach to the Holyhead service at Crewe.

So long as the revenue pays for the loco hire, everyone's happy,

This seems to be a power play between Virgin who want subsidy enhancement for the extra services, and the DfT who don't want the bills. If Branson put his money where his mouth is, he could provide these new services on a commercial risk basis.

As far as London - Shrewsbury is concerned , the capacity / pathing problem on the WCML could be avoided by following the former Wrexham , Shropshire and Mafylebone ( WSMR) routes via Aston or via the Bordesley spur and the Chiltern main line to Marylebone or Paddington. This route is significantly faster now than brfore the demise of WSMR and there would now be no " amelioration of competition" limitations on stations that are allowed to be served .

Such a re - invention could also give through trains again between Wrexham / Aberystwyth and London. Either Virgin or the Arriva / Chiltern group might be able to take this idea up