Posted 17th July 2013 | 3 Comments
Union pledges opposition to Overground DOO plan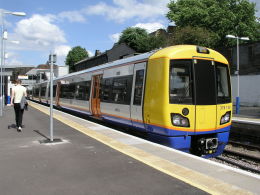 PLANS to abolish conductors on London Overground have sparked determined opposition from the RMT union, which claims that safety will be put at risk.
The union is staging a demonstration outside the Greater London Assembly today in protest at the imminent removal of 130 staff from Overground trains.
The move would bring Overground fully into line with other Transport for London rail services – including trams – most of which are driver-only operated. The one exception is the Docklands Light Railway, which has automatically-driven trains with a member of staff on board.
The presence of a second crew member on some Overground lines stems from the staffing arrangements which TfL inherited in November 2007, when it took over the Silverlink Metro routes.
RMT general secretary Bob Crow said: "The fact that transport spending is being shrunk by 12.5 per cent on budgetary grounds is ridiculous given the importance of an efficient transport network to London and the wider economy, and the growing population in the city. The unfairness of the latest austerity drive is also crystal clear to our members given the recent announcement of massive bonuses for TfL directors.
"We have seen this week total chaos on tube and rail as a spate of breakdowns caused by the heat have left hundreds of thousands of passengers stranded. We have already seen massive cuts to staffing and maintenance and the axing of 12 per cent from budgets would drag London's transport services right over the edge with horrific consequences for reliability and safety."
Transport for London has been defending its plans. Acting director of TfL London Rail, Jonathan Fox, said: "The safety of our customers and staff is paramount, and these proposals will maintain our excellent safety record. The new arrangements are the same as those we are already successfully using on 60 per cent of the network.
"The technology means that a conductor is no longer needed to ensure the safety and security of passengers or manage the operation of the train doors. Using this proposed modern system would save £5 million each year, which could then be reinvested in the railway for the benefit of our passengers. It also has the potential to cut the time that trains stand at platforms – meaning better, quicker journeys. All Overground stations will continue to remain staffed while trains are running, with trained staff available to help disabled passengers who require assistance."
Reader Comments:
Views expressed in submitted comments are that of the author, and not necessarily shared by Railnews.
One does to ask the logic of wasting hundreds of millions on buses that need a 2nd person for no other reason than there is a hole on the back which passengers are then barred from using because its dangerous and yet the presence of a guard on overground trains actually adds to the safety of passengers !

As for Tramlink well its can be just a fare dodgers paradise !

Guards also help,disabled passengers board and alight trains something that is far more dangerous on the bulk of the Overground as unlike the DLR or Tramlink its stations have gaps that need ramps installed for wheelchair users . In fact given the continued lack of tube accessibility the Overground which has more and more stations getting lifts is gradually becoming as accessible as the DLR and could be better If platform humps were installed !

No doubt this will be whipped up by anti union media and politicians but its a different story if you need help !

As an old Southdown bus conductor, I remember well the TGWU opposition to our removal in favour of Driver-only buses. Of course the driver's wages went up a lot as a sweetener and buses were generally slower afterwards as the Driver had to take the fares. But looking back it probably saved many bus routes from closure. I suspect the RMT are basically after a bit more cash to agree to this deal.