Posted 17th June 2013 | 10 Comments
Virgin condemns 'defeatist' Network Rail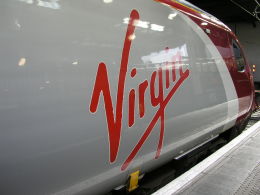 THE Office of Rail Regulation must decide whether Virgin Trains should be allowed to run its trains to Shrewsbury and Blackpool North, after Network Rail refused the request. Virgin said it was disappointed by the ruling, and described it as 'defeatist'.
Virgin, which is currently in talks with the Department for Transport about extending its Wesr Coast contract to 2017, is proposing to provide two trains a day from London to Shrewsbury and Blackpool. The Shrewsbury trains would take an unusual route, avoiding Birmingham. Instead, they would run via the Trent Valley as far as Stafford, where they would reverse and continue via Penkridge to a chord just outside Wolverhampton which would take them on to the line to Telford and Shrewsbury.
The Blackpool trains would be extensions of existing services, which would leave the West Coast Main Line at Preston and continue to Blackpool North via Poulton-le-Fylde.
However, Network Rail said a shortage of paths meant that there was no room for additional trains. A spokesman said: "Today there are twice as many trains using the West Coast Main Line as a decade ago and, just like a busy motorway during rush hour, more trains mean that if something goes wrong, the knock-on effects can be significant.
"We have acknowledged that performance on the West Coast line is not good enough and we are taking steps to improve performance on the route. However, adding more services on to what is already the busiest mixed use railway line in the UK mean would mean a trade off with punctuality. It would have a significant negative impact on the performance of other services."
Virgin is also currently in dispute with Network Rail about West Coast performance and is claiming that infrastructure-related delays have damaged its business. However, a spokesman said it did not accept that there was no room for the additional trains, and added: "We are disappointed, certainly, and we find Network Rail's attitude defeatist. We are appealing the ruling."
The ORR said it was aware of the dispute, and had already received representations from other operators on the West Coast route. It will now consider all the views and make a determination in due course.
Reader Comments:
Views expressed in submitted comments are that of the author, and not necessarily shared by Railnews.
Network Rail don't want Virgin,very selfish indeed,maybe virgin could provide a more Punctual service than NR Does,as far as i am aware,NR have the worst reputation for being late....

Much was made about the provision of extra trains and specifically to both Shrewsbury and Blackpool in the flawed franchising process initially won by First Group. In the litigation that followed, it emerged that these extra trains were also in the Virgin bid with another new destination.

The publicity at the time lauded the provision of these extra 'through' trains when First Group's successful bid was announced to the media; at the time, I do not recall discord from Network Rail! This begs the question 'how can it be that the Department of Transport approves a franchise with extra trains, if Network Rail are then able to veto the plans and in doing so, the credibility of the competitive bidding process?

It is inevitable more trains operating on a line of route with tight headways will bring with them some inherent performance risks. However that is not necessarily grounds for their refusal, rather it is cause to reassess the performance regime and its penalties.

Finally, I do not accept the argument that if these trains were accepted there is a great risk of the West Coast timetable collapsing when there are occasional train failures or 'incidents' on the route. I see these events from time to time and it is to the credit of the operators and Network Rail that contingency measures are applied and the timetable is quickly restored.

Chris Jones-Bridger, I assume the xx33 train path you're referring to is the additional London-Preston service that First said they were going to deliver when they "won" the West Coast franchise. The commitments around extending services to Shrewsbury and Blackpool were vaguer promises that First were "seeking to introduce" them, but as the additional London-Preston service was a firm commitment, I assume that the path is feasible. If it was not feasible to add this extra path, one would have thought Network Rail would have said no.

The problem is, as I understand it, that is the very last path. You can use that path for an extra hourly service to Preston, or you can use it for services to places like Shrewsbury, but you cannot have both. Now, if a consensus emerges that this extra 1tph to Preston isn't needed after all and it would be better used serving places like Shrewbury, then you might be able to do it. What you can't do is add these services for Shrewsbury and still keep your options open for the extra Preston service too. It's one or the other, and currently Virgin seems to want both.

To move on to the subject of whether privitisation is to blame, it would be a fair point, except that on the East Coast Main Line, which isn't facing a capacity crunch (yet), it's a very different story. National Express East Coast was able to introduce a service to Lincoln, whilst Hull Trains and Grand Central added services to Hull, Bradford and Sunderland. Attempts to introduce similar services on the WCML, however, have got nowhere. It's possible that privitisation might be making the situation worse, but the obvious culprit here is the lack of spare train paths.

Shrewsbury isn't a "no, impossible case", but we are running out of options. Every improvement delivered now makes other improvements harder or impossible, and that's not going to change whoever makes the decision. If we're going to deliver this improvement, we need a frank debate on what improvements this will rule and and a frank decision on whether it's worth it. What is not helpful is Virgin's current stance that London-Shrewsbury is a plan with no drawbacks. There are, and they need thinking through very carefully.

Regarding Chris Neville-Smith's contribution. I am well aware of the difference between having a robust timetable plan with amble contingency to recover from day to day incident and overwhelming the plan with unworkable paths.

The basics of the current WCML timetable have been in existence since the introduction of the VT VHF service. While changes have been made to reflect demand and the requirements of London Midland for additional fast line paths the standard pattern has been in existence for several years and NR and TOC staff have become familiar with the repeating standard pattern required for day to day operation. That pattern provides opportunities for additional paths such as the xx33 from Euston that are planned to be used or available for relief services. When bids were being evaluated during the now abandoned WCML franchise debacle both VT & First were promising additional services making use of this latent capacity. Irrespective of who was to operate the WCML promises of additional services were being made and developed and NR would have to be fully involved engaged in forward planning the service.

Yes NR have been decisive in saying no and given that the pressure on NR to resolve the underlying WCML performance issues they certainly have reason.

However putting aside the detail this doesn't detract from the main point I am trying to make. That is that the disjointed nature of our industry has created a disfunctional monster abstracting value from the industry while contractual disputes are resolved. This has added time and the considerable expense of creating organisations like the ORR to adjudicate between disputing parties rather than focusing on developing creative and robustly operated services that exploit the business opportunities the market presents.

The proponents of privatisation promised that the industry would be liberated to adapt to the market. The opposite appears to have happened and introducing change appears to be hampered by a contractually rigid, inflexible and above all costly structure populated by expensive talking shops adding no valve to the customer.

I thought these guys were supposed to work for the 'Department FOR Transport' ?

It ought to be relabelled the 'Department AGAINST Transport'........

They should be 'setting the pace' at the forefront of developing new links to places like Blackpool, Shrewsbury and Telford; (and dozens of others); not acting as an anchor holding projects back.

(To prevent further correspondence, I should perhaps just clarify that the DfT is not involved in this particular process.—Ed.)

Chris Jones-Bridger:

On the contrary, the existence of spare slots at off-peak times is precisely the reason why Network Rail is refusing to add more train paths. It is generally accepted throughout the railway industry that, whilst you can get away with using every available train path at peak periods, it is not sustainable to carry on doing this throughout the off-peak period. Spare train paths are needed to recover from delays to services, otherwise one delay can throw the whole day's timetable. So the choice for Network Rail was to carry on doing what they've always done to decide maximum capacity, or hope this theory is wrong, add more train paths beyond what they think is safe, and risk inflicting massive delays over the whole of the WCML. Network Rail chose to play it safe.

It is not just Virgin Trains that stands to lose if this screws up the reliability of the WCML. London Midland, Cross Country and Transpennine between them also transport substantial numbers of passengers. They gain nothing from extra services to Shrewsbury, but they still lose out if the reliability of the line goes down the pan. And don't forget that people who actually use the line also lose out when their trains are delayed. It is far from a case of the commercial risk lying with Virgin.

I must admit I'm not sure why the Blackpool services were including in the decision, seeing as this was already agreed in principle for the First West Coast franchise. All I can think is that the thumbs down was for the entire package. I can see no reason not to extend existing services to Blackpool once the Blackpool line is electrified.

But Network Rail has not wasted time. They took decisive action. It's just that the decision was no.

(And my suggestion for Shrewsbury: push for electrification of the Wolverhampton-Shrewsbury line. One you've got that, extending Wolverhampton services to Shrewsbury should be a doddle.)

Chris Jones-Bridger, you took the words out of my mouth. Spot on.

If trains to Blackpool leave WCML then what is the problem?

After all what is the point of electrifying a route if electric trains then are not allowed to use it?

These services would surely be of major benefit in attracting leisure travellers to rail going on breaks to Blackpool !

Another illustration of the ludicrous state of affairs our disjointed industry creates. Currently there are additional paths that VT use during the peaks and at other times during the day in addition to the standard paths to cater for passenger demand. Provided that VT have bid to run within existing parameters and they believe that there is commercial opportunity to serve additional markets I see no reason why they should be prevented from introducing the additional services at the earliest opportunity. While the Shrewsbury services involve creative routing the Blackpool services should be a no brainer if all they are is extensions of existing Preston services.

The commercial and revenue risk is primarily with VT and while they have issue with NR performance the robustness of their equipment and staffing is not in doubt.

Drawing the ORR into the picture can only delay the introduction of services that stakeholders in Shrewsbury and Blackpool have been crying out for since Inter City were forced to withdraw during the cash starved later days of BR.

Once again time is being wasted when what is needed is decisive action to provide real trains and benefits to the customer.

As I understand it the Blackpool service was to be. Created by diverting some current Lancaster services at Preston. Not extra trains at all.
Or have I missed something?