Posted 6th June 2013 | 7 Comments
Network Rail may face tough stance over CP5 budget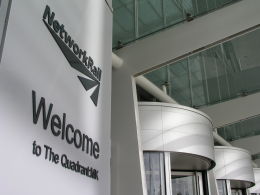 NETWORK RAIL has announced its full-year financial results, just a few days before the Office of Rail Regulation is due to publish its draft determination of Network Rail's budget for the next five years.
There is speculation in the industry that the ORR will be taking a tough stance over Network Rail's proposal to spend £37.5 billion in Control Period 5, which runs from 2014 to 2019.
The company said its main problem was dealing with the 'challenge of success', but also acknowledged that bad weather had caused delays and damaged infrastructure.
Repairs following weather damage had cost £58 million, but the pre-tax profit rose to £775 million, compared with £475 million in 2011-2012. However, profit after tax was £699 million, down from £761 million a year earlier.
Network Rail has no shareholders, and so its annual surpluses are reinvested in the business. Revenue was up (£6.197 billion compared with £6.004 billion) but so were operating costs, which increased from £3.657 billion last year to £3.980 billion this year. This total included £133 million of depreciation, as well as the costs of weather damage.
The company's borrowings also continued, and its net debt at the end of the financial year was £30.358 billion, compared with £27.282 billion in 2011-12. But it said that this 'gearing ratio' of 65 per cent was 'comfortably within our regulator's 75 per cent limit'. This ratio is calculated by dividing the value of the assets by the company's debt, and means that Network Rail now owes a sum which is almost two-thirds of the value of its assets.
It is also spending more on servicing its debt. Under the heading 'operating activities', Network Rail paid interest of £1.038 billion in 2012-13, compared with £970 million the previous year.
The railway infrastructure is now worth more after capital expenditure of £5.05 billion (up from £4.6 billion) had boosted the asset value to £46.411 billion – an increase of £3.299 billion.
The number of staff fell from 35,253 to 35,190, but staff costs rose to £1.779 billion compared with £1.679 billion last year.
Network Rail group finance director Patrick Butcher said: "The challenge we have faced over the last year, and will continue to face in the years ahead, is one of success – more people wanting to use more trains, more of the time. Over the last 12 months we have invested an unprecedented amount in expanding the rail network through over 2,000 projects.
"However, the economic times in which we live mean that alongside delivering new capacity we need to keep a constant drive for improved efficiency. Our overall financial performance remains strong and we are on track to deliver over £5 billion of cost savings for the five years to 2014."
Reader Comments:
Views expressed in submitted comments are that of the author, and not necessarily shared by Railnews.
@Chris Neville-Smith, Durham, England
They are not the same thing; Network Rail is a private business that can be used to raise capital for the UK when it gets in to difficulties. The level of debt held by Network Rail is determined by it's ability to finance the debt, not that of the Government.

Tony Pearce: As Network Rail debt is underwritten by the government, its credit rating is roughly identical to the government's credit rating. So you can expect debt interest payments to be roughly equivalent to interest rates of the UK government, which is about 2%. I don't think the bank of England base rate has any bearing on Network Rail's interest rate. And if it ever did and commercial interest rates go up, it would make sense for Network Rail to borrow straight from the Government, whose interest rates aren't going to be rising any time soon whilst there's a Eurozone crisis going on.

IMHO, separating Network Rail debt from government debt is a waste of time. They're essentially the same thing. All this does is jiggle round numbers of UK plc's balance sheet to make the UK government public debt look slightly better than it really is. As it stands, government debt is already over £1tn and we're coping. An extra £20bn from Network Rail isn't really a big deal, at least not compared to what it would have cost us to not spend £20bn catching up with decades of neglect.

At the moment departments are looking to cut costs by 10%. If capital expenditure is to be maintained, then it is going to have to be financed by staff cuts and loss of pension rights.

I know Network Rail is not a 'normal' company in that (like the Banks) it will always be bailed out by the Government in the last resort. However in a 'normal' company paying interest of £1,038 billion in 2012-13, compared with £970 million the previous year, would send alarms bells ringing. At the moment interest rates are very low (0.5%) but there is only one way for them to go if and when the UK economy grows. So will fares or Government subsidies rise, - or will Investment and Borrowing be cut back ?

I'm waiting to see what ORR has to say about the proposed £500M Western rail access to Heathrow from the GWML; Network Rail proposed to put this in a deep bored tunnel for its entire length.

However the preferred HS2 link to Heathrow (now before the Davies Aviation Commission) is only a few hundred yards away and is mainly designed to be above ground; there appears to be a major imbalance in the criteria used for deciding the methord of construction for these two projects.

HS2 is not proposed to be tunnelled under all Green Belt land, and there are a number of golf clubs along its route that will be affected. The long tunnel under the Chilterns National Park is only because of its AONB status.

However Slough's WRAtH proposal is to tunnel under Richings Park Golf Club and Goodman's Sough International Freight Exchange (SIFE) site on the sole basis they are within Slough's Green Belt.

Interestingly Slough BC are prepared to consider a 3rd runway at Heathrow, in Hillingdon's Green Belt !

It would be interesting to see the same details for the Highways Agency which should have the same set up as Network Rail and the same obligation to pay its way !

Anyway , its politicians who take the publicity in announcing major schemes like electrification, Crossrail, Thameslink etc and thus add to Network Rails debts !

As to increased staff costs how much is this down to taking services back in house following the disasters of Railtrack where rails were not maintained and eventually lives lost!

Anyway if Network Rail upgrade track and signals to high standards the costs of railway will fall in the long term but the investment has to come first!