Posted 19th March 2013 | 11 Comments
Open access operator proposes electrification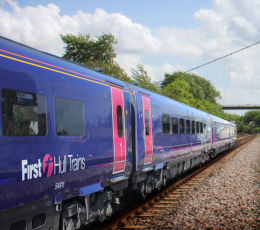 OPEN ACCESS operator First Hull Trains is in talks with private sector investors and Network Rail over plans to electrify the route from Selby to Hull.
Negotiations have also started with a potential but so far unnamed contractor, who would carry out the work.
Hull Trains is a joint venture between FirstGroup and Renaissance Trains, a company founded by Mike Jones and John Nelson in the early years of rail privatisation.
A spokesman for HT said FirstGroup is supporting the proposal, and that the total cost of electrifying the 56km of route from Selby is likely to be less than £100 million. Parts of the route are flat, straight and comparatively free of overline structures – characteristics which tend to bring down the cost of electrification.
Hull Trains' present licence expires in 2016, and sources close to the operator say new managing director Richard Parry is expected to lead a bid for a 20-year extension, which would encourage agreement by private investors.
If electrification did go ahead, Hull Trains would replace its Class 180 diesel Adelantes with electric rolling stock. The newly-electrified route would also be available to other operators, and in particular would give East Coast the option of using electric trains for its own single daily service between London and Hull, although this possibility is not enough on its own to justify a Network Rail-funded scheme.
Hull Trains is nevertheless hoping that Network Rail will take responsibility for long-term maintenance of the overhead lines, but this is still a matter for discussion.
Reader Comments:
Views expressed in submitted comments are that of the author, and not necessarily shared by Railnews.
@John Gilbert, Cradley, Herefordshire
I think it is the other way around; the civil servants will be happily to take their money, so long as First does not try to retain exclusive rights, to block other operators etc.

However, it is First that are lambs to the slaughter here; First really need to hold a sanity check on this idea, and reflect on how other operators have come off badly (NE, Virgin) when the have put forward bold initiatives.


Some further thoughts consequent on (Mr) Lutz's comments. It is really to be hoped that Hull Trains are allowed to proceed with this electrification; it would be logical, given that the DfT's own electrification plans envisage the wires stopping short - extraordinarily - at Selby. I think it will be well-known to those seeking powers to electrify just how awkward London can be where Private Operators are concerned - even though this was, originally, supposed to have been one of the Big Steps Forward of the privatised railway concept! I hope most earnestly that they succeed while , as previously said, keeping my fingers crossed. One of their ways of spoiling the plans will, traditionally, be by employing delaying tactics. Remember them!!? Let's watch out for them.

Although the Green Party is proposing re-nationalising the railways, I would argue that here are a few private bits of the network (Hull Trains and Chiltern Railways among them) that could be left to operate intact within a nationalised environment, and I personally would argue for (party members can do that, since it's a democratic body) . I'd also like to see the return of something akin to the Derby research centre of BR days. Many interesting ideas came out of it.

It should connect in nicely with the transpennine electrification - seems daft that it wasn't included with that package, given the few obstacles to electrification of the route (no tunnels, in places formerly a 4-track alignment giving plenty of trackside space for stanchions & construction/maintenance access.

@John Gilbert, Cradley, Herefordshire
You are right on the mark.

First Hull Trains and it's backers need to take a step back. This is a very risky move for a business, given that it likely depends on winning the twenty year concession. I expect that they would need this not only for the infrastructure changes, but to also contribute to the financing of the replacement stock.

If they go ahead, they will be in competition with what amounts to a nationalized operator, and would be upgrading the infrastructure belonging to a company under government control. On top of this, the government is likely to change to a left-wing, anti-business government at the next parliament, before the project is finished.

If they have any doubts about the DfT's fickleness, they should reflect on what happened to National Express.

(Just to clarify the position, Hull Trains would be applying for an open access licence, not a concession.—Editor.)

Regarding Mr Collett's point, the Network Rail scheme already proposes electrification from Leeds to Selby.

As regards the inspired Hull Trains scheme, it will all depend on the DfT, ORR or whoever up in London, and they are not by any means dependable as regards private investment by an Independent operator even if this would greatly benefit the railway as a whole. We shall see. It would be a good idea but dependent on the Westminster and Whitehall mandarins and their arcane activities - which means not really dependable at all!! Fingers crossed then.

If Hull Trains is willing to chip in for the cost then i'm all for it. The 180's could then go to a franchised route where they are really needed along with those displaced by Great Western electrification. Liverpool -Nott's/Norwich being the first to come to mind.

If they are willing to put there own money on the line and it actually costs the tax payer nothing then good luck to them.

One assumes that this will involve electrification of the stretch from Temple Hirst Junction to Selby as well. Has anyone given thought to the stretch from Hambleton North Junction to Selby, allowing electric services from York to Hull? This would make sense as a long-term investment.

This is great news for First Hull Trains, they already provide excellent service. If this pushes them onto the next level it will be even better for everyone.