Posted 28th January 2013 | 39 Comments
Preferred HS2 route to north revealed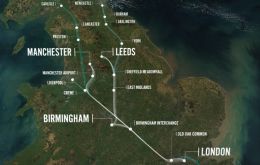 DETAILS of the second phase of Britain's new High Speed line HS2 have been published today. The maps released by the Department for Transport confirm that there are to be two spurs north of the West Midlands, going to Manchester and Leeds.
The routes will include intermediate stations at Crewe, Manchester Airport, the East Midlands and Sheffield Meadowhall.
Journey times will be slashed, with London-Manchester coming down to a predicted 1hr8min, but the transport secretary Patrick McLoughlin said: "It's not just about journey times, it is also about capacity. We are finding that the railways are overcrowded."
The line to Manchester divides at a triangular junction south west of Altrincham, with the right hand spur continuing to Manchester Piccadilly and the left to a junction with the existing West Coast Main Line south of Wigan. This will allow trains to use HS2 from London as far as Lancashire and then join the existing West Coast Main Line to serve Preston, Carlisle and Scotland.
As expected, a spur to Heathrow Airport has been removed from the Phase 2 plans for now, until the future role of Heathrow itself becomes clearer.
Objections to some of the proposed alignments have already been made, such as in north Leicestershire, where there were fears that HS2 could prevent a planned freight depot being built.
However, voices have also been raised in favour of the scheme.
The Greater Birmingham & Solihull Local Enterprise Partnership said the extension 'represents one of the most important opportunities to bring about a step change in jobs, connectivity and economic growth', while Jim Steer of pro-HS2 group Greengauge21 said: "The new routes will be of tremendous benefit to Manchester, Leeds, Sheffield and the East Midlands, and this is reflected in the enthusiastic support from city and business leaders. Many other cities in the Midlands and the North will also get an economic boost from the improved services over existing lines."
Shadow transport secretary Maria Eagle told Sky News that Labour had supported High Speed rail when it was in office, but that she was concerned about some aspects of the plans for Phase 2.
"One is that we appear to be missing our major cities, and connectivity is actually important. And secondly, the government appear to be retreating from connecting it to our major hub airport, Heathrow."
She also said there were 'worrying signs' that the timetable was slipping. She added: "We believe ministers should be working more vigorously to ensure the proposals are delivered on time."
A consultation over the details of Phase 2 will now be launched, while the consultation into property compensation arrangements for Phase 1 closes on Thursday.
Reader Comments:
Views expressed in submitted comments are that of the author, and not necessarily shared by Railnews.
Some people's worst fears about a Toton station site came true at the back end of last week; a lorry crash on the M1 near Junction 25 caused grid-lock in Derby for hours. Sorry, don't know how badly it affected Nottingham.

A document extolling the benefits HS2 will bring to Nottingham in 2033 has been published, presumably by either HS2 Ltd or the DfT; it looks good, and I'm sure many who aren't familiar with railways will swallow it hook, line, and sinker.

Under the heading "Regular, reliable services", it states what the projected service times will be from the existing Nottingham Midland station in 2033; these have been calculated by adding together the sector times between Nottingham and Toton, and Toton and the end destination, and then adding an interchange time of seven minutes. But it then states that there will be three trains per hour to London, three to Birmingham, and five to Leeds.

Obviously, it won't be possible for London to be served via Birmingham, so to provide the timings and frequencies quoted, not only is it necessary for a high speed train to depart seven minutes after the shuttle arrives from Nottingham, but this has to happen six times each hour. And unless the Leeds trains depart simultaneously with those to London or Birmingham, there will have to be further shuttles arriving from Nottingham exactly seven minutes before these depart from Toton for the north.

The leaflet seems to be very precise; these timings will be available for rail travelers on the numbers of occasions quoted each hour .

Nottingham already has problems coping with the eleven or so departures it currently has each hour, so how will it be able to accommodate a minimum of six Toton shuttles each hour? And how can these be accommodated on the route out through Beeston and Attenborough; and what about the flat junction where Nottingham - Toton shuttles will have to cross inbound trains from Trent?

Something that has also surprised me; somewhere in the many pages of documentation published regarding the HS2 route is a statement which suggests "classic" passenger trains will access Toton from the south only. So if true, although Alfreton and Chesterfield are shown on the map which is included in the document I've discussed, they will not be connected to Toton.

I think some clarity is required from HS2 Ltd.

I want to pick up on the question of where the East Midlands HS2 station should be located, having read the comments here and elsewhere. I may repeat a lot of whatís already been said, but please bear with me.

To start with, no-one is attempting a case for a central station in Nottingham. This is perhaps unsurprising as it would need a spur line or the migration of the line east so as to run through the centre of Nottingham, and the additional cost and lost time savings at the very least would rule them out. In this context itís probably apt to cite the problems that beset the Great Central Railway from day 1, trying to carve its way through well-established urban areas at at the end of the 19th Century at great expense.

The other three options currently on the table are Toton Sidings (the currently preferred option of course), East Midlands Parkway, and Derby City Centre. Thereís a couple of other options that Iíll come to further below.

A lot of people seem to be immediately convinced that Toton is a good choice because of its roughly central position between Derby and Nottingham, and its relatively short distance off Junction 25 of the M1.

The central position would be good if that integrated well with existing public transport options. It perhaps does for Nottingham , since regular trains will route down the Erewash valley into the new interchange station, and then carry on to Nottingham as normal, and vice versa. The carrot of the tram network being extended from the nearby A52 Bardillís Island P&R has also been dangled and would undoubtedly be of benefit to those people in Nottingham who can easily get to a tram stop (ie. a minority of people).

It does not integrate well for Derby, with trains having to reverse into it from their current route to/from Nottingham and London, adding time to journeys and making the choice of HS2 that bit less enticing, especially when electrification of the mainline will have delivered a much better service to London already. It may seem a trivial point, but multiple public transport trips are a big turn-off and the marginal gain in travel time to London on HS2 would likely be offset by the perceived inconvenience of having to use 2 trains, traipse up and down more platforms, risk delays and missed connections, etc.

As for buses, Toton Sidings are a dead loss, and lets not pretend any meaningful numbers of people will walk or cycle to the station.

That leaves car access which, since Toton is really being billed as an East Midlands P&R station, is how most people will be expected to get there. And what is proposed? Ė a roundabout on the A52. Brilliant. A traffic-light dominated junction that will worsen journey times for non-HS2 users in the area, with the HS2 traffic adding to the regular severe tailbacks on the A52 in both directions. And thatís before anyone sees what the impact of the tram P&R at Bardillís Island will be. Many a future HS2 passenger will be put off by missing a train simply because they couldnít get off the A52 because of tailbacks from Bardillís Island or Jn 25 of the M1.

So, in summary, a Toton station will be good for some people in Nottingham who use public transport, and some really local people who donít have too far to drive (a couple of miles, say). It will also be good for anyone in Derby who doesnít mind sitting in traffic and builds in plenty of delay time to their journey. To put it another way, itís a lousy location for a P&R station.

Ok. That leaves Derby. Judging from news items and posts there seem to be a few reasons why Derby is not favoured:
1. If Nottingham canít have a central station then neither can Derby
2. It would be too disruptive to rebuild Derby Station
3. Access from Nottingham is poor, particularly access time.

I think thatís about it.

For me there are some excellent reasons for choosing Derby (and not just because Iím from there):
1. superb integration with existing rail services
2. substantial use of an existing rail corridor
3. about 11miles less HS2 route
4. access is actually quite good and easily improved (for cars and buses within Derby, and for connecting train services, including the obvious potential of a quick non-stop service on an electrified line from Nottingham)

The alternative of a station in between is that both cities have to put up with the deficiencies of a non-central station. Nottingham will never be a central option but Derby is, and the effort could be put into ensuring the former is well connected to the latter.

One lesson we never seem to learn over the years since privatisation is the importance of active plentiful competition as a mechanism for keeping fares down. Inter-franchise competition should be built into the franchise map and strengthened by law.IMO

Whatever happens with HS2, I would hope that everybody will have the choice of HS2 from Toton or where ever into a redeveloped Euston, or an slower but fast electric service from Derby and Nottingham centres into St.Pancras, operated with different 'franchise operators'. Then its up to the good citizens or Beeston, Bulwell, Spondon and Stapleford to pay their money and make their choices.

It is interesting that just within the 20 or so contributors to the debate on this site on this topic how many differing views there are.

Who'd be a politician ?





Just to make one important clarification about the Toton idea. As I understand it ...

This is a preferred option on the understanding that local rail services will be reconfigured to provide this station with decent feeder services to Derby, Nottingham and elsewhere. This is really just a variation of the idea of locating a station and East Midlands Parkway, which already had a decent local service. The only reason East Midlands Parkway was rejected was that this would involve extensive building on green belt land, and the local authorities made it clear they would not co-operate in removing the green belt status.

Network Rail is currently looking into how to provide a local service to Toton station. In the event they conclude it can't be done, the government will almost certainly abandon the Toton idea and revisit another option (probably East Midlands Parkway or central Derby).

IMHO, the East Midlands - London service is a red herring. The journey times from Derby and Nottingham to London on the MML will always be competitive. A far more interesting prospect is improving services to the north. I can certainly vouch as a northerner that train services between the East Midlands and the North East are currently pretty atrocious.

Tony Pearce: On the peak pricing idea, that is again a reasonable idea, with the only drawback that it's already being used to full effect. The worst crowding in on the London Midland commuter services out of Euston. It's one thing to price long-distance travellers off the morning and afternoon peaks, but quite another thing to price commuters of the peak trains. Anyone volunteering to wait two hours before going home every day of the week? I'm not.

Toton Station, just look at all the naysayer's who can not see a 21st Century Railway being Engineered, not just built as it would have been in the 19th Century.

Toton Station - midway between Derby and Nottm = Excellent "Park & Ride" location, serving all those who do Not live in either city centre and getting into the city centre would be an ordeal in itself.

But say almost all trains stop at Toton, FOUR trains per hour stop at Toton but Two branch off and go to Derby Centre Station and Two branch off and go to Nottingham City Centre station - with possibility of it carrying on to say Lincoln (they branches off the LGV onto classic upgraded lines - electrified and platforms at the sparsely located stations altered to handle the new rolling stock.) Not every train on HS2 has to start in London and GO to the very end of the purpose built line.

Nottingham(Lincoln) and Derby could have a train every half hour to London.

And YES it might make living in the North and working in the south viable, ending the North South Society Divide.

But the Most important aspect would be, the elimination of 'most' internal flights in the UK! How many landing slots at LHR and LGW etc are for flights from the midlands and north? Double digit numbers.


Reading the comments about HS2 and particularly the Antis it seems that they forget about freight that rail carries and If we are to deal with road congestion we will need to move far more freight by rail. However, the biggest problem is lack of capacity to do this on our old historic network.

As for passenger numbers on trainable leaving Euston well this could be said about other terminal stations especially if you ignore how many passengers ARRIVED on said trains!

HS2 is about diverting long distance trains from local lines onto a separate railway thus allowing them to overtake the slower stopping trains, check departures at Euston and some trains even now have a first stop that is beyond HS2 Stage 1!

As Chris Neville-Smith says, we have no idea what the demand for rail travel will be in 20 years time; but that isn't a new problem.

Next month will see the fiftieth anniversary of the publication of Beeching's first report; for those not familiar with the content, it included (as part 2) a whole raft of maps which included freight traffic flows not on rail, planned [Freight]liner routes, etc. It wasn't just about closures. In his second report (published in February 1965), he built on his first part by suggesting major routes which should be developed; in this second one, maps were integrated into the report to explain and justify the recommendations

This second report looked forward almost 20 years, to 1984; with hindsight, we know much of what Beeching foresaw was wrong, but if anyone had argued back in the 1960s that by the mid 1980s the deep mined coal industry would be in terminal decline and that manufacture would have been transferred to low labour cost countries like China, their sanity would have been questioned. And at that particular time, the passenger growth experienced on long distance services brought about largely by West Coast electrification and the introduction of HSTs were still in the future; remember, when Beeching published his two reports, BR still operated steam trains.

We have a similar situation now to that experienced back in the 1960s in trying to look forward to the 2030s; just looking forward a few years can be way of mark (think of initial Channel Tunnel usage projections), and as we really have no idea what demand will be like in twenty years time, we have to make some assumptions based upon that which is known. And this is were I have some concerns with HS2.

Whereas with Beeching, its possible to see how he arrived at his conclusions, this isn't possible with HS2; it's a project conceived by politicians and taken forward by engineers to meet the politician's remit. Consequently, although we know that the railway (and in particular, the WCML), is getting "full", we don't really know why that is.

I know the obvious answer to that question is because we're getting to the point were more trains can't be run on it, but we don't really know why this is; we don't know if some of the passengers are using WCML because its the only way now available to get to their ultimate destination, even though they don't particularly want to use the line (say from Yorkshire or the East Midlands to Milton Keynes), so we don't know if there are any alternative options which could be developed to provide an alternative quicker and cheaper. With freight, Felixstowe, the starting point for many of the container trains on the WCML, just didn't feature in Beeching's plans at all; if it had, would those former LNWR lines which crossed from Rugby to Peterborough and formed a sort of rail equivalent to the A14 still be with us? But its gone, so if Felixstowe - Ipswich - Peterborough - Leicester - Nuneaton were to be upgraded and electrified, could this take traffic off the WCML and provide sufficient spare capacity to make HS2 unnecessary?

Let's also remember that Milton Keynes - which will soon have a population similar to that of Edinburgh - didn't exist when Beeching made his plans; consequently, is the whole rail network across the South Midlands not fit for purpose? And does it also need better rail connectivity with the East Midlands, Yorkshire, and the north east?

I believe questions such as these need to be considered; and if its found that we do need a new railway, I believe it is best to go for a high speed passenger one. However, I don't think it should be seen as "separate" from the existing network; even Spain has built many of its high speed lines as an integral part of its national passenger network and dual-gauge trains have been constructed so that trains can use the 1435mm high speed lines and then the broad-gauge ones to reach the extremities of the country.

So what route should HS2 take, if that's what is needed? What form should it take - do we need speeds of over 200mph, or are lower ones sufficient? BR's proposal of 1989 had a maximum of 300k/hr, and this meant that existing rail corridor from Old Oak Common to Northolt Junction without the major works currently planned and the abandoned GC main line south of Rugby could be used, and the IC250 trains planned for it had a London - Manchester journey time of 1hr 35mins compared to 1hr 8mins for HS2; but BR's proposal allowed trains to serve both Stoke and Milton Keynes, so was it a better option overall even though it took 27 mins longer to reach Manchester?

Beeching used what I'll call "transparent methodology" to reach his decisions; his reports (particularly part 2) included maps showing anticipated passenger and freight flows, and these were used as a basis for his conclusions. So when lines were closed and capacity reduced on those that remained, his logic was understandable although often proved wrong with the passage of time; but having said that, how wrong was he? Lets not forget that his "smaller" railway - smaller not just in route mileage but in capacity - has lasted for over 40 years before it became necessary to think about putting back some of the capacity he removed, like in the Cotswolds, on the Swindon - Gloucester line, and through the Chilterns to Birmingham.

The general consensus is that we need more capacity. So let's first have a study to determine exactly where people want to go, the staring points and destinations for freight, etc., and from that work out the general shape of the network we need. I believe this will show there to be a growing demand for passenger travel between London and our principle provincial cities, between many of these themselves (like the trans-Pennine flows between Manchester and Leeds in particular), and to and from our airports. Although Heathrow in still our major airport, since the fall of Communism and the arrival of budget airlines, our travel habits have changed considerably, and perhaps access to provincial airports should figure more strongly in our needs.

When this is known, we can have a more educated discussion about the nation's needs; if relief for our major trunk routes is needed, high speed is probably the best option, but we need to agree what form it should take. Hopefully, we can then get away from the present polarised discussion about HS2, and people will know why new railways are needed at particular locations, and how they will benefit from freed-up capacity on existing routes.

Coming back to the original point, as we don't really know what is needed in twenty years time there needs to be concensus; this is important to ensure whatever is agreed upon now is carried through to completion, irrespective of whatever colour of government we have in years to come..

NIMBY's NIMBY's NIMBY's...

If the NIMBY's do not want to look at concrete elevated sections, simple solution, they can sponsor or pay privately or do a local fund raiser for their span/section to have a Portland stone faÁade!!!
Nice little way to tart it up! and shut them up!

The entire purpose of the HS2 is to free up traffic for rail/catenary replacement - starting in 2025 - so WHY put large portions IN TUNNELS?
PUT IT ABOVE GROUND for those on the train to ALSO enjoy the 'MAN MADE' vista/scenery of the Grand and on so ... Chilterns!
4 sets of track take up no more than 25 metres width in total.
And Not visible from more than a few hundred metres.
and with the NIMBY sponsored faÁade's - it would be in more films and etc than the viaduct in Scotland (in every harry potter film) .... Destroying the landscape?? It is ADDING to the already man made landscape of the little NIMBY Englander's.

ALL the NIMBY's - only complain to get more - Compensation!
What has the England become?

Demand can always be limited by raising the price of travel on certain lines and at certain times. I would accept it is indeed reasonable that the Railways plan for all sorts of eventualities and have roughly a 25 year time scale. I also think the Government should plan strategically a National Transport plan. This should of course cover Roads and Airports as well as Rail. The Government may be well aware of what roads and airports it is planning to expand but I would like to know what they are. Airports cannot possible cope with the current growth for the next few years unless new runways are built, or the demand transferred to other airports - which are rail connected. Maybe this is the rational behind HS2. The other big impondrable is whether all forms of transport will be affected by increasing use of the Internet, and how. Theoretically no-one really needs to travel now except for pleasure.

"We now have everyone thinking that Rail travel is going to grow exponentially over the next 20 years. Why ?"

This is a reasonable argument, and it is correct to say that there's no certainly over what travel patterns will be like in 20 years' time.

There is, however, a simple answer to that: the dangers of under-capacity far outweigh the dangers of over-capacity. Let's suppose that when construction starts for HS2, passenger numbers unexpectedly stop growing completely (and remember: even HS2 ltd's own esitmates of 2.5% per year is very conservative when the present reality is more like 5-6%). HS2 will still be of use to the railways. The capacity problems on the WCML (especially the LM commuter trains) are not projected future problems - they exist now and are projected to get worse, and HS2 will still solve this. The only problem is that the BCR may end up below 1. Embarrassing, but not the end of the world.

Compare this to what happens if we don't build HS2 and growth doesn't slow down, or even accelerates. I hardly need describe the state we'll be in if we one day say "Whoops, commuting to London is impossible." I don't know about you, but I'd rather take my chances with the other worst-case scenario.

"What better way to waste £100bn than on unnecessary high speed lines to shuffle fat cats around Britain?"

Dear me, this really does seem to be a magnet for recycling all the tired old arguments with a thinly-veiled anti-rail agenda.

For the 385,289th time, the business case is modelled on HS fares being about the same as other rail fares. That's not set in stone - it might be a bit higher to recoup the costs IF, AND ONLY IF, it leads to an increase in fare revenue. Contrary to what StopHS2 seems to think, they're not going to raise the fares if it causes revenue to fall, that is common sense. Equally possible, fares might be less than non-HS rail. I am currently planning a rail journey from Montpellier to Figueras. £16 on the TGV, £42.50 on the non-TGV train - something I suspect HS2AA either didn't notice or ignored when doing their "research" on train fares.

Oh, and I use TGVs when I can and earn considerably less than the average wage, so you might want to show some more consideration when you brand other people as fat cats.

"4 lines to Birmingham is quite enough and passenger counts on services departing Euston have shown that most services outside the peak hours depart empty."

So, your solution to the LM trains leaving Euston at 160% load factor in the afternoon is to ban the surplus 60% of commuters from travelling at peak times? Never mind, they can twiddle their thumbs in London until 7 p.m. and be back with the family round about 8-9.

You're welcome to clarify what you meant by "four tracks is enough", but this seems to be the usual anti-HS2 line of refusing to acknowledge the commuter crowding exists, and when they are unable to dodge the issue any more solve the problem by claiming it's not a problem.

Tell you what, since you are blaming overcrowding on some trains being half-empty, why don't you set an example by never driving your car unless at least three people are in it? Or is this level of inconvenience something that only rail passengers are meant to endure?

By the time anyone drives , takes a bus or train to the new Toton high speed station from Nottingham or Derby areas surely any time saved from using the existing midland main line will be minimal ,why not elcetrify ,re signal and increase capacity on the midland line from London to Carlisle giving future extra freight and passanger capacity in a fraction of the time and cost of HS2

Whichever party promises to cancel this white elephant vanity project has my vote in the next election. What better way to waste £100bn than on unnecessary high speed lines to shuffle fat cats around Britain? 4 lines to Birmingham is quite enough and passenger counts on services departing Euston have shown that most services outside the peak hours depart empty. A little bit of ingenuity about getting the most out of our existing lines and regard for taxpayers' cash would go a long way.

Regarding Claydon William's comment, I regret I have to disagree with him about the benefits to the million or so people who live in eastern Derby or western Nottingham.

I live in south Derby, and just a short walk from my home is a road sign which tells me that it is seven miles to M1, junction 25; and if you know this area, you'll know that as you go east along Brian Clough Way (as the A52's called in these parts), as you cross the M1 you see the bridge over the north end of Toton sidings in front as he road rises to "Bardill's Island".

On a Sunday morning (or in the middle of the night!), if all the traffic lights are at green it's possible to drive from my home to the proposed station site in about 15 minutes; but that isn't the norm. For most of most days, the A52 is, just like the WCML, full; and if there is an accident on the eastbound carriageway, the tail back can be so bad it can even affect people getting through Derby to the existing Midland station!

There are, of course, alternative routes to Toton - say by using the A6005 to Long Eaton or by branching off and going towards Stapleford; but as soon as there's a hold-up on the A52, these clog-up as well. So people try to go further afield, such as by using the A6/A50 to Sawley and then into Long Eaton from there; or even as far as M1 junction 24 and then along the A453 to Nottingham. So all of these roads fill up as well; and that can be really maddening, because a few weeks ago I even had problems getting to my local pub, and all because of an accident far away on the A52.

Getting from central Nottingham is even worse; by the time Toton opens, the Chilwell tram may very well have been extended to the HS2 station site, and a guaranteed journey time of 40-50 minutes will be the option of least risk. The section of the A52 between the Queen's Medical Centre and Priory Island is extremely bad, and just this short section which separates the university campus from Wollaton Park can take 20 minutes; widening this pinch point isn't really an option.

There are, of course, alternatives from central Nottingham, running south of the university; but these clog up as well.

Those who will potentially benefit most from Toton are likely to be, firstly, people in the immediate vicinity; however, to achieve this, more access roads will be required, particularly from the southern (Long Eaton) end. Secondly, those who live in north Nottingham (Basford, Bestwood, and near the Phoenix Park tram terminus), southern parts of Ashfield (Hucknall), Giltbrook, Eastwood, Langley Mill, Heanor, etc; in other words, all who can easily access junction 26 (via the A610) and junction 27 to the north. But at peak times, the roads around junction 26 get heavily congested as well (about 12 months ago, I got so fed up with waiting to get on the M1 at junction 26 I decided I'd make a detour and go and eat at IKEA and continue my journey later!)

So this is the problem with Toton; it's so inaccessible.

At present, Trent Barton run the 'Red Arrow' express bus along the A52 between Derby and Nottingham on a 10 minute frequency during the day, and this could easily add a Toton station stop; at the Derby end, there is a dual carriageway right into the city centre from the A52, and Nottingham has many bus lanes. Obviously, these help, but even with the priority bus journeys are much extended during the peaks.

So in reality, most people will need to allow about thirty minutes to get from Derby or Nottingham to Toton; and that's if they are using their own transport or a taxi. Just how long it will be using public transport, I hate to think; being a grey haired old grumpy, I sometimes use my bus pass to go to Nottingham, and although I'm only about eight miles form the proposed station site, it was an hour from leaving my home until the 'Red Arrow' coach sped across the north end of Toton yard.

I believe major infrastructure works will be required for a Toton station; just what will be best, I don't know. Some in Derby have suggested the Nottingham tram be extended through to Derby, but I don;t think that would really help; however, something elevated which could run at a reasonable speed from Derby city centre over the railway station, across Pride Park (with a stop to serve the football ground and velodrome), then along the median strip of the A52 might help. But a change would still be necessary at Toton, and Euston might be the wrong arrival point in London (I know it is for just about all of the journeys I've made to London over many years as, typically, the Euston Road isn't the end point for my journey).

A guy from HS2 was speaking on the local TV news tonight, and he explained that stations at Derby, Leicester, and Nottingham had all been considered; Leicester was eliminated because of additional costs and lower revenue, and Nottingham because it could only support one train an hour to London. Derby was discounted because of "complex construction" works being needed (why's it wrong for Derby but OK for Euston, I wonder?), and it had been calculated that there would be 20% more demand at Toton over the appraisal period, which equated to additional revenue of £190m and provided £500m more in economic benefits.

This seems to be completely at odds with the results of a study undertaken on behalf of Derby City Council; this suggested the economic benefit would be much greater if the station was at Derby rather than Toton or Nottingham (£440m Derby, £410m Nottingham, and £300m Toton)

I'm totally confused!

My main concern is that the existing train service pattern will be changed to such an extent that passengers will have to use HS2; for what is on offer at present is definitely of no benefit whatsoever to me. If I'm still alive I'll certainly go on it just to say I've experienced it, but I can't be bothered with the added inconvenience all the necessary changes will bring; I just want to go to my local station (sometimes using the bus), then to travel to my destination with the minimum of changes. Unfortunately, HS2 won't give me that.



In the 1980s everyone thought that rail travel was just going to get even smaller, and they had the Serpell enquiry in 1983 which proposed closing more railway lines including Marylebone Station. This seemed rather stupid and it was luckily not accepted by Mrs.Thatcher. We now have everyone thinking that Rail travel is going to grow exponentially over the next 20 years. Why ? People have not only limited money but very limited time. Governments always like to think 'Big' and then have to cut back on small things to pay for it. The last Labour Government commissioned 2 new huge aircraft carriers but we are now cutting back on the ordinary soldiers. The same might well apply to the railways in 20 years time.

"At first glance though thanks to the vandalic sweeps of some ignorant plannerīs pen beautiful Cheshire is going to be unnecessarily and irrevocably ruined."

May I ask exactly how a two-track railway is going to obliterate the whole countryside of the entire county of Cheshire?

Sorry, but I'm getting a little tired of all the people who think that one railway line is the most horrible terrible thing you could possibly inflict on the poor innocent village folk of Cheshire/Oxfordshire/Buckinghamshire/wherever, but don't seem to have a problem with motorways. The M6, M53, M56 and M62 inflicted far greater destruction on the countryside of Cheshire, with barely a peep of protest, so I have trouble believing they're really that bothered about it.

As someone who lives in Derby, I'd like to pick-up on Chris Neville-Smith's comment about property demolition.

If the eastern arm of the 'Y' was to start from near Lichfield, it could follow the A38/rail corridor for a considerable distance to the north; moreover, as the selection of the route through Long Eaton shows, there are no reasons for not using existing railway owned land for the new line.

Much of the route from Wychnor Junction near Alrewas through to Duffield was (or still is) four track, and on the final stage of the route into Derby from Birmingham it was six; the alignment is good, and very high speeds should be possible. Obviously, there would be some high cost infrastructure work needed - like the reconstruction of Burton station - but a route could probably be built using mainly railway owned land, and without any property demolition being required.

With regard to Derby itself, although the present railway station site has some land spare on its width, it would be rather difficult to accommodate a station suitable for both HS2 and National Rail services. But it just so happens that the land between the station and the city centre, Castleward, is being re-developed.

The potential exists, therefore, to build a completely new station in Derby on the Castleward site; this would need to be in a trough, Stratford International fashion, but could form the basement for a commercial development; also, it could be linked directly into Westfield, and as that attracts about 25m shoppers each year, there's a potential market there for rail to aim for!

If this option was to be developed, the existing route through Midland station could consist of two high speed tracks plus two for freight; through trains wold take this route by-passing the station, as HS1 does at Ashford. North of the new station, two high speed and two National Rail tracks would need to tunnel under the river and emerge on the existing line of route in a largely industrial area, so house demolition is unlikely.

South of the station, there would need to be a fork with two high speed tracks and two National Rail ones going to join the Birmingham - Derby line, and two joining the existing Derby-Trent line; these connections would again be away from domestic areas, and very little land need be purchased to accommodate the junctions.

The station box would need to have four high speed tracks (two for "Berne gauge" trains and two for classic-route compatible ones), and I would guess six for National Rail if the present service pattern is to be maintained; Castleward could easily accommodate a station of such a size. As high speed trains would not be running at 200mph on the station approaches, curvature of the route would not be a problem.

How would a high speed go north of Derby?

The four track solum ends just north of Duffield, and as it leaves Derby at Little Eaton it is crossed by the A38; perhaps this corridor could be followed, re-joining the M1 corridor in the South Normanton area. I guess some quite impressive gradients would be required, though.

So a route through Derby would, I believe, be possible, and it could be planned to fit in well with an urban re-generation project; I acknowledge, however, that it would have knock-on effects, as an urban village is presently planned for part of Castleward, and replacements would need to be built elsewhere which could be a problem for a city bursting at the seams.

Yesterday's local newspaper quoted from a report which showed that the location of the HS2 station in the city would bring greater economic benefits than having one in either Toton or Nottingham; I must admit, the findings surprised me, but I have no reasons to doubt the validity of the claim.

Derby is often overlooked as a major centre; it has more high tech jobs than anywhere else in the country, the wage rates are amongst the highest in the UK, and it has a greater population in its drive to work area than Nottingham has, the "core city" for the East Midlands. But unlike Nottingham rail commuting inward is quite small; the major employers, like Rolls Royce and Toyota, are all on the outskirts of the city, and because the road network is good, most people drive to work. But having said that, this is the only option for many; people drive along the A38 from the West Midlands, and up or down the M1; I worked in an office at one time where colleagues drove from Rugby, West Yorkshire, and even west of Birmingham, just to enjoy the labour rates available in Derby, and this is not unusual.

Unfortunately, they will still have to drive after HS2 is built (if they're still at work then!)

in response to Geoff Steel of Northampton......
------------------------------------------------------------------
Your assertion that the East Midlands ststion site at Toton is 'too remote' is completely ridiculous IMO

The Toton site is perfect for those million people living in Eastern Derby or Western Nottingham, and with its proxomity to the main A52 road, it is easily imminently accessible to the whole East Midlands area.

The bigger question for me; given the massive imminent improvements to the Midland mainline service that electrification will bring; is why we are bothering with a HS station at Toton at all.......

"Its just a vanity project"

Oh puhlease, not this one again.

I think a more likely explanation is that we've got the worst reliability in Western Europe, which is, surprise surprise, down to attempting to squeeze too many trains on to not enough tracks. And guess what? Last time we spent money on improving the existing West Coast Main Line without laying any new track, reliability didn't improve, even though the final cost was nearly as much as phase 1 of HS2, possibly more. Meanwhile, France, Gremany, Italy and Spain are all building more railways to acommodate the number of train journeys that need to be made, and are decades ahead of us.

I think the term "embarassment limitation project" would be more accurate.

(By the way, since you are from Leamington Spa, do you realise that one possible consequence not building HS2 would be a cut to the number of services stopping at Leamington?)

The politicians have decided, through their agency HS2 Ltd., on the alignments from Birmingham to Manchester and Leeds.

It will take a good look to absorb all the minutia. At first glance though thanks to the vandalic sweeps of some ignorant plannerīs pen beautiful Cheshire is going to be unnecessarily and irrevocably ruined.

If you are travelling on the Leeds section you will need your GPS device to be able to find the station at Toton. At least the good people of that district will get their 15 mins. of fame.

Have no doubt that now the politicians will work to make the HS2 project work. If that means restricting traffic through Stoke on intercity trains then they will do that. If it means that East Midland trains might offer a competitive service on the MML then forget it. The operator will be forced to programme stopping services on the classic lines from Leicester to Leeds.

The project is turning into a self serving end in itself. It seems that our vainglorious politicians have become prisoners of their parties,civil servants and consultants. They have not got the message. The object of investing in infrastructure is to facilitate the transfer of traffic from road to rail.They will put more passengers on the trains at the expense of many more highly polluting cars on the roads just to reach the stations.

Fast trains - yes. This white elephant - no.

Amongst the 'hot topics' in McLaughlins in-tray at present, next to 'HS2' is the problem of airport capacity. What a shame there is insufficient integrated thinking at the DTp to realise that one is the answer to the other.

Developing domestic rail feed into Heathrow, along with providing High-Speed rail links to CDG, BRU and AMS airports, would free up hundreds of slots at Heathrow to improve international services and eradicate the need for 'Boris Island' or the like.

HS2 MUST centre on alleviating airport capacity as a pivotal centre of its planning IMO



Its just a vanity project,someone's gone to France,seen those Duplex TGVs
flying down to the South and said 'we need that' what 'they' forget is France is three times the size of UK,building more lines isnt the answer,all it does is bring more and more people on to the rest of the network e.g. Crossrail(another waste of money) More money/investment should be done to existing lines and sorting out the underperforming TOCs(FCC,Southern)
it took me 3 hours to get to London from Gatwick last week,priceless

In my view Toton has been chosen as a station simply because there is a large existing railway site much of which is sitting there doing nothing other than storing unwanted locomotives. I believe it is too remote from either Derby or Nottingham for it to benefit either city as the transfer time will negate much of the overall journey time benefits generated by HS2.

Also with Old Oak Common interchange being so close to London I have to question how many trains per hour can be realistically pathed on the two track southern section of the route. Assuming that connections to the WCML and ECML are being built to facilitate through trains to Glasgow and Newcastle / Edingburgh I agree with the other comments that the southern section should be 4 tracked otherwise we will just be transfering the congestion from the existing WCML to HS2.

With HS2 being linked to the existing network at various locations it raises another question regarding the design of the new trains for through services that will serve cities such as Liverpool; Newcastle and Glasgow / Edingburgh. Assuming that the routes to the new termini at Birmingham; Manchester and Leeds will be built to the International structure gauge to allow European size trains (e.g TGV/ICE) to access HS2 via HS1, will the trains for the domestic services from Euston be built to the same generous size or will some or possibly all the new fleet have to be purpose built in order to fit the smaller UK structure gauge and control systems. This could add quite an additional cost to the project as these trains will need to be able to operate with different signalling systems and train control all of which is more costly.

Finally, why can't we deliver HS2 in a shorter timescale. Now that it is almost certain to be going ahead lets just get on with it and develop the whole project as a single entity and have it operational by 2020.

On the matter of the locaton of the East Midlands and South Yorkshire stations, I think what ultimately happens will depend on what people from these areas choose to push for.

I'm not too bothered about these locations, myself. For centre-centre travel from Derby or Sheffield into London, yes, it's a nuisance. But in reality, most journeys to London will start not from Derby or Sheffield centre but from one of the suburbs. I believe the current thinking is that trains that serve Sheffield or Derby should, where possible, also serve the HS2 station. For the Sheffield trams, it would likewise be a relatively simply matter to provide the option of staying on the tram and ending up at the Meadowhall interchange. (Of course, if you're starting your journey from London, it's more likely you'll be headed for the centre of Derby or Sheffield. That is more of a snag.)

The options for city centre stations are not as painless as you might think. Unlike some other stations, where a convenient route happens to exist into the centre, it's unlikely you could do this for Sheffield or Derby without considerable demolition. In the consultation, I think it will need to be made reasonably clear what the likely consequences of city centre stations would be.

If the people of Sheffield and Derby understand what this entails and still want to push for this in spite of the impact the construction will have on the city, then we can look at this again. I get the impression that Patrick McGloughlin seems quite open to reconsidering the route if enough people want a change.

(Oh, and I believe one other option that's been floated is using classic compatible services to serve the centres of Sheffield, Derby and/or Nottingham. That's definitely an option I think needs explorin further.)

Whilst i am not against HS2, i can't help but feel that the location of the East Midlands Station at Toton has been decided on in an attempt to benefit two cities, but will end up benefiting neither. With forthcoming electrification and linespeed improvements on the Midland Mainline, a journey from Derby or Nottingham, to Toton will negate any savings in journey time. That is of course, unless there are significant improvements to local services with regards to electrification and connections to the new station.
I also note that the line will pass underneath East Midlands Airport. Would it not make more sense to locate the new Station there, which is somewhere a significant number of people travel to. There could be an intensive service from both Nottingham and Derby, connecting with the new station if new chord lines were added from the classic lines.

Why is this tiny project taking years, less time than the Chinese take to build 1000km, we cant get 150km's even the ground broke...
HS2 will only carry a max of 36tph, that is very limiting, so the section from Birmingham towards London...
HS2 should be 4 LGV lines between Birmingham and the M25 area,
then two LGV's go to LHR and onto LGW and around to connect with HS1 near Maidstone.
The other two lines go to the new station at Old Oak Common, built with east and northwest traffic on different levels for easier interchanges.

Also at LHR the 2 lines split - with 2 going to LGW/(HS1 spur) and continuing on to the London TEA (thames estuary airport)/Stanstead/Luton/ and completing the circle at LHR.
Then 2 LGV go on a west to east axis to OOC with interchanges with the 2 lines direct from the north.
2 LGV terminate at Euston.
2 lines are straight lined tunnelled under London with one intermediate station between Euston and St Panc/ KingsX - 6 platforms, 30m down with west exit to Euston, east exit to St Panc/Kings X.
and then the line continues to join HS1 at Stratford!

This would make trains from the north able to either go to LHR (and the airport connector) or to Old Oak Common, the tunnelled out station in central London to HS1 and onward to FR,BE,NE,Germany,Spain etc.

How LOGICAL is it to design for the 21st century instead of building for the 19th Century?

Additionally the airport connector LOOP connecting: LHR - LGW - HS1 (near Maidstone) - TEA (thames estuary airport) - Stanstead - Luton - LHR = a circular route to connect all the south east's airports to be essentially a people mover. This loop would have extensions to CDG/Brussels/Schipol/ and in UK (B'ham, East Midlands, all the way to Glasgow and Edinburgh Airports).

At speeds up over 450kph, it would make Scotland to CDG in less than 2 hours. And ending the need for any Internal UK domestic air traffic/flights.
How many landing slots would be free'd up with no Birmingham or Manchester to London flights as the Train will be Faster.

No curves, straight lines to get maximum speed. The current plans for HS2 does not have sufficient spurs so that HS2 trains can share a common station with Nottm/Derby - but have a spur onto the Victorian Era lines (upgraded) to have trains also terminate at places like Nottingham, York, etc.

Additionally since the LGV's pathways will be built to larger European standards, I do not see a mention anywhere of rolling stock being 20cm wider so in 2nd class there can be a 3x2 seating arrangement.

If the NIMBY's do not want to look at concrete elevated sections, simple solution, they can sponsor or pay privately or do a local fund raiser for their span/section to have a Portland stone faÁade!!!
Nice little way to tart it up! and shut them up!

While the diagrams show that it is intended that there would be services to Crewe/Runcorn/Liverpool leaving HS2 just south of Crewe, I note that there is no intention in the plans to run any services off HS2 via the North Staffordshire line. By implication the existing fast through services from London to the major conurbation of Stoke-on-Trent and onwards via Macclesfield to Manchester will be withdrawn once HS2 opens. This will be retrograde and have a serious adverse impact on these areas.

Once the second stage has been finalised surely the suggestion by former Transport Secretary Lord Adonis that it should be built as a single project should be revisited?

This could then allow sections of HS2 connecting stations kin then north to built much earlier than waiting until Stage 1 to Birmingham has been built.


Allowing construction to start at Leeds and work south could allow faster journey times long before presently planned.

The present plan is built upon simply transferring annual spending on Crossrail to HS2 and yet they are totally different projects with Crossrail spending most on Tunnels and Underground Stations while HS2 is more like building a motorway and then adding track and ballast and isbCameron a better way to calculate annual spending on track construction.

TV news reports suggest some of the stations in then north will be remote from city centres and this will surely work against the idea of High speed Rail if you face a journey to the city centre which wipes out time gained using HS2!

As for Heathrow well that is more to do with delays to assess airports for London and should include converting the planned branch to Heathrow to a through route connected to an electrified Great Western Railway which could be upgraded to 140 MPH?

Good news but I think most people will reserve judgement until a more detailed route map is published. I for one would be interested in knowing where exactly the proposed link to Liverpool would be situated. Would there be a direct junction on to the Chat Moss line near Newton-le-Willows or would it be further North, meaning trains would reach Lime Street via St Helens? Perhaps another earlier improvement that should be carried out is the establishment of four tracks between Winsford and Weaver Junction, which would benefit trains from both Liverpool and Warrington to London.


Would it not make sense to build the Birmingham airport/NEC to East Midlands at the same time as London to Birmingham, as it takes 1 hr and 45 mins or more from Nottingham to Birmingham Airport/NEC, so everyone goes by Car instead. With HS2 it will be just over 30 minutes, which must be the largest time saving anywhere on the HS2 project. 60%+ time saving.

Its odd that everyone talks in terms of the time saving to London when real saving will come from Intercity journeys in the Midland and the North.

What this means is that people who work and live in the London area will be able to move 'up North' where housing is cheaper and commute to London. South bound trains used in the morning north bound in the evening.

HS2... my opinion is Camer-looney is very Myopic.
36tph (trains per hour) - on the busiest section will be the main junction near Birmingham to Old Oak Common - This will be the most highly used section by all the feeder routes of the north - so why NOT make sure the first 200km's of the PDL is 4 sets of tracks, 2 up and 2 down. Also helps when repairs and maintenance are required and when large portions of the WCML passengers are shifted to it when it's rails and catenary are due to expire (2025 -another 10 years of weekend/holiday blockades or just close and fix in 3 months?).

Additionally, HS2, China can decide to build a 1500km line and have it up and running in under 5 years. we are taking 17 PLUS years to build 105 miles! Pathetic! In the 5 years the Chinese have constructed more railway Kilometres than rest of world combined, we cant even break ground...)
Fact is, It should have be finished 5 years AGO.
The LIMITING factor of 2 sets of track... it should be FOUR. It will end up like the paris / lyon line... at full capacity.
4 tracks:
2 stop at old oak common and carry on under london to st pancreas.
2 would branch off when it crosses over/under the M25 and that branch goes to heathrow (a set of 10+ platforms... at LHR T5 between T5 and the M25.)
From LHR there would be a tunnelled route to Old Oak Common - with different direction of travel on different "levels" for easy interchange.
when the LHR and Northern routes combine and diverge at Old Oak Common -
2 lines terminate at a revamped EUSTON,
but two would continue on in tunnels to a new 4+ platforms station below ground between Euston and St. Pancreas.
Those going to Euston, use west exit those to St. Panc/Kings cross - use East exit and the PDL tunnels carry on re-joining HS1 just before Stratford.

The LHR station would form part of a London Airport connector as the tracks carry on and to another set of platforms at Gatwick and finally loop it around and join it up with CTRL at the old spur that goes to waterloo... that is the continental spur. But the Loop carries on to the new English TEA (Thames Estuary Airport) and then on to Stanstead, Luton, and back to LHR.
200/400m trains every 5 minutes that make the loop in 30 to 40 minutes. This Airport connector loop would also be 4 sets of tracks to carry airfreight cargo on the slower/relief pair of lines for cargo haulage.

This would Airport connector would make glasgow/edinburgh/newcastle, leeds, manchester, liverpool - birmingham and London LHR/LGW etc and on to CDG and Schiphol and Frankfurt.
At 300+mph, Glasgow to CDG would be under 2 hours from anywhere in the UK!

All the other airports catchment area's would be covered by (see below) newcastle, leeds, nottingham, east mids airport, cambridge to spurs at Luton or Stanstead.

Stop thinking small, think at least design for the 21st CENTURY!

We really should have at least 12 new LGV's built in less than 5 years - if the Chinese can do it SO CAN WE!

Making Scotland to London under 2 hours and no more than 2 hours between any two Urban area's in the UK and Ireland - would END internal Air traffic!!

WHY are we having a limiting of our nation to just TWO high speed lines, not engineered for the 21st century - build for the 19th century.

We have HS1 - tick. done - poorly done!
We could do with:
HS2, Cornwall, plymouth, portsmouth, southamption, brighton, ashford, and onto the tunnel under the channel and spurs from Southampton and Brighton into London.

HS3 - the airport interconnector, a loop, LHR, LGW, a station in what will be the English TEA int airport, stanstead, luton, and LHR.
This can spur off with other HS's it crosses to go to Birmingham international, Manchester int and bradford leeds and up to Edinburgh and glasgow.

HS5 - Belfast, dublin, under sea cut/cover tunnel, swansea, cardiff, bristol, swindon, reading, LHR, and the new subsurface tunnel with station under st panc/kings cross and carrying on to join HS1 at stratford

HS6 - Dublin, liverpool, manchester, york the a Y on ECML (upgraded to HS PDL) to onward destinations.

HS7 - Dublin, Belfast, Glasgow, Edinburgh/Aberdeen - Inverness

HS8, the stratford, (the new tunnel to st pan/kings cross station), LHR, Reading, Birmingham, Manchester, Leeds, Glasgow/Edinburgh

HS9, old ECML, WCML and great midlands built in parallel -without kinks or curves. DRAW STRAIGHT LINES on map and JUST BUILD THESE PDL's.

HS10 - the new subsurface from west to east - stratford, standstead, cambridge, nottingham, manchester, blackpool, scotland

HS11 - plymouth, bristol, cheltenham, birmingham, liverpool, manchester, leeds/york, new castle, scotland - pushing all the way to inverness

HS12 - the east / west under london that goes to LHR, st pan/kings cross, stratford, thames est new airport, to be carried on to another set of chunnels to be build as the current ones are at capacity. there are 2 main bores and there should be at least 6, 2 for freight, 2 for le shuttle/eurostar, 2 for Eurostar at much higher speeds than it's paths currently allow to transverse.

This is a proper world class HS PDL network!
Fit for the 21st and 22nd Century with trains running at 500kph so that even Inverness to London and Beyond in under 2 hours!
Tickets would be charged on a logical basis - purchased on the day 15p per km, advanced purchase 10p per km, with discount (student, oap etc) 10p per km - and a return is 5p extra.

OH wait - this is far too LOGICAL for the UK!
I forget we live in the land of little Englander's and NOT the land of Mr Spock's where doing something because it is LOGIC is the WAY forward.
Shame our politician get their positions not by 'meritocracy' but simply by who their parentage was!

I would have thought divide and rule was the way to get this through. Announcing the latest phase will just add even more protestors and MPs to the list of objectors. 20 years is too long to think ahead. 20 years ago no-one had Mobile phones or Laptops. By the time this is finished it will be 'old technology'. UKIP are no doubt rubbing their hands at the thought of all the increase in votes they are going to pick up, whilst local Tory parties must be livid with Mr. Cameron. I still think that the money would be better spent re-building the London Underground and maybe constructing U-bahn networks for the West Midlands and Manchester.

All well and good announcing phase 2 and pontificating about its benefits in terms of regeneration, jobs etc., but one must ask what progress with phase 1? Answer; this is bogged down with legal challenges and has not thus far generated any jobs or benefits unless you happen to be a lawyer!

To the uncertainty of those affected by phase 1, we are now adding further blight to properties impacted upon in phase 2, which is very many years away. Given not a single sod has yet been turned in the construction of phase 1, this will serve to amplify all the negative vibes by causing further long-term distress to those people and properties affected.

I would love to see a UK high-speed network in my lifetime. This will only happen if government gets a grip with planning laws to fast track these schemes and take away long-term uncertainties through legislation. We are decades behind Europe in delivery of high-speed rail. What we now have is a phase 2 announcement as vociferous voices continue to oppose and delay the progression of phase 1. It would have been far better had phase 1 construction started before phase 2 proposals opened up another can of worms. One 'quick' step at a time please!

This is a complete waste of public funds that should be spent upgrading over the whole network - not just on one line of route - mind you - we have poured almost exactly this amount of money straight through the industry and into shareholder pockets since privatisation - just another gravy train for the snouts, I'm afraid.

If I live in Limarnock and want to get to Leeds, or I live in Yeovil and want to get to Chester HS2 is a joke - but upgrade what we have - re-open strategic routes and create a few of the missing links and look at the utility the UK as a whole could gain.

The UK is not large enough to need european speeds per se!

Very good news. Lets hope Euston gets the enhanced Crossrail/thameslink/tube links that are needed to go with HS2

Excellent bring it on,sooner its built the better :)