Posted 21st December 2012 | 2 Comments
'Key elements' agreed on Siemens Thameslink order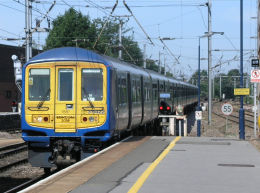 86 Class 319 four-car units presently running on the Thameslink route are set to be cascaded over time to newly-electrified lines
COMMERCIAL agreement has been reached on 'key elements' of the controversial Thameslink rolling stock deal. Transport minister Simon Burns told MPs that the Siemens-led bidding consortium has now moved on to detailed negotiations with sources of private sector finance.
It has also been confirmed that train orders placed nominally by Southern are really being negotiated on behalf of the DfT to provide trains for newly-electrified lines, with a further 40 vehicles newly added to the proposed total.
Mr Burns said: "It has—quite rightly— taken some time to get the details right. Siemens and its partners in Cross London Trains have been working very closely with the Department for Transport to reach commercial agreement on the Thameslink rolling stock project.
"I am pleased to say that there has been substantive progress in recent weeks and the Department has now reached commercial agreement on the key elements of the deal with the Cross London Trains consortium. Last night the Cross London Trains consortium published its information memorandum to potential funders."
The Thameslink order, thought to be worth up to £1.4 billion, has been the subject of intense debate because Siemens was named as preferred bidder in June 2011 in preference to Derby-based Bombardier.
Everything now appears to depend on 'financial close' – when Siemens obtains the funding it needs from private sector banks at an acceptable price. It is thought that the unstable financial conditions in the Eurozone have been a factor in delaying the project.
Because the Thameslink procurement project is running several years late, the DfT has now admitted that a potential order for more vehicles, being led by Southern, is really a bid to close the rolling stock gap.
The DfT said: 'As a result of government support, Southern Railway has now procured 40 new carriages from Bombardier based in Derby. In addition to the 40 carriages, the government is also supporting Southern's tendering process for 116 new electric carriages with the option for a further 140.'
Transport secretary Patrick McLoughlin added: "Our support for Southern will not only boost capacity but help secure British jobs. The deal for the 40 new carriages, helped along by my department, demonstrates the government's ongoing commitment to invest in Britain's railways.
"My officials are working with Southern to accelerate their procurement process for up to 256 carriages because our ambitious electrification plans requires additional rolling stock on the network.
"In December 2011 Southern Railway, with government support, announced its plans to buy 130 carriages from Bombardier to run on services in south London, Surrey, Sussex and Kent. Southern expects these will be in service by December 2013. As part of this deal Southern had the option to buy the additional 40 carriages at a later stage."
It has also been admitted that the new orders, although technically being led by Southern, are really intended to close the gap which is now inevitable before new vehicles are available for Thameslink.
The DfT said: "If Southern progresses with the procurement, these 116 new vehicles, and potentially 140 more, could initially be used on the Thameslink routes. Once the expected new Thameslink trains are operational these carriages will be moved to the newly electrified routes, which could include the Midland Main Line to Corby and North Transpennine Routes."
Southern itself is intended to disappear in 2015, when the present franchise is merged with Thameslink. In a series of questions and answers published today, Southern included this clarification:
Q. The original announcement said that the option was for 100 carriages. Why has this changed to 140?
A. This is what the Department for Transport has asked us to do.
Reader Comments:
Views expressed in submitted comments are that of the author, and not necessarily shared by Railnews.
What a godawful mess! And so typical! Dragging on and on and on and on!!! The mind really boggles that an order can take YEARS - even if the Eurozone is "having difficulties."
And now we read that the Southern ordered coaches could be used on Transpennine services and semi-fast Midland line trains - well I jolly well hope that these trains are going to be fitted out as long-distance trains. These routes are NOT south-east of England suburban routes. And let us get started on the EXPRESS trains for the Midland route as well - which MUST be Pendolinos because of the curvature of that line. No more f*rting about!!!!