Posted 12th November 2012 | 7 Comments
Design panel set to advise on HS2 route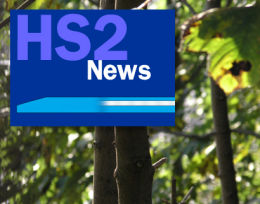 THE FINAL ROUTE of the first phase of HS2 is to be guided by the views of an expert design panel, it is reported.
The transport secretary is due to announce tomorrow that the route of the High Speed line between London, Birmingham, Manchester and Leeds will 'respect' rural areas. His move is thought to be a bid to mollify opponents of the project ahead of December's judicial review in the High Court.
Patrick McLoughlin is set to unveil his new design panel when he makes a speech to the Campaign to Protect Rural England tomorrow.
He is expected to say that: "I'm particularly keen to ensure high quality design for structures along the HS2 route – and to give communities confidence that they will be as sensitive as possible to the character of their setting," according to the Financial Times.
A High Court judge has set aside eight days for the judicial review, which will start on 3 December. The cases are being brought by the HS2 Action Alliance along with 51M, Heathrow Hub and Aylesbury Golf Club.
Some costs will be capped, and there could be further claims to come. The court will consider whether former transport secretary Justine Greening acted lawfully when she approved HS2 in January this year, and part of the argument will be based on the fact that some responses to last year's consultation were overlooked.
According to the HS2 Action Alliance 'the secretary of state has been required to provide a full explanation for what happened'.
Reader Comments:
Views expressed in submitted comments are that of the author, and not necessarily shared by Railnews.
Jamie, the reason for HS2 having only 2 tracks is that the next North-bound capacity addition will be an East Coast line, as proposed by Greengauge and others and accepted by the DfT in principle. Since HS2 trains will not stop between Old Oak and Birmingham International, there is no immediate problem in the Chilterns. Four tracking would be necessary between say Aylesbury and Heathrow if a Buckinhamshire stop were included. Which is why it isn't.


I see HS2 as a "good to have" rather than "essential" piece of future rail infrastructure as the government claims. The high passanger growth figures put forward to justify it are far from certain to become reality, however i do appreciate there will definatly be extra freight capacity needed for trains heading north from expanding ports like Felixtowe,Southampton and the new Thames Gateway etc which are actually happening now or pretty soon ,however might it not be possible to accomodate some of these on modernised East Coast and Midland Main lines as well as the west coast route

Interesting points raised there Michael.

As a London resident yourself, surely you know it's not possible just to "draw a straight line from Euston to Old Oak Common", because you'd be ploughing through completely random parts of central and inner London. Or maybe you want this section to be in tunnel?

I totally agree with your point about HS2 being built as two tracks instead of four. When one of the primary arguments for building it is 'there's not enough capacity' it seems stupid to restrict potential capacity by 50% on a brand new line. With the northern network converging at Birmingham and the European network connecting at London, the Chilterns section of HS2 could become a bottleneck quite soon after opening.

With regards to 'HS3', I don't think this is an official proposal, hence why it's not "on the agenda". I am supportive of the proposed Heathrow-Gatwick line and also think that if they build the Estuary airport then there could be a spur that comes off HS1 near Thurrock.

It's certainly a fascinating subject, and an exciting time to be a train lover :D

The concept as advocated by Lord Adonis of building HS2 as a single project needs to be re-adopted that would then allow construction of new Euston and its approaches and at the same time a new high speed link from WCML to Liverpool/Manchester which could then be used by pendolino trains and bring faster journies and release capacity much sooner than the slow two stage approach which means we get a High Speed railway at Slow Speed timings!!

The rebuilding of Euston also needs to include Crossrail 2 which like Thameslink at St Pancras could have its box structure built at the same time as the station re-build with staging of Crossrail 2 construction allowing the route to be built in stages with stage 1 North from Euston.



Lets presume that about half of the new Passengers predicted to use HS2 actually materialise and are whisked to Euston, London. There they will be dumped on an overcrowded Underground System via an Underground Station which can't handle the current number of Passengers. It has all the makings of another Hillsborough unless very carefully thought through (and no doubt a very expensive and disruptive solution). I have recently experienced travelling with 4 people and suitcases on return by HS1 from France. It was fine till we got to the Underground at Kings Cross. Even late in the evening its packed and quite honestly not fit for purpose, and getting to Paddington was a nightmare. My final thoughts were I'd fly next time to Southampton and catch the local Cross-Country home to Reading from there.

simple, get out a map, draw a straight line from Euston to Old Oak Common where a "multi level" station and shopping centre and homes should be build with track that diverge with straight line's direct to: LHR-GWR&SWest, Birmingham Int'l and the North.
An additional line from Old Common Station should go under London with a sub-surface (deep) station between Euston and St.Panc (exit east for StPanc, exit west end of platform for Euston) and the 30m deep tunnel carry on and join HS1 either at Stratford Int'l or Dagenham.
Then trains from the Scotland can travel at 450kph to Birmingham, LHR, LowLevel station Central London and onto the Channel Tunnel.
Or they can terminate at Euston.
Additionally, whilst building this new railway - design and build it for the 21st century Not the 19th, it should be 4 tracks between London and the Midlands where it then diverges to a set up the west and a set up the east coast to connect all the Major Cities and All the Major Airport.
A person could then fly into LHR and get on an express TGV on the deep level path through London and catch a connecting flight from CDG in 1.5 hours or 2.5 hours or Koln or Frankfurt.

Why is HS3 not on the agenda, a circular route that has 4 tracks at 450kph joining LHR, LGW, HS1, TEA(Thames Estuary Airport), Stanstead, Luton and back to LHR. with the spur onto the HS1, all these airports could then be joined to Brussels and CDG and Frankfurt and Koln, etc..