Posted 6th October 2012 | 3 Comments
Suspended West Coast civil servant criticises DfT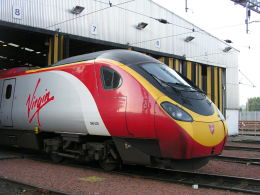 The DfT and Virgin Trains are believed to have been discussing a possible management contract to start on 9 December
ONE OF the civil servants who has been suspended by the Department for Transport following the collapse of the West Coast franchise award to FirstGroup has hit out at the Department. In a remarkable development, Kate Mingay has blamed the DfT for 'complete inaccuracies' in the way her responsibilities have been described.
Kate Mingay, who was in charge of commercial and technical services, took legal advice following her suspension this week.
It has been reported that there were miscalculations of the amount of risk posed by the FirstGroup bid, caused partly by a failure to take the effects of inflation into account during the course of the contract. It was set to run for at least 13 years and four months.
The transport secretary Patrick McLoughlin has admitted only to the existence of 'significant technical flaws', and DfT permanent secretary Philip Rutnam suspended three civil servants after the award was cancelled on 3 October. FirstGroup shares fell by some 20 per cent in reaction to the news.
Although the DfT refused to name those involved, Ms Mingay has now decided to speak out.
She said: "While it has been widely reported that I have been suspended my role has been inaccurately portrayed, mainly due to statements and other comment made by the Department for Transport itself. I would like to make it clear that I did not have lead responsibility for this project. Neither I nor any member of my team had any responsibility for the economic modelling for this project or for any Department for Transport project.
"Nor did I have any responsibility for the financial modelling in respect of this project."
The DfT has declined to comment further, but it seems inevitable that Ms Mingay's comments have put further pressure on the DfT and the Government as a whole, which is deeply embarrassed by the failure.
The Prime Minister had said he was 'extremely angry' about the errors, which have prompted renewed calls for renationalisation from rail unions, while Labour's Maria Eagle said: "The Government's belated admission that it ran a flawed tendering process will come as a surprise to no one. The transport secretary must now reveal the full details of what went wrong and come clean on the full cost to taxpayers of this shambles."
Meanwhile, talks have been under way between the DfT and the runner-up Virgin Trains, 49 per cent of which is owned by Stagecoach Group, over the possibility that VT will continue to run West Coast from 9 December under contract to the DfT in return for a fixed share of revenue.
Work on other franchises, four of which had been due for renewal next year, has now been suspended by the DfT until two inquiries have been completed.
Reader Comments:
Views expressed in submitted comments are that of the author, and not necessarily shared by Railnews.
In August Virgin stated they would run the franchise as a 'not for profit' entity to give the DfT time to re-evaluate their decision.

So why are the DfT now negotiating a 2% share of the profits for Virgin? I'm no civil servant but why not just agree to Virgin's offer?

These people are incompetent beyond belief. GET RID OF THE LOT. I would call them clowns but don't want to upset the highly intelligent, comical genius's who provide the vital entertainment in the big tops and at kids parties all over the UK.

.........or has Branson withdrawn that offer and was it really an offer in the first place or a headline grabbing quote?

First to blink loses!

I have no doubt David Cameron is "extremely angry" as he prepares for his party conference. As I understand it the franchise process changed in his tenure of office, but once again, it seems to me, this "will do" attitude has been adopted in haste without careful scrutiny. Responsible 'Ministers' were moved on in the recent cabinet re-shuffle, leaving civil servants in the firing line.

I think it disgraceful suspending individuals in this way, when all the facts have yet to be established. Those in government lean heavily on their civil servants, rarely to praise them but always to blame them! Me thinks it is time to suspend some former 'Ministers' David.