Posted 1st October 2012 | 6 Comments
Labour considers publicly-owned East Coast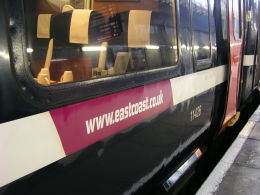 LABOUR has said it is considering keeping the East Coast franchise in public hands, although as things stand the Department for Transport is preparing to return the operation to the private sector in December next year. A new East Coast franchise, once let, would be difficult and expensive to reverse until it had run its natural term, which could be ten years or more.
Labour leader Ed Miliband said there was growing 'resentment' among passengers, who see reports of train operators' profits while fares continue to rise ahead of inflation. January's fare increase has been set at last July's retail price index plus 3 per cent, which will produce an average increase in regulated fares of 6.2 per cent.
Mr Miliband said: "We are open to all solutions on this. And I think the really important thing in this is not to be dogmatic, to say it must be private sector or it must be public sector. Let's look at what's going to work for the railways."
Directly Operated Railways, the DfT-owned subsidiary which presently owns the East Coast Main Line Company Limited, will be offering the company to the private sector as a going concern.
Until now, bidders for franchises have usually set up a new company for the purpose of lodging their bid. The successful bidder's company then signs the franchise contract and becomes the operator, while the losers' companies are wound up when the competition is over.
But a change to the process has been revealed in the latest statement of accounts from DOR, which said: 'The Company exists to manage Train Operating Companies that are returned to temporary public ownership. It is currently anticipated that the East Coast franchise will transfer to a new private operator around the end of 2013, and the consultation process was initiated for this by the Department of Transport in June 2012. Unlike previous franchise changes/transfers, the Company "East Coast" will be the subject of a business sale to a new private sector owner.'
This process seems likely to simplify the franchise handover because most existing contracts and other agreements, including employment contracts, would not need to be transferred to a new legal entity.
DOR revealed that its operating profit from East Coast grew by 7 per cent in 2011-2012. Turnover for the year to 31 March 2012 was £665.8 million (2010/11: £645.5 million), while operating expenditure was £661.0 million, yielding a gross profit of £195.7 million (2010/11: £182.8 million). When 'service payments' to the DfT had been deducted, there was a pre-tax profit of £7.1 million (2010/11: £6.5 million).
The number of passenger journeys also rose by 2.1 per cent, to 18.9 million.
Reader Comments:
Views expressed in submitted comments are that of the author, and not necessarily shared by Railnews.
Mr Milliband may have noticed the apparent resentment of passengers when it comes to fares, but he's made no mention of the resentment of passengers due to the decline in the standard of service since the government took control of the ECML.

Well Bob, we've currently got the worst of all possible solutions. As is pretty obvious, I'd favour re-nationalisation (and yes I am deadly serious and, erm "real"). It works in France and Germany and Spain and in the Benelux, among many other countries; why shouldn't it work here, except for lack of trying?

If however we want a fully privatised system, why haven't they done it? The franchise system is clearly flawed as witnessed in all the recent West Coast problems and past issues on other lines such as the ECML. If we want to take a truly private approach to the railway, shouldn't we at least have some competition for the services, so 2, 3 or more TOCs run competing services on the same lines? At least that might reduce the ticket prices somewhat.

Instead we have the worst aspects of both systems whereby monopolistic companies can charge huge fares for access to their trains, allowing them to make healthy profits from commuters' misery but in which the taxpayer has to subsidise the network three times more than in the days of BR.

Re-nationalise? Get real will you. Corporations or civil servants, railways have always been, and always will be run, in the interests of whoever runs them. BR worked best in the 80's when they had to be businesslike or heads would roll. Privatisation will work if the TOC's etc make most profit by attracting most users onto railways.
Make subsidies - or BR CEO's salary - depend on passenger/freight numbers, and we'll see rapid rail improvement.

How can you 'consider' doing something when you haven't got the power to do it ? Usual Politicians nonsense. However the Civil Servants running the East Coast line seem to have done as well, if not better, than the previous tenants of this line. I do wonder if the current Government can make the 6.2% increase in January stick ? My predition is they will get cold feet over the unpopular increase and find ways of keeping it around 3.9%. If inflation does fall below 2% then they will have to reduce it even more. Maybe there is merit in keeping one line in Public Ownership to use as a benchmark for all other franchises ?

This latest statement from Ed 'don't call me Dave' Milliband is unlikely to make any difference whatsoever. The new private contract is already on its way to being processed long before the general election, so when is Labour going to get the chance to do anything at all?

If however Mr Milliband would just be bold and commit to re-nationalising the entire public transport provision in this country so it is run in the best interests of us and not in those of large corporations, I believe he would stand a much better chance of being elected in the future.

We've had a lot of impressive speeches come out of him so far, nice little soundbites of optimism for the future that demonstrate he has ideas, but precious little else. It's time for him to show that he means business and he isn't just spouting waffle.