Posted 7th September 2012 | 7 Comments
Southern may need 'cap and collar' support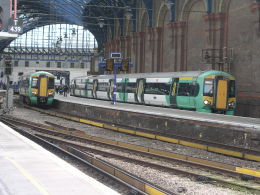 "Southern has started to be impacted by the economic environment, as the bid model assumed stronger economic growth rates than are currently being experienced"
SOUTHERN may need revenue support in a year from now, because growth has been weaker than expected. The warning has come after Southern's major owner Go-Ahead Group reported a drop in overall operating profits of 4.9 per cent. However, Group revenues rose by £126.8 million, to £2,423.8 million.
Go-Ahead, which also operates Southeastern and London Midland via its 65 per cent share in Govia, as well as several bus companies, said London Midland had achieved 'particularly strong' underlying growth, with passenger journeys up by 7.4 per cent.
But a rise in premiums due to the Government for Southern in conjunction with lower-than-expected revenue means that the 'cap and collar' provisions in the franchise contract may be activated in later 2013. In such a case, the DfT shares the deficit with the operator.
Southeastern received revenue support of £48 million in 2011-2012, up from £22.6 million the previous year.
Go-Ahead chief executive David Brown warned he was expecting a weaker performance on Southern. He said: "Overall, the Group's rail division performed well during the period, with strong operational performance across all three franchises and good passenger revenue growth, particularly in London Midland. Southern has started to be impacted by the economic environment, as the bid model assumed stronger economic growth rates than are currently being experienced.
However, he was also optimistic about the Group's results in general, adding: "Our three rail franchises carry almost a third of all rail passengers in England. We have significant experience of successfully managing complex commuter franchises and delivering industry leading projects and will be using this expertise to deliver a strong bid for the new Thameslink franchise.
"Despite the challenges facing the economy, the new financial year has started well and trading is in line with the Board's expectations. We operate in a market that has many fundamental strengths and we are well placed to benefit from the growing need for a sustainable and efficient public transport system."
The dividend for 2011-2012 was unchanged at 81p.
Reader Comments:
Views expressed in submitted comments are that of the author, and not necessarily shared by Railnews.
Does it indicate that other franchises may be in trouble as the recent growth in numbers takes a nose-dive ? I have been suprised that numbers of passengers have seen such boyancy in the recession but with disposable incomes being really hit all round maybe passngers are now cutting back, or even working from home. Apart from Commuting other rail travel is not really necessary. Leisure can easily be cut and so can much business use. I remember a few years ago when my 1st class rail travel was stopped and I was told to use the phone and internet instead to contact business colleagues and clients. In an instant was gone one of my very special and enjoyable perks.

I think southern are one of the better T.O.C.s in the uk but like so many others with virtually no work done on efficiencies since the end of the BR era others are bound to suffer the same fate before the recession is eventually over

This shows again how misguided the franchising process is when the DfT finds that its budget is to be adversely hit by a "commercial" operator that is failing on its forecasts. If the Go-Ahead Group has a problem with their Southern constituent but is doing nicely with London Midland, then it's time arrangements were made to cross-subsidise. They should not have it all ways - it is a case of 'heads I win and tails you lose'. It exemplifies why I have no confidence in the DfTs handling of the West Coast franchise.

I wonder what standard of service would have been provided by B.R. with this level of funding and some decent technical / operational management....both funding and good management were denied to B.R., but the professionals still managed to do better and at less cost to the taxpayer...despite the efforts of the oxbridge / public school mafia getting in the way...

Only a drop in the ocean in overall terms, but the finances of the railways in the south would be vastly improved by getting moving with the BML2 proposal (to re-open Lewes - Uckfield as part of an alternative route from the south coast to London), sparking up the Marshlink between Ore and Ashford and a spot of conductor rail infill to allow electric operation over the entire Tonbridge to Reading line. Then there'd be no need to maintain two disparate types of traction within the passenger fleet, better rolling stock utilisation. Oh yes - and the CO2 thing as well. Making sure more Brighton commuters could get a seat for their season ticket money wouldn't hurt either!

Not sure how this works out as Southern trains are more and more packed the service is apaling most weeks the train i get is either canceled or short formed. So is it any suprise growth has been reduced?