Posted 25th July 2012 | 13 Comments
Intercity Express gets green light at last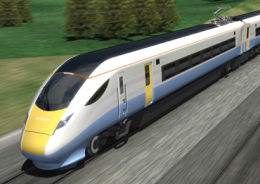 THE GOVERNMENT has confirmed that it is to spend £4.5 billion on a new fleet of Intercity Express trains, almost three and a half years after naming a consortium led by Hitachi as preferred bidder.
The DfT said more than 900 jobs will be created and thousands more secured.
Hitachi is the construction partner in the Agility Trains consortium which also includes John Laing. 92 trains will be assembled at a new factory in Newton Aycliffe, County Durham. 730 skilled jobs will be created, while a further 200 people will be needed during the construction stage.
In an additional development, Hitachi is building a European rail research centre at New Aycliffe.
Hitachi will also build maintenance depots in Bristol, Swansea, west London and Doncaster. Other depots are to be upgraded.
The IEP train fleet will be a combination of electric and bi-mode trains, some five vehicles long and others nine. These will accelerate more quickly than existing stock, and will offer the potential for more frequent services. The capacity will mean more seats, and the DfT is promising 'a step-change in passenger comfort' with increased luggage space and 'no compromise on leg-room'. There will be strict performance targets.
Construction at Newton Aycliffe is expected to begin next year, and the factory should be operating by 2015. The first IEP trains are expected to enter revenue-earning service on the Great Western Main Line in 2017 and the East Coast Main Line by 2018.
The transport secretary Justine Greening said: "A new train factory is fantastic news for Britain and will be welcomed by everyone who wants to see a thriving UK manufacturing sector. It means 730 new skilled jobs created at the factory, 200 jobs in constructing the plant and thousands of jobs secured in the supply chain.
"The decision to build almost 600 new intercity train carriages is great for rail passengers who will experience faster and more comfortable journeys when travelling across Britain on the East Coast and Great Western main lines.
"Hitachi is the latest major international company to invest on this scale in Britain and I look forward to this new factory in County Durham following in the footsteps of Nissan's successful car plant in Sunderland. There can also be fewer stronger signs that the UK is the best place in which to invest, and from which to develop new markets, than Hitachi's decision to base its European manufacturing base right here in Britain."
ATOC chief executive Michael Roberts welcomed the news, at least in principle. He said: "It will mean faster, more comfortable journeys and many more seats.
"This DfT-led procurement, however, has been contentious. Some of the earlier scope of the project has been changed because of subsequent Government decisions to electrify parts of the rail network.
"Train companies believe that the key to delivering better value for money is to ensure that they play a bigger role in shaping rolling stock solutions through the competitive franchising process. It will help get things done more quickly and bring down costs, and we welcome the Government's support for this approach."
Reader Comments:
Views expressed in submitted comments are that of the author, and not necessarily shared by Railnews.
Excelent news, it is just unfortunate that it will still be another five years before they enter service. By then, on current projections, there will about 30% more passengers on the GW. I wonder if there are sufficient vehicles in this order, or whether the order will have to be increased, or additional orders placed.

I still believe that the multiple unit option is not the best. It restricts the amount of direct services due to the fixed sets. It also gives the opportunity to run shorter services in quiet times (eg late night) and longer services in busier periods (eg Peak services and Summer Saturdays to the SW).

An electric loco til the end of the wires and then a diesel afterwards may be the option, as in days of old. Or, alternatively, a bi-mode engine.

The Mk3 refresh by Chiltern is supposedly excellent, greatly extending the life of these coaches. Surely using the many redundant Mk3s and just procuring bi-mode locos would be cheaper, and give better services.

Well said. It's the same when a supermarket claims to create xxx jobs when opening a new store, in reality a similar number of jobs are lost when smaller family owned shops close.

As a passenger, the best "Inter City" rolling stock to date are the Mk 4 and Mk 3 carriages. Why not build more with up to date interiors and facilities?



I have just look at a computer generated video of the new trains & see that some seats are without windows. Hmm - - - I wonder who would want to be stuck in such seats?

I hope that we don't have a repeat of the awful Voyagers with narrow bodies / seats and high floors.

What the Victorian rail engineers would make of all this? Our once great industrial nation has to ask foreigners how to build trains.

As we read that Swansea is to be wired now - at last, after dithering and dithering, and as Andrew Adonis's original plan allowed, then we need more straight electric sets; we do NOT need all those expensive bi-mode trains! Or is that too advanced a thought for British politicians to copewith?

The government boasts about over 900 jobs being created but the questionmust sure be - How mant jobs would have been created if the whole train was being built here in Britain and not just a macano set?

And unless they gain an order soon the question regarding a future for Bombardier in Derby will arise and their job losses will need to be set against these 900 to get the true cost of not building whole trains in Britain!!!

One has to ask why this project has been dithered over for nearly 3 years given the award was made in 2009 which could have meant limited services on ECML could have begun by 2015!!

As bi-mode well there will still be sections in south west England that remain unelectrified together with North Wales so bi-mode will allow through services to these places to continue and with their faster speeds an increase in demand will make electrification to places like Cornwall more justified.



Oh no! Here we go again! Here we have a classic virgin voyager situation! The goverment build it up like we are getting great relible comfy trains, and what comes outthe factory! This modern unrelible, umcomftable, noisy rubbish. I haven't seen a voyager without a 57 fronting it! (sarcasm). See I don't mind the pendolino, the reliability is fairly good, but not as good as the good old IC125! See I would welcome pendolinos more than j would this hitachi rubbish, as hitachi has already proved it can't make a decent train with that dreaded class 395, and no I ain't even gonna give these trains a chance, I wish they would just stick to legnthened DMUs, roll on the 8 car class 185, and the 5 car class 175. Atleast FTPE have seen sence and ordered these new 350s.

I notice the Great Western electrification to Swansea is due to finish in 2017. Which co-incides neatly with introduction of these trains. So no need for any hybrid diesel/25kv trains ? I've been watching the construction of the new service depot at Reading and my brief impression is that it is over-engineered for just commuter trains. Was the decision on these trains actually made a long time ago ? Incidentally this announcement seems full of details such as dates - which most recent Government railway plans have not. But this news is really good for the UK and the railways.

With regard to full manufacturing (i.e. bodyshells, bogies, traction equipment etc) at Newton Aycliffe, I have my doubts but await a concise statement from Hitachi with baited breath!

Hitachi need to have their R&D, engineering and sales based somewhere in Europe in order to adequately compete. Its hard to see how they can sell their trains in Europe without doing this as it would be bordering on the farcical to expect everything to be developed, marketed and built thousands of miles away in Japan.

Also the idea that its simply going to be an assembly plant doesn't make sense either. If you're going to design and sell the trains from the UK how does it make economic sense to expect some guys in a completely different working culture to make the parts on the other side of the planet and ship them over for assembly here?

The out of sync cultural issues were reflected with the Javelin trains on HS1. The Japanese were bamboozled by the judder issues with the Class 395s which aren't present on their 400-series trains back in Japan (I should know, I've been on it without issues and honestly it was the most comfortable ride I've ever had). In the end they found that the British service their trains on far fewer occasions throughout the year than Japan Rail does which results in more issues with the ride.

Honestly? I don't think a company with the pedigree of Hitachi are stupid enough to sink so much money into a production plant only to close it a decade later. Simply doesn't make economic sense. These guys are in it for the long haul and are thinking beyond the UK which is what we never did to our cost.

In reality the plant HAS to be the real deal which means full manufacturing. Remember everybody scoffed when Honda, Nissan and Toyota set up plants here and now they're the top three most productive car plants in the world. Nobody is scoffing now.

Hitachi have to go all in on this venture if they have a hope of capturing lucrative deals in Eastern Europe, Russia and elsewhere. Yes, France, Germany and Italy won't let Hitachi in, we know that already but now that open access operators are starting to crop up these also will be a very lucrative market for Hitachi!

I think things are brighter than many here suggest.

They won the contract in 2009 I think. It's not going to anyone else.

I doubt that there will be many "skilled jobs", reagardless of what Greening says, and hardly any Engineering done

(As a matter of record, Agility Trains was named preferred bidder in February 2009. No contract award was made at that time.—Editor.)

This decision has been made contrary to EU procurement law; it will be interesting to see how this goes forward.