Posted 10th July 2012 | 3 Comments
Fewer trains 'on time' under new, tighter test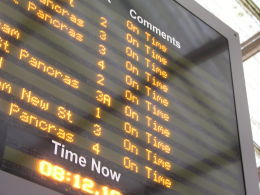 NEW, tighter punctuality statistics have been published by Network Rail, which only describe trains as 'on time' if they are no more than 59 seconds late at their final destination.
The more precise measure has only been published by sector so far, although individual details for train operators are expected in October.
However, the new figures reveal that 69.8 per cent of all passenger trains arrived early, on time or less than a minute late in 2011-12. The comparable figure under the previous, looser measurement, which was no more than five minutes late for commuter trains and ten for long distance, was 91.6 per cent.
Within the individual sectors, the new figures are 70.3 per cent for London and South East, 59.7 per cent for long distance and 71.0 per cent for regional services, which include services in Scotland.
The table shows that performance has improved significantly over the past decade. In 2001-02 only 46.9 per cent of all passenger trains were on time or less than one minute late.
But the last couple of years have seen some retreats. The best twelve-month period was 2009-10, when 70.2 per cent of trains were 'on time' under the new measurements. Long distance performance has worsened in particular. It was 65.8 per cent in 2009-10, but fell back to 59.7per cent by 2011-12.
Network Rail pointed out that no services had been excluded from the new calculations, and that external factors such as vandalism, extreme weather and persons hit by trains were all taken into account along with delays which could be attributed to the rail industry, such as train failures or staff shortages.
The company's managing director of network operations, Robin Gisby, said: "We are committed to improving punctuality as far as possible but as the numbers of passengers and trains continues to increase, it becomes ever more difficult to do. We will be open and honest with the public about our performance and the capacity constraints we're working under, identifying the investment needed to tackle these constraints and continue to grow and develop the railway into a service of which the British people can be proud."
Michael Roberts of ATOC emphasised that the figures did show improvements, with many more trains now arriving early or on time, but promised that "our goal is to get better still".
A tighter measure of punctuality has been urged by consumer watchdogs such as Passenger Focus for some time.
Transport minister Norman Baker also welcomed the publication of the new figures. He said: "I want passengers to be given clear and simple information on the punctuality of their train services
"This is good news for passengers, as 69.8 per cent of trains on the network are arriving within 59 seconds of when they are supposed to – and 91.6 per cent are meeting the PPM target. This compares very favourably with elsewhere in Europe and across other modes. I will be urging all train operators to go that extra mile and push these figures up even higher."
But the new data has received a bleaker reaction elsewhere. Bob Crow of the RMT commented: "If the Government and the private train operators get their way and slash staffing and investment under the terms of the McNulty Rail Review then even these worrying performance figures would take an all-out battering.
"With the increase in passenger demand, the case for renationalisation of the railways to stop the leakage of billions of pounds of private profits and subsidies is overwhelming."
Reader Comments:
Views expressed in submitted comments are that of the author, and not necessarily shared by Railnews.
When the 'on time' has a lower amount of time imposed making the train officially late, the ATOC's reply is to simply pad out the next time table with longer journey times.
Reading to London use to have trains that took 16 to 18 minutes to make the journey, they almost all now state 30 minutes, so all trains even with lengthy delays - are 'ON TIME'.
This on time mentality is a fallacy. It is not as if a train has been put on the line at the fastest possible speed between station A and B and that is the time in the time table, NO - it is what the ATOC's pad out to not have to give discounts because they can not run a 100 services on the same exact line all day, using exactly the same amount of time.

It is time london underground followed suit and stopped claiming a good service on the Metropolitan line when trains are cancelled on the half hourly service to Chesham or Amersham and the 15 minute service to Watford.
These Scheduled services should be run to Network rail standards

Great stuff. Now the only thing we need is for the airlines to follow suit. At present, they are allowed 15 minutes late and still call it right time. Even then, the clock stops as the wheels touch the tarmac. That is rather like calling a train to Euston "on time" as it reaches Camden.