Posted 22nd June 2012 | 8 Comments
Future of Scottish rail services set out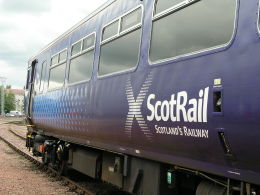 THE SCOTTISH GOVERNMENT has revealed its plans for the next ScotRail franchise, which are being described as a '£5 billion overhaul'.
After a lengthy public consultation, the government has decided to offer a ten year franchise starting in 2014, which will have a five-year break point.
Caledonian Sleeper services, which are to benefit from a £100 million investment, will be let separately under a contract which is expected to last for up to 15 years.
The plans have been announced by transport minister Keith Brown, and 'will also ensure attractive and affordable fares, support growth in freight and demand better integration of rail services with buses, bikes and ferries'.
There will be investment both across and outwith the central belt, including the completion of electrification of the main Edinburgh-Glasgow Queen Street line and improvements on the main lines to Inverness and Aberdeen.
Electrification of other routes will continue at the rate of 100km a year, while wi-fi and smart ticketing are also on the agenda. Many fares will continue to be regulated.
Mr Brown said: "I particularly want to see a fully-integrated transport network to improve connections across Scotland and the new franchise will demand that operators ensure rail timetables synchronize with local buses and ferries and that infrastructure is in place to connect up train and cycle journeys.
"I am calling on the industry to work together to deliver high quality, reliable and resilient services in a way which maximises value for money for rail users and taxpayers.
"Increasing rail travel is vital to this Scottish Government's key objectives of supporting economic growth, protecting the environment and improving links between Scottish communities and their access to employment opportunities."
The Rail2014 consultation which led up to this announcement had gained some notoriety for some of the more extreme options which had been included.
These abandoned proposals included the appointment of several operators to serve different parts of Scotland, the closure of some little-used stations or those which are close to an alternative railhead and the withdrawal of cross-border services from England north of the central belt.
Ideas like these attracted a blast of public criticism, and ministers were quick to distance themselves from most of them, even while the consultation was still in progress.
Transport Scotland, the government agency responsible for managing Rail2014 and also the next contracts, defended the inclusion of the more extreme options.
A spokesman said: "When we extended the present franchise to 2014 we were criticised for the absence of consultation. So it was decided to lay out a wide range of ideas this time, and to consider all the options with the aid of public feedback. The options in the consultation did not necessarily represent ministerial policy, because the results of the consultation were needed to help decide that policy."
But the announcement has come against a background of discontent at Holyrood about how much freedom the Scottish Government has to decide the future of the railways north of the border.
Ministers preceded the main announcement by calling for a change to the 1993 Railways Act, which presently allows a foreign state-owned railway to bid for the next ScotRail contract but excludes a publicly-owned body based in Scotland or indeed anywhere in Britain.
In spite of the widespread consultation, there is some discontent elsewhere too. RMT General Secretary Bob Crow said:
"This plan is a mess. The lifting of the indemnity that allows train operators to force industrial action knowing that the taxpayer will foot the bill is only being reviewed and not scrapped and the splitting away of the sleeper services on a separate 15 year franchise will leave it wide open to asset stripping, exploitation and potentially it could be run into the ground.
"The Scottish Government are wrong to complain that they can't examine the publicly-run option under duress from the British Parliament and the EU – East Coast runs in the public sector so why not ScotRail?"
Reader Comments:
Views expressed in submitted comments are that of the author, and not necessarily shared by Railnews.
£100 million per mile for the Edinburgh trams, Tram route extensively cut, Dalmeny chord extension cut, Glasgow Airport Rail Link cancelled, Electrification of the Dunblane and Alloa routes cancelled, Waverley route severely delayed

Great work SNP, you are serving the people of Scotland well. You must be proud!



All these plans for Scotland are pretty academic.

If Salmond wins his referendum on independence in 2014, he won't have English taxes to pay for all these schemes.

It costs the NHSat least £4,500 to airlift a patient, could the new sleepers be designed to act as ambulance trains moving patients between London, West Midlands, North West and Central Scotland during the day. The service could run twice weekly or more if required . If the sleepers run into Waterloo then it could be a pick up point for London, Ascot for Heathrow, Surrey, Thames Valley and Hampshire, Solihul for Midlands, Preston for North West, Carlisle for North East and Borders and Carstairs for Central Scotland. Using existing assets as long as the service covered direct costs the profits could be split between savings for NHS and the tax payer who subsidises the Caledonian Sleepers. That way the £100m investment would benefit the public across more of Britain.

Electrification of 100km per year if only England could have a guarantee like this regarding a rolling programme instead of stop start wait and see!!

No doubt these rules were drawn up by the Tories so whoever won the bids the system would still end up in the private sector - Somehow seems just like to-day they did not think their policy through and realise that foreign state owned railways blike DB or SNCF would bid for BR!!

As I understand the law, which I believe is similar to legislation brought in to deregulate bus services, Public sector bodies are not allowed to resume operation of such services once theyu have been tendered out via the open market. This effectively stops the private sector funding 'upgrades' to services then effectively being ousted by the public sector which then maintains control until such times as further large scale investment is required.

I agree that one solution may be to allow public sector organisations to set up a specific arm to tender for and run services within the same legislative framework as the rest of the private sector as a compromise to full nationalisation. In the case of PTE's this, if coupled with bus services, could better serve to provide integrated transport and better intermodal connectivity and ticketing.

With regard to the 1993 Railways Act, the Secretary of State in Westminster will probably say that the British rail network is an open market and any company (domestic or foreign) is legally entitled to apply to run services. Whilst agreeing with the Scottish Government concerning the preferrable exclusion of foreign state-controlled railways, I do not think they will be able to change anything as the French, German and Dutch Railways will cry foul and the UK Government will therefore do nothing.

How about Glasgow Airport Rail Link ( GARL ) being built and the completion of Galashiels to Carlisle to reinstate the Waverley route and reinvigorate the Border Region?

The Scottish Government is looking at rural lines as potential Community Rail Partnerships which we view with enthusiasm.
Presumably, Ministers will not allow a new sleeper franchisee to 'cherry pick' services, as this would overturn the whole Scottish sleeper policy. The Scottish Government is right to query why a foreign -based operating company should be allowed to run Scotland's Railway.... another reason for more powers for Scottish Government.