Posted 14th June 2012 | 3 Comments
New call for major investment in West Midlands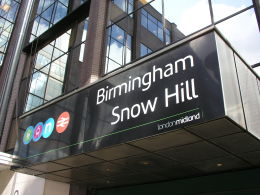 THREE West Midlands rail projects costing a total of £60 million have the potential to create more than 4,400 new jobs and boost the region's economy by more than £370 million a year, according to Centro.
Centro, the West Midlands PTE, has urged Ministers to include the projects when the Government names the rail schemes to be funded in the five years between 2014 and 2019 in Network Rail's Control Period 5. It also calling for serious consideration of two more schemes focused on Moor Street, which would cost £250 million.
Centro chief executive Geoff Inskip told transport secretary Justine Greening that the primary investment of £60 million is also important in improving connections with HS2 in due course.
Two of the schemes are already on the table. The first is improvements to the Water Orton line costing £20 million, while the second – costing £35 million – would increase capacity between Coventry and Leamington Spa.
Centro maintains that the Coventry to Leamington scheme alone can create more than 1,600 new jobs and boost the regional economy by £143 million a year, but also wants to add electrification of the Walsall to Rugeley line (£30 million), an upgrade of services and capacity on the Snow Hill line (£10 million) and a new station and electrification of the line to Aldridge (£20 million).
Mr Inskip said: "These are relatively modest schemes costing just £60 million yet they can bring economic growth worth six times that amount.
"Investing in our local rail network in the run up to the arrival of HS2 will also maximise the impact of high speed rail by spreading the significant economic benefits throughout the region.
"These projects can help deliver the Government's national growth agenda and as such should be included in Control Period 5."
Looking further ahead, Centro is also urging the Government to include preparatory development work on two major schemes – the £100 million reopening of the Walsall to Stourbridge freight line and the £150 million Camp Hill Chords project. These would bring two new suburban services to Moor Street – one from Kings Norton through Kings Heath and Moseley, and another from Tamworth through Kingsbury, Castle Vale and Fort Parkway.
Reader Comments:
Views expressed in submitted comments are that of the author, and not necessarily shared by Railnews.
Surprised that Leamington/Solihull-Moor Street-Stourbridge suburban line is not on the slate for electrification........

The purpose of each of these projects needs to be determined and prioritised. Each region has vital projects but these are large value compared to recent smaller projects. There is talk of Fiscal planning across Europe and we are not doing this rationally within the UK or in England. Spot and ad hoc projects. HS2 would be a mega programme compared to these smaller requirements. It is becoming unbelievable and unfortunately there is a paralysis emerging. Better the HMG and DFT meet with each region and agree the national list and timescales, with realistic costsings.