Posted 8th June 2012 | 2 Comments
Network Rail debt grows as railway expands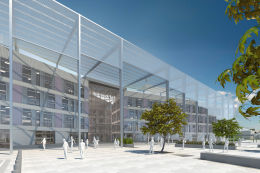 The company is currently moving into its new national HQ at Milton Keynes, where the first staff are due to start working on Monday
NETWORK RAIL's debt has increased to more than £27 billion, but although the company's group finance director has admitted that it is 'certainly a big sum', profit after tax also rose last year, from £313 million to £754 million.
Revenue just topped £6 billion, most of it coming from state subsidies and track access charges paid by franchised passenger operators, although the company also received £215 million in rents – down from £244 million a year earlier.
The increase in spending is being attributed to 'making the railway bigger'. Although Network Rail is a not-for-profit company, it has repaid £153 million to the London and Edinburgh governments over the past two years, thanks to efficiencies achieved during the present five-year Control Period, which has two years to run.
Group finance director Patrick Butcher, said: "Our results demonstrate clear and steady progress in meeting our efficiency targets. These targets are tough but we are committed to succeeding.
"In a year where Network Rail has maintained financial discipline, we have continued to deliver a larger capital programme, building the capacity of the railway of tomorrow.
"At the same time Network Rail has shown it is open to change and reform – with the aim of delivering greater accountability and better value and service for our customers and funders."
Network Rail is working on a number of big-ticket high-profile projects. Having opened the western concourse at London King's Cross this spring, the company is continuing with its schemes to improve and extend the stations at Birmingham New Street and Reading, as well as embarking on a major programme of electrification. The first key funding has also been secured to establish a Northern Hub, based on Manchester.
The company is currently moving into its new national HQ at Milton Keynes, where the first staff are due to start working on Monday.
It is also in deep discussions with the Office of Rail Regulation about its funding and spending plans for Control Period 5, which begins in April 2014.
Reader Comments:
Views expressed in submitted comments are that of the author, and not necessarily shared by Railnews.
And this is 'Good News' ?? Rents were down more than 50% in a year - awful. Debt has increased hugely - presumably it will never be paid back. Do Network Rail actually pay interest on this Debt ? And the extra profit came from increasing fares above inflation and more taxpayer subsidies.
It makes the Euro debts look child's play. I'm in favour of the railways and increased capital expenditure during recessions but don't try and kid us they are making 'profits'.