Posted 23rd May 2012 | 19 Comments
MPs find no alternative to HS2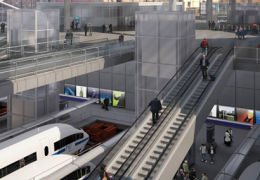 A HOUSE OF COMMONS report has concluded that High Speed 2 must be built, saying there is no alternative to constructing a domestic High Speed line if the railway's long-term capacity problems are to be solved.
The report is the result of a four-month inquiry by the All-Party Parliamentary Group for High Speed Rail.
It has ruled out upgrades to the existing network, because they would not add enough capacity. The key problem is the West Coast Main Line, where operator London Midland is set to introduce some 110mph (176km/h) trains to provide some additional train paths in the short term.
Network Rail has also warned that the route from London Euston to Birmingham and Manchester is running out of space now, and there are fears that a major capacity crunch will strike long before the first phase of HS2 is opened in 2026.
The report points out that growth in passenger demand is already running a decade ahead of predictions on many lines, and that the alternative upgrades which have been suggested by those groups opposing HS2 would do little to help commuter services or freight.
Eurotunnel is hoping to run trains carrying 4-metre high freight containers along the West Coast Main Line at least as far as the international rail freight terminal at Daventry within the next decade, and other freight customers are also expected to demand more West Coast paths in the years ahead.
Centro has said that HS2 could be the catalyst which creates 40,000 new jobs in the West Midlands alone.
The report also warns that the risks of providing insufficient capacity to cater for future demand are 'severe', and much more serious than doing too much.
The group's co-chairman Graham Stringer said:"All the available evidence makes clear that the very running of our railways is under threat as we fast approach total saturation on some of the major trunk lines.
"HS2 remains the only proper and practicable solution to creating sufficient long-term capacity for Britain's railways."
Anti-HS2 campaigners have remained unconvinced, claiming that there is more yet-unused capacity on the WCML, that growth in rail demand is attributable to recent rises in fuel prices, and that teleconferencing will make many business journeys unnecessary in years to come.
Reader Comments:
Views expressed in submitted comments are that of the author, and not necessarily shared by Railnews.
As quite a lot of the line will be in underground tunnels or green tunnels, and much of the remainder in cuttings, there will be minimal environmental impact. Even one of the stations will be underground, and space is being utilised on old rail routes where the lines have been taken up. The benefits to every section of the community cannot be underestimated, not least to employ people to prepare the route and actually build the line/stations/service areas/road restructuring, etc.

Meanwhile, why not make better use of Marylebone and reinstate the North Birmingham/Shrewsbury/Wrexham Route once more? And while your at it, how about widening the Welwyn Viaduct and expand services to and from Paddington by rejigging the terminus?

HS2 is only being built as two track because the Dept of Transport's preferred option for yet more capacity, if and when required, is HS3 as a combined HS2 and East Coast Mainline reliever.


Michael, London suggests further HS lines well it seems that a case is already emerging for HS3 which would relive the ECML as the Y network may overwhelm HS2 at its southern end. So HS3 down Eastern side of England with connection to Stratford International and onto HS1 and europe.

As for suggestion of linking HS2 to HS1 via single line on North London railway just goes to show how little Transport Minister actually uses railways. Perhaps with East-West rail project gaining momentum perhaps it could be upgraded to a HS Line similar to the TGV lines that avoid Paris?

Since we are not going to In Our Life ever construct a proper logical LGV network, I suggested that the HS2 line be engineered for the future not the past. IF we were going to 'invest' properly then:

WHY are we limiting our nation to just TWO high speed lines???

We have HS1 - tick. done
We could do with
HS2, portsmouth, southamption, brighton, ashford, and onto the tunnel under the channel.

HS3 - the airport interconnector, a loop, LHR, LGW, a station in what will be the thames gateway int airport, stanstead, luton, and LHR. This can spur off with other HS's it crosses to go to Birmingham international, Manchester int and bradford leeds and up to edinburgh or glasgow.

HS5 - Belfast, dublin, under sea cut/cover tunnel, swansea, cardiff, bristol, swindon, reading, LHR, and a new subsurface tunnel with station under st panc/kings cross and carrying on to join HS1 at stratford

HS6 - Dublin, liverpool, manchester, york the a Y to onward destinations.

HS7 - Dublin, Belfast, Glasgow, Edinburgh

HS8, the stratford, (new tunnel to st pan/kings cross station), LHR, Reading, Birmingham, Manchester, Leeds, Glasgow/Edinburgh

HS9, old ECML, WCML and great midlands built in parallel.

HS10 - the new subsurface from west to east - stratford, standstead, cambridge, nottingham, manchester, blackpool, scotland

HS11 - plymouth, bristol, cheltenham, birmingham, liverpool, manchester, leeds/york?, new castle, scotland - pushing all the way to inverness

HS12 - the east / west under london that goes to LHR, st pan/kings cross, stratford, thames est new airport, to be carried on to another set of chunnels to be build as the current ones are at capacity. there are 2 main bores and there should be at least 6, 2 for freight, 2 for le shuttle/eurostar, 2 for eurostar.

This is a proper world class HS PDL network! Fit for the 21st and 22nd Century with trains running at 500kph so that even Inverness to London is under 3 hours!
Tickets would be charged on a logical basis - purchased on the day 15p per km, advanced purchase 10p per km, with discount (student, oap etc) 10p per km - and a return is 5p extra.

OH this is probably far too logical as to have such a network even contemplated we would have to live on the planet Vulcan with 65million Mr Spocks to get Logic in Transport!


Replying to Paul Sladen. The aanswer is due to what my railway civil engineer relative tells me - the cost of a 200+ mph line through the topography of northern Britain could not be justified ( I bow to his professional knowledge).

Of course, we could go ahead anyway and spend an awfull lot of money and 3 hours might be feasible, but will it be worth it?

Firstly, I think that we do need HS2 for the future and would definitely agree that it should be a four lane (2 up 2 down) railway. In fact, HS2 as it stands is too limited; should be going not only to all the cities planned but also to Teesside, Newcastle, Edinburgh and Glasgow. I had also thought of a similar idea to Michael from London, but mine would involve the line splitting in 3 at Heathrow. One would join on to the (hopefully by then upgraded and electrified to 140mph) GWML. One HSL would head alongside the M25 and M23 to Gatwick, like the government has already proposed. This would then join on to the existing line to Brighton. Back at HR, the third HS line (in my view the least important of the three) would head south west for Southampton, perhaps having commuter stations at Basingstoke and the Blackwater Valley. I believe this idea would allow high speed intercity services to go from other southern cities straight through to the North without passengers having to change in London. Interconnexion Est in France already takes long distance TGVs east of Paris and that has improved journey times significantly. I think our existing HS2 proposals already have a link to HS1 in Camden planned, so another line through Sussex and Kent to join up Gatwick would not be needed.

Comparing the UK to China is a rather poor argument, though. They are a huge economic superpower and they don't have the same planning regulations as here because they are a dictatorship! In this country we are a democracy and have to protect and uphold citizens' rights. We also don't have the manpower and economic might to build a line as fast as the Chinese.

I agree that the 'NIMBY's do want development anywhere but their own homes but can you blame them? Their properties will lose a lot of value and the amount of disruption the building works will cause will be terrible. After that, they have the prospect of very fast trains whizzing past their homes every few minutes forever. And all this for no obvious benefit for those concerned because there won't be any local station. So yeah, I do think that these people have every reason to be concerned and angry. But that doesn't mean we shouldn't build the line. As this committee and many others before it have pointed out, there is no other alternative. Residents of NW London and the Chilterns should be receiving proper compensation incentives. The French, for example, pay the pre-proposal market value of a property plus 10%. I think that would be enough to get most locals on side.


Teleconferencing is hardly going to help the travel concerns of two people wishing to go to London for the weekend. What a daft thing to say!

The money earmarked for Consultants / Design Fees ( some 250 Million GBP ) for HS2 could pay for a new Great Central Railway from Ashendon Junction to Rugby hence allieviating capacity issues on the WCML and onto Leicester for a connection to the MML

The only required earthworks are at Brackley ( repace the demolished viaduct ) new north west curve at Rugby , replace Rugby viaduct , diversion works at Lutterworth and connection south of Leicester as well as replacing passing loops on the GW / GC joint line and 4 tracking this line where possible.

This intermediate solution will provide new capacity on existing earthwork formations at a fraction of the HS2 price

I cannot see HS2 ever being built as bottom line GB Ltd., nas no money due to the wasted Blair/ Brown years when money was treated as water and the Government Bill will be dragged through the courts by the HS2 protestors,

So the next best thing is to use whats there. Sir Edward Watkin built the Great Central in 1899 to the European Gauge as his line was meant to carry on to Paris. So why not reuse and reintegrate this line into the existing network. Far far cheaper than HS2 with a much greater chance of it getting built.

David Smith: Could you expand upon why three hours Scotland/London would not be possible? The is a daily "Flying Scotman" service on the ECML doing the full 630 kilometres in 4:00 hours flat (average speed of 160 km/h, including Newcastle stop).

London to Brussels is timetabled for 373 kilometres in 1h51 (average speed of 200 km/h, and that includes going under the sea!). One quarter of that journey is at reduced speed passing under London and the English Channel. London to Paris is timetabled for 492 kilometres in 2h15 (average speed 220 km/h) with the same caveats.

Scotland is at 630 km to Edinburgh (ECML), 643 km to Edinburgh (WCML) and 646 km to Glasgow (WCML). Given a sequence of high-speed lines all the way you'd only need to average 210-215 km/h to hit that 3 hour journey; and that's slower than even present journeys to Paris, with those tunnelling caveats!

Get that average point-to-point speed up to 250 km/h (= Japanese Nozomi Shinkansen) and you've got a 2.5-hour journey to/from Scotland.

Go further, to achieve 280 km/h average speed (equal to Lorraine/Champagne in France) and you've got a potential London to Scotland journey of 2h15 minutes (= present day London St Pancras/Paris Gare du Nord).

Thusly the timings you mention are all possible, subject to the permanent infrastructure being built and without obstruction or forced half-measures taken. Speed (and the subsequent inverse squared energy consumption) aren't everything; but if you're going to build a new railway line or motorway, you might as well build it along the best horizontal and vertical curve profile available, since any savings you make will still be proportionally reflected, even if operated subsequently at lower speeds.

Replying to Peter Davidson. I agree that capacity is the principal justification for HS2 and that we do need it. What I query is the need for 200+ mph, A line(s) built to 155mph( 250kph) would probably suffice ( Alstom's latest pendolinos can do this) and cost less to build. Also, the cost of tunnelling under the Chilterns andd carving a route through NW London must be far greater than enhancing the current Euston-Tring section.( The French utilise conventional track through the Paris suburbs for TGV's before the high speed line begins).
A relative of mine was a senior railway civil engineer and tells me that costs of buiding to 250mph standards in the topography of northern Britain would be prohibitive and not justifiable even on a cost-benefit analysis basis.

Why are most reader's and commentator's on this website totally ignorant when it comes to the WCML. Yes it might have some spare capacity, But do we really want the WCML to be like LHR - running at 99% capacity, one vehicle failure and the entire network would be devistated for days. The Korean's have started running TGV/HST's at 430kph. At that speed, Glasgow/Edinburgh would be under 1.5 hours from London.
Everyone also forget's that HS2, will not be operational till near 2030, by the mid 2020's the steel track's on the WCML will need to be replaced again, another 8 to 10 years of partial closures.

I have issues with HS2 as it is being built for the Victorian Era and is NOT being ENGINEERED for the 21st, nor the 22nd Century! It should have FOUR sets of tracks, two up and two down (fast and relief/slow/stopping services).
Two tracks from Northern Cities to Old Oak Common and splitting with 1/2 trains terminating at Euston, and half carrying on under central London (no or only 1 sub surface station with west end at euston and east end of platforms at st pancreas) and joining HS1 near Stratford or Dagenham.
The other set should be the Airport Interconnection. Inverness, Aberdeen, Edinburgh/Glasgow, New Castle, Leeds, Manchester/Liverpool, East Mid's, Birmingham Int'l, and when HS2x2 crosses the M25, 2 tracks branch off and go to a new station at the front of LHR (some terminate) other's carry on to LGW, and join HS1 near Maidstone through channel tunnel to CDG, Brussels, Schipol, and Frankfurt, etc.
The Airport Interconnection Rail service of double deckers 400m AGV (Siemens as they are best) units travelling at 430kph - we would totally eliminate all Internal UK domestic Flights. By extending the Airport Interconnection Rail to France, Germany, BeNeLux, and to the west to Ireland, All our airports would easily by far have plenty of excess capacity as they would only have flights that are Greater than the AIRS. Anyone flying into Manchester from Canada with a connecting flight to Beijing, would get a free short train journey between airports.
Stop whinging and Stop being so short sighted. There is NO reason with the speed of steel on steel trainsets today that a country as TINY as the UK should have people flying from Birmingham or Manchester or even Inverness to any other airport on Greater Britian or Ireland or the near Continent. The only domestic flights would be to Jersey, Mann, Orkneys, etc.
If the Chinese can decided to build a high speed network and actually construct it in less time than we 'contemplate' a single 105 mile stretch - before a single spade of soil is turned, the chinese will have constructed a larger national LGV Network than the rest of the world 'Combined'. We should hold our heads in shame that it takes us 19 years to build 160km of the wrong designed 'pair of' tracks, when in under a decade the chinese will have constructed far in excess of 20,000km (from Scratch).
IT is the LOGICAL way to build, but we are a nation of NIMBY's so it will be decided by politicians, not by what it should be and by engineer's.

I am old now (63). In my lifetime I have seen dozens of predictions about the railways. Most said that rail travel was finished and we just had to manage a decline of a once great railway as more and more people went by car and plane. Then suddenly the predictions went round the other way and we didn't have enough capacity to cater for the expected growth. My belief is that all transport will start to cost a lot more because energy costs (petrol, diesel and electricty) will soar because of world competition. In 10 years time I doubt if ordinary UK citizens will be travelling as much on any form of transport. But I daresay that prediction will be wrong as well.

@david c smith - don't be taken in by the propaganda spewing out of STOPHS2 control - the new line is engineered to enable speeds up to 400km/h (250mph) but present plans envisage trains operating at between 320-350 km/h - exactly the same as that for very recently opened lines and those under construction, such as LGV Est phase 2. The primary arguments in favour of HS2 are capacity, capacity and capacity. Modal shift is a bonus add-on. The WCML has already proved the flawed nature of any strategy aimed at building alongside or enhancing an existing rail artery. Your idea will see taxpayer money thrown into a bottomless pit for very little long-term advantage, end up costing more and actually disrupting more homes, communities and businesses than current HS2 strategy - of course, they'll be different homes, communities and businesses, nowhere near those presently affected and this remains the primary motive driving the anti-HS2 campaign - moving the threat posed by the currently approved ROUTE3 pathway, anywhere will do. HS2 is an attempt to break the mould - it worked successfully for HS1, funded by ALL UK TAXPAYERS, and it can work for HS2. UK plc needs to stay the course and ignore the siren voices emanating from the Chilterns and Buckinghamshire

The suggestion of 16 car trains would mean stations would need a seperate line just for passengers to get on/off the train!!!

Fact is the WCML is nearly full and with ever increasing demand to travel by rail then it makes sense to build a new HS2 line than waste billions just trying to fix a line that was not built for speed in the first place.

However, electrification of the MML with electrified connections between WCML/MML/ECML should be undertaken with upgrades to cross-country links to allow traffic to share the existing network better.

Ahead of HS2 capacity at the southern end of WCML could be increased if Midland services were diverted on to Crossrail while the Overground to Watford Junction should be buried in a tunnel with new re-located stations at places like Finchley Road (Metropolitan/Jubilee line interchange) with a new thameslink style sub-surface station at Euston with potential extension across central London with interchanges with underground stations and either Waterloo/Victoria mainline stations with links to lines from these stations.

As for building HS2 Network Rail should be allowed to incorporate it into its ongoing upgrade plans in CP5 that way sections of HS2 could open much earlier using existing Pendolino trains diverted from WCML and thus freeing space much sooner than presently planned.



Could the anti-HS2 campaigners please clarify how much unused capacity is still left in the WCML and provide a set of their forecasts for future capacity covering the same timescale as the HS2 forecasts? Coukld they also please clarify what they propose to do when the WCML does reach capacity and how much that will cost? Have they got their evidence prepared to counter the anti-widening the WCML protestors there would inevitably be? Finally, would the anti-HS2 protestors please start their consultation process and producing such evidence for scrutiny please?

There are alternative routes and wider service provision. The report is another partial replay of previous soundings and options. It is not a coherent proposal and does not consider all the intermodal issues particularly the road to rail transfers. There is a need to have several factors including large gauge freight and capacity/cost of travel. The higher speed is an obsession with one factor.

I think they're right but am not convinced of the need for super high speed( 250 mph). It's clear that just"tinkering" with the existing line(s) won't be sufficient.
There is a threshold of appx 3 hours journey time below which rail becomes competitive with air and allows day-return journeys. Below this threshold there is in practice a much higher market share on rail. Birmingham, Manchester and Leeds are all well within 3 hours of London already, so higher speeds won't bring big modal shifts. London to Scotland is too far to come below 3 hours, so even with super high speed there wouldn't be a big modal shift.
It seems the main aim for new infrastructure would be capacity enhancement rather than super speed. This could be considerably cheaper if super speed were not required. No need to build afresh through the London suburbs and Chilterns, utilising the existing line as far out as Tring. More money could be saved by making use of the formation of the ex- Great Central north of Aylesbury, A similar approach might be appropriate for the ECML.

There is loads of capacity on the west coast, 16 car trains would double long distance passenger numbers. certainly there would be a lot of work involved at stations, depots etc. But it would be far cheaper than HS2. The signalling can obviously handle train length, as can be seen by some of the freight using the line.