Posted 11th May 2012 | 2 Comments
More strikes loom as EMT talks fail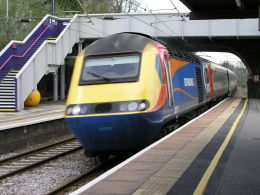 MORE STRIKES seem set to go ahead on East Midlands Trains on Tuesday and Thursday, after talks to resolve a pensions dispute broke down.
The walkouts involve more than 400 Aslef drivers. Services were reduced or replaced by buses on Tuesday and Thursday last week, when drivers staged 24-hour strikes in protest at company proposals which Aslef claims will 'weaken' their pension arrangements.
Aslef general secretary Mick Whelan, who led the union's negotiating team, said he was 'very disappointed' that management had come to the table 'without flexibility, without fresh ideas and without serious intent to end the dispute'.
He will now make a full report to his executive committee who 'would determine how to act most effectively to protect the pensions of union members working for EMT'.
"Mr Whelan addded: "In the interim, our door remains open. We are willing to meet the company at any time, anywhere."
EMT has defended its plans, saying that the changes had been recommended by independent pensions experts as well as the scheme's trustees.
A spokesman said that EMT had put forward 'constructive proposals', which would have 'put hundreds of pounds into the pockets of all employees with no loss of pension benefits'.
The company said it was 'frustrated' at the breakdown of negotiations in London on Thursday, and urged union representatives to return to the table.
As things stand, previously announced pension contribution plans will still go ahead in July. EMT maintains that the changes 'would boost take-home pay for employees and increase their pension benefits. This would be achieved by using arrangements that would channel company savings in National Insurance into additional pension benefits for employees'.
EMT HR director Clare McCartney said: "The East Midlands Trains pension scheme has been independently assessed as being in good financial health. It is one of the relatively few remaining final salary schemes in the UK, with a level of benefits most other people in the country don't have access to.
"Our proposals would be a win for our employees, who could get higher take-home pay and build up a bigger personal pension pot. It would be a win for our business, allowing us to resolve an unnecessary dispute. And it would be a win for our passengers, whose normal high-quality train service can be restored.
"We are frustrated our constructive attempts to provide a resolution on this issue have not been taken up by ASLEF today and the union have not offered any alternative way to resolve the dispute. Instead, it appears likely we will have two further days of strike action over nothing, with all of the associated disruption for our passengers.
"Our door remains open and we believe the way to solve this is for the union to talk and not walk. We hope ASLEF use the time in advance of their planned strikes next week to come back to the table to discuss a way forward that avoids further unnecessary disruption. We have a strong track record of protecting pensions for our people and we are committed to doing so in the future."
Reader Comments:
Views expressed in submitted comments are that of the author, and not necessarily shared by Railnews.
I remember strikes by ASLEF tacking place about pensions during the previous franchise run by National Express Midland Mainline so maybe this is a long standing issue that has never been properly resolved.