Posted 21st March 2012 | 11 Comments
Budget: £130m for lines feeding Northern Hub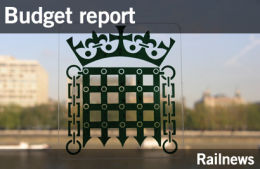 THE CHANCELLOR has announced that another £130 million is to be invested in lines feeding the future Northern Hub in Manchester. The news came as part of the Budget statement.
Mr Osborne's words were: "I confirm today that Network Rail will extend the Northern Hub, adding to the electrification of the Transpennine rail route, by upgrading the Hope Valley line between Manchester and Sheffield – and improving the Manchester to Preston and Blackpool, and Manchester to Bradford lines."
This does not, however, mean that the Hope Valley route is to be electrified, a Network Rail spokesman told Railnews.
In fact, the money will be used to increase line speeds and lay some short sections of additional track at key points such as Dore and Grindleford, to further increase capacity.
Network Rail chief executive David Higgins dubbed the Chancellor's announcement 'a welcome show of confidence in rail'.
He added: " To realise the project's total value of £4bn to the Northern economy and create between 20,000 and 30,000 new jobs, the final stages of funding will need to be supported in the rail budgets to be announced later this year.
"When completed, this project will be a clear demonstration of how investment in smart infrastructure can unlock economic potential by connecting commerce and communities across cities such as Manchester, Liverpool, Sheffield, Leeds and Newcastle with 700 new train services each day."
However, the Budget has received a bleak response from the general secretary of the RMT, Bob Crow.
He said: "This budget unleashes savage cuts to jobs, wages, welfare and services in the public sector while pandering to the private greed of those same people who dragged us into this economic crisis.
"It will spark an upsurge in protest and resistance across the country as the vast majority realise that they have been mugged by this Government of the wealthy elite."
Reader Comments:
Views expressed in submitted comments are that of the author, and not necessarily shared by Railnews.
Bob Crow has a damn cheek. He holds the country to ransom time and time again threatening industrial action for train drivers who are already earning around £50K - 60K! What other industry pays unqualified, semi-skilled staff such extortionate amounts of money? With the economy on the brink of melt down and millions facing unemployment BC and his Union members would do well to shut up, count their lucky stars and get on with the job they are over paid to do.

Mr Kosminsky says that there is, "No mention of Electrification." In fact there are actually quite a lot of electrification schemes on the go - amazingly; the trouble is that they are all going to take such an eternity to bring to completion, due no doubt to the usual morass of British red tape and bureaucracy. Sluggishness is the name of the game.

The Northern RUS document on the Network Rail site is very informative, and it seems to cover most of the questions raised here, though more up to date information is in the Delivery Plan.

With regard to Manchester to Blackpool electrification. As far as I am able to find out, this scheme had not been dropped. I suspect that 'enhancments' may refer to the renewing of signalling and the control of the route from the new Ashburys signalling control centre rather than between the Manchester Piccadilly and Preston power boxes and Blackrod signal box. The signal box was retained as an intermediate control due to the incompatabilities of the two power box operating systems. I alsoi suspect that line speeds may be raised in places to further reduce journey times. It was proposed at one time to reopen a redundant platform at Bolton station to create four through platforms, increasing station capacity and improving interchange. Don't know if this is covered by the 'enhancements' or not though.

I note that the Manchester - Preston - Blackpool line has been lumped in with the Hope Valley line by the Chancellor, who doubtless wouldn't know railway geography if it came up and spoke to him. (He did, we remember, quote Manchester - Leeds when he meant Manchester - York!) However, being a cynic and ever distrustful of politicians, will someone enlighten me and reassure me that this lumping of it in with Hope Valley does NOT mean that the Manchester - Blackpool line is no longer planned for electrification. I am holding my breath! Help!

Does Bob Crow ever have anything positive to say? Constant doom and gloom from him.He has totally ignored the positive aspect of this investment to harp on about other issue's. Whatever happened to 'credit where credit's due?'

I am perpetually suspicious of all politicians. Does the inclusion within the Budget statement of the "Manchester to Preston and Blackpool line" within a general reference to upgrading "the Hope Valley Line" and that from "Manchester to Bradford" mean that electrification from Manchester to Preston and Blackpool has been abandoned? Probably not but with politicians one can simply NEVER be certain or safe. Will someone reading this please confirm or deny it?

Enhanced as well as electrified services between Manchester and Sheffield would have been much easier to achieve had the Woodhead route been retained. Enhancing the Hope Valley route, yet alone electrification, is more difficult due to the multiple long tunnels, difficult access into Manchester and previous short-sighted measures such as the singling through Dore and Totley station.

Great to see the investment being spread around, but no mention of electrification while diesel fuel prices (hedged or not) reflect world record prices with more to come. Is any of it incompatible with future HS2? How much of "£130m" (which isn't a lot) will be spent on the railway and how much will slide into contractors' pockets?

The budget promises sound promising and a welcome further investment in the northern rail infrastructure. I would like to know if there is anything that Bob Crowe does support (other than stike action), that would achieve a similar impact on the railway?