Posted 27th February 2012
New date for controversial bridge closure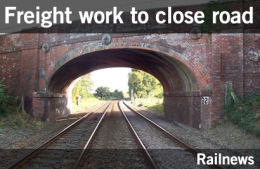 A CONTROVERSIAL three-month project to replace a bridge in Hampshire which carries the A27 Southampton Road over the railway at Romsey is set to start on 31 March, after being delayed following local protests.
The road over the railway will have to be closed while work to enlarge the structure gauge for larger railfreight containers is carried out below.
It was originally scheduled to start in December, but after concerns were raised by the council, MPs and businesses about the effect this would have on the busy Christmas trading period, Network Rail agreed to defer the scheme until the spring.
Network Rail route managing director for Wessex Richard O'Brien said: "Ashfield bridge in Romsey is one of a number of structures we're upgrading to provide an alternative route for freight containers out of Southampton docks for those occasions when we carry out improvement works to the main line. With thousands of businesses around the country relying on the railway to receive deliveries of food, clothing, electronics and other products, it is vital we provide the infrastructure to allow quick, reliable, green and cost efficient movement.
"There is never a good time to carry out such a significant piece of work on a bridge which carries one of the main roads between Romsey and Southampton. We have worked with the councils, police, emergency services and community representatives to keep disruption to a minimum, and thank people in advance for their patience."