Posted 15th February 2012 | 2 Comments
Union confronts Network Rail over 'risk to jobs'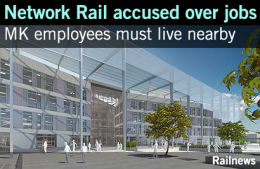 The new national centre at Milton Keynes is due to open in June
A REQUIREMENT that Network Rail staff must not live more than a certain distance from the company's new HQ in Milton Keynes has angered the white collar rail union TSSA, which is accusing the company of acting 'illegally'.
The new national centre, which has been named The Quadrant:MK, is set to open in June.
But many staff who previously worked for Network Rail in central London are now facing the need to move, because the company has unveiled maximum travel times to the new centre.
Staff in management grades will be allowed travel-to-work time of 90mins, which comes down to 75min for the rest. The union has claimed that the ruling is putting hundreds of jobs at risk, and that Network Rail's stance could be illegal.
TSSA general secretary Manuel Cortes warned that as many as 850 jobs could be at risk, and has told NR that the union may take legal action.
He said: "This is an unfair and arbitrary decision. This modern-day version of Beat The Clock to get work is a complete nonsense.
"They are telling staff they cannot follow their jobs in the worst recession in 70 years. With unemployment heading towards three million, where else are they going to find work in these hard times?"
Network Rail said it is already helping some 150 staff to relocate.
A company spokesman added: "We are pulling together dozens of offices from around the country into one national centre at Milton Keynes that will deliver a better, more efficient way of working and save taxpayers tens of millions of pounds per year.
"We are talking and working with each individual about the move, encouraging relocation, making help available and putting transitional arrangements in place."
Reader Comments:
Views expressed in submitted comments are that of the author, and not necessarily shared by Railnews.
This requirement should have been made public when the move to MK was first mooted. Most people affected will by now already have made their minds up whether to move house or stay put and either lose their posts or hope for something in the rail industry more locally. The requirement as stated in the article also implies that the criteria is not distance but time, in which case those living for instance in Bedford commuting by rail will probably lose out, but by road OK, whilst those living directly on the WCML can live many more miles away. It re iterates the view that the MK move was partially agreed to enable a major clear out of existing staff.