Posted 14th February 2012 | No Comments
Strathclyde services affected by signallers' strike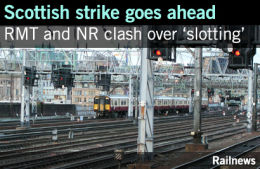 A STRIKE at the West of Scotland signalling centre affected some train services in the Strathclyde area on 14 February, but Network Rail had predicted most routes would run normally.
The dispute concerns what the RMT maintains is the established right of general purpose reliefs to move into single-location jobs when they become available, although Network Rail does not agree.
The walkout at Cowlairs, which involved 32 staff, was the first of two which were called after talks broke down earlier this month.
As a result there were no trains on the Cathcart Circle, and reduced timetables on the routes to Gourock, Wemyss Bay, Paisley Canal and Whifflet.
Network Rail said managers and non-union staff had stepped in from 06:00 on the strike morning.
A company spokesman added: "Network Rail does not consider that any agreements have been breached. This dispute is simply about the RMT wishing to see posts filled based on seniority, rather than merit and suitability."
The company explained: ' "Slotting" refers to making appointments based solely on seniority. The practice has not been commonplace since British Rail was privatised in 1994.
'This dispute began as the union wished to see a signaller recently appointed to a temporary post at the West of Scotland signalling centre (through an open, merit-based selection process) removed from his position and the job given to its preferred candidate instead.
'Even if the company adhered to seniority arrangements, which it does not, the union's claim that their preferred candidate is more "senior" than the other is incorrect. The company has provided the union with data which clearly shows that both started in their grade on the same day and share equal seniority.'
The first walkout in the dispute occurred over Christmas, but further action arranged for the end of January was suspended while talks took place, which proved to be unsuccessful.
RMT general secretary Bob Crow said: "RMT has tried to reach a negotiated settlement to this unilateral ripping-up of a local arrangement but unfortunately the management have refused to see sense and have failed to engage with us at all since the strike action over Christmas. RMT members will not stand by while management unilaterally rip-up agreements and practices that have been in place at local level for decades.
"As a consequence of management's continued intransigence we have no option but to go ahead with this further wave of strike action."
A second 24-hour strike has been called for 2 March.