Posted 29th November 2011 | 3 Comments
Chancellor confirms major investment in rail schemes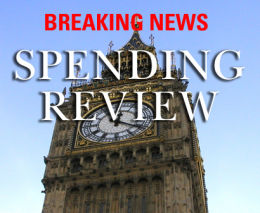 THE CHANCELLOR George Osborne has been setting out his plans for capital investment in railways and roads, as part of his autumn spending statement in the House of Commons.
He told MPs that efficient transport systems are essential to the economy, and unveiled a National Infrastructure Plan which contains more than 500 individual projects covering railways, roads and airports.
The electrification of the northern TransPennine route is confirmed, and Mr Osborne has referred to more tram capacity as well as an accelerated upgrade of Tyne & Wear Metro.
The East West link between Oxford and Bedford is also to go ahead, as is the extension of the Northern Line of London Underground to Battersea, which Mr Osborne said alone could create more than 20,000 jobs.
He has referred to support for sleeper services between London and Scotland, but no details are available yet.
(More follows...)
Reader Comments:
Views expressed in submitted comments are that of the author, and not necessarily shared by Railnews.
I imagine that I shall not be the only one annoyed and baffled that the new electrification from Manchester to Leeds will stop at Leeds, rather than, logically, being taken forward to York/Hull. The services from Liverpool to the north-east are through ones, conceived as a unity, and one wonders how they will deal with the gap beteen Leeds and York. Perhaps that is why the Government is so keen to buy Hitachi Bi-modes (just 500 new mere assembly jobs,) and not buy Bombardier, (well over 1,000 proper construction jobs lost!)

In planning the North Transpennine Electrification shouldn't the possiblity of the few miles of track being relayed between Hadfield and Penistone to restore the Woodhead line be taken on board to cater for customers to/from Leeds and beyond, and perhaps Huddersfield, to travel via Sheffield when closures are neccessary to upgrade the route? This would avoid much of the neccesssity of coaches being hired as alternatives and the prospect of being delayed on the very busy M62. Plus it creates the opportunity for future use and the re-instatment not as a stand alone scheme, to relieve the overcrowded Hope Valley line once the electrification work has been completed.

I always thought the opportunity was missed when the WCML was upgraded that the line between Bletchley/Bicester/Aylesbury were revamped and brought into use again to avoid the use of rail replacement coaches plus the busy M1 etc. Again, this financed to some extent by the savings in much less coach hire and with a view to ongoing use to connect Milton Keynes with the County Town and Oxford and beyond.

at long last the east-west ling is to be built. along with electrification leeds-manchester. still waiting for croxley extention., crystal palace tram extension. fares should not go up by more than r.p.i.