Posted 29th November 2011 | 4 Comments
National Infrastructure Plan includes major rail projects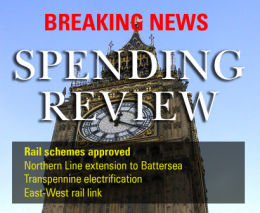 THE CHANCELLOR George Osborne has unveiled a National Infrastructure Plan which contains more than 500 individual projects covering railways, roads and airports, as part of his autumn spending statement in the House of Commons.
He has told MPs that efficient transport systems are essential to the economy.
Among the major rail projects to go ahead are electrification of the northern TransPennine route, an extension of the Northern Line in London to Battersea, and construction of the East-West rail link which will connect Oxford with Aylesbury, Bletchley and Bedford by 2017.
Mr Osborne has also referred to support for the sleeper services between London and Scotland, following concerns by Transport Scotland that the service was costing £21 million a year and that its rolling stock was now out of date.
LATEST NEWS: Rail fare increase to be held to RPI+1 per cent.

(More follows...)
Reader Comments:
Views expressed in submitted comments are that of the author, and not necessarily shared by Railnews.
Extremly good news that Oxford to Bedford line via Bletchley is to be restored. Part of it mothballed of course and that helps as the line is almost fully intact. And of course passenger services exist already between Oxford and Bicester on that route which stations have recently been upgraded (Bicester).

There are two stations on the original route near Milton Keynes, and these were Bow Brickhill and Woburn Sands. There was also originally the line from Verney Junction down to Aylesbury and it will be interesting to see if they resurrect that or pick out another route from the North into Aylesbury.

Brilliant indeed that rail is to be restored from Oxford to Bedford, but it will scarcely be the Varsity Line until the nettle of the missing track between Bedford and Cambridge is grasped. And, sadly, it is a large and stingy nettle.

The reinstatement of the Varsity Line has been long overdue, brilliant news to hear its relatively quick return the the network.