Posted 3rd November 2011 | 2 Comments
Rail investment offers 30-year opportunity--Higgins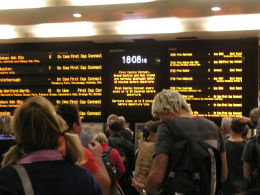 NETWORK RAIL chief executive David Higgins says the next 30 years will offer a major opportunity for railway suppliers, as the industry gets down to a rolling programme of modernisation. Mr Higgins was speaking at the start of the annual Derby and Derbyshire Rail Forum Conference.
Derby has been reassessing its future following the government decision to award the £1.4 billiion Thameslink rolling stock contract to Siemens rather than Bombardier, which would have built the 300 trains at its Derby works.

Instead, job losses have been announced, although gleams of hope have emerged as progress is made with a proposed contract to electrify 57 Bombardier-built CrossCountry Voyager units, and also for Southern to acquire 132 electric multiple units, which could well be Bombardier Electrostars. If so, it is expected that they would be built in Derby.
David Higgins said Network Rail would continue to regard Derby as a major source of railway products and components, and also revealed that the company is planning to build a major new depot in the city over the next couple of years.

"The railway needs a huge overhaul during the next 30 years," he said. "It will be a major opportunity for railway suppliers. The challenge for the industry will be cost-efficiency. Public finances will be constrained, and we must work together to become more efficient."

Network Rail is poised to make a major step this month. Devolution of its route management is set to go live on 14 November, with the routes then being riun largely as stand-alone business units, making their own decisions about budgeting and procurement.

Sir David continued: "We are now more than two years into Control Period 4, and we are expected to make fresh savings of 21 per cent by 2014, on top of the 27 per cent already agreed. We must become faster, higher and stronger, to use an Olympic metaphor.

"The windows of opportunity for maintenance are getting shorter too: the public expects to have trains rather than replacement buses."
The Network Rail CEO was not due to be the opening speaker, which was to have been transport minister Theresa Villiers. She had made the unpopular announcement about the award of the Thameslink contract to Siemens in June, and there had been speculation that she would not be keen to come to Derby in the wake of that decision.

Her office said that she had been obliged to pull out of the Derby event because 'urgent constituency matters' had required her attendance in her constituency of Chipping Barnet, on the northern fringe of London.
Even though Ms Villiers has not come to Derby, a group of protestors remained at the gates to the Derby Conference centre, continuing to press the case for a rethink over the £1.4 billion contract.
Although the union UNITE backed by Derby City Council is still hoping for a judicial review, transport ministers have continued to maintain that the Siemens contract is set to be signed in the new year.
Reader Comments:
Views expressed in submitted comments are that of the author, and not necessarily shared by Railnews.
The extra pantograph car added to voyager trains seems like a very good idea but its a proposal that has been on the cards for a number of years now ,which suggests to me the industry must be having some serious difficulty turning this idea into an achievable and working reality