Posted 18th May 2011 | 7 Comments
New Rail Delivery Group to start meeting 'within weeks'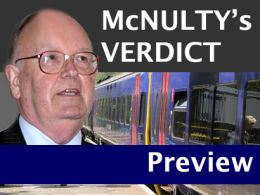 AS THE rail industry braces itself for the long-awaited McNulty report, it's been revealed that the Rail Delivery Group he is recommending will start meeting 'within weeks'.
Sir Roy is expected to make wide-ranging recommendations for saving money across the industry and also improving revenues by adjusting fares, particularly in the peak and shoulder peaks.
His plans are likely to trigger determined opposition from the rail unions as well as passenger watchdogs, because he is known to be critical of current pay levels in the industry and also expected to urge substantial reductions of staff numbers on trains and stations.
An industry source has told Railnews that the changes are to be co-ordinated by the new Rail Delivery Group, which will include two top-level directors from Network Rail as well as representatives of the main operators' groups, both passenger and freight.
Sir Roy himself is also expected to attend RDG meetings in an advisory capacity, but the new Group is not thought to include any representatives from the Department for Transport, although it seems inevitable that the transport secretary will be kept informed of its work.
The report is to be unveiled at the Office of Rail Regulation tomorrow morning.
Reader Comments:
Views expressed in submitted comments are that of the author, and not necessarily shared by Railnews.
Just look at the improvements made on the North London lines since London Overground took them on. From what was a free for all of fare dodgers and muggers is now an efficient, user friendly public service. They did this by putting staff back at the stations - many had been unstaffed for 20 - 30 years. The objective should be to efficiently provide a public service, not profits for the franchise holders.

Does the Rail Delivery Group not sound like British Rail Vertical Integration ?

The Rail Unions have got a point ( apart from their remaining Spanish Practises ) - strip out the Contract Managers , Lost Time Minute Assessors and other rail non jobs and get back to having a cost effective unified rail network

Maybe the Government will also reopen rail and tram lines in England - Certainly could do with them such as the ATOC report or Rail Development Society plans ) - Unfortunately the mad treasury economics will always rule against this due to the loss of petrol revenue being more important than the environmental benefits

It will be a refreshing read - looking forward to it even though it is probably based on ill-informed views of the industry.

"expected to urge substantial reductions of staff numbers on trains and stations" - It's already skeletal as it is.

The rail network is a sprawling and at times isolated place especially at night. Staff on Trains and at Stations making a visible presence ultimately deter some elements from the Network and improve safety, if they go the danger of assaults or worse on the public go up. The job they do is undervalued and unappreciated by the vast majority of people who don't use the network, but those who do realise you need staff and in some places more staff than you have now. It is a public service and not a licence to print money!!!

"also expected to urge substantial reductions of staff numbers on trains and stations".

Madness! As a rail passenger the staff are there for safety, helping with enquiries including local knowledge and making the whole fragmented system work.

Several times I have seen train staff use first aid and arrange for help at the next station.

Unstaffed stations can be daunting at night - I for one would like to pay a bit extra to have the visible, friendly and professional railway staff around - the ones we take for granted.