Posted 31st March 2011 | 7 Comments
East Coast Main Line flyover gets green light at last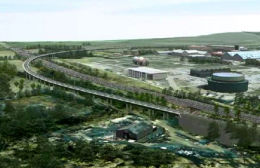 THE transport secretary Philip Hammond has approved Network Rail's proposal to build a flyover just north of Hitchin on the East Coast Main Line.
The new structure will carry the diverging Cambridge line, and the abolition of the present flat junction will remove conflicting movements which presently reduce ECML capacity.
Network Rail has calculated that the flyover, which has featured in ECML Route Utilisation Strategies for some years, would reduce delays by almost 30,000 minutes a year.
Over the past decade the number of passengers travelling between Peterborough and London has increased by 35 per cent, with an 18 per cent increase in journeys between London and Cambridge. The demand for passenger and also freight trains is expected to continue growing.
Network Rail route director Richard Lungmuss said: "As passenger numbers continue to rise, it's essential that we maintain investment in our rail network to provide extra capacity and support economic growth. The new rail link at Hitchin will benefit passengers across Cambridgeshire, bringing quicker and more reliable journeys on the line to Cambridge and King's Lynn and helping reduce delays on the busy East Coast Main Line to Huntingdon and Peterborough."
The go-ahead for the Hitchin flyover comes in the same week that Network Rail announced it had received more than £2m of private investment to improve and expand the main ticket hall at Cambridge station, and only weeks before work starts to boost capacity at Cambridge with the addition of two more platforms and a fully-accessible footbridge.
Work on the Hitchin flyover is expected to start later this year, with completion planned for early in 2014.
Reader Comments:
Views expressed in submitted comments are that of the author, and not necessarily shared by Railnews.
Why not reinstate track at Gordon Hill (halfway along the Hertford Loop line) station platform 4 and connect track at platform 1 to the through up line at its northern end. In this way fast services could pass stopping services at Gordon Hill. It would be relativelty low cost as the overhead wires at platform 1 are still in place.

The Welwyn bottleneck needs a new viaduct and two tunnels totalling appx a mile to solve - seriously expensive! Then again the exisiting viaduct will need replacing sometime...

Alternatively could upgrade power supply and line speed on the Hertford Loop and run Outer Surburban Fasts that way (probably need some four track to pass stoppers but still a lot cheaper) , wonder how many mins it would add. Even more likely is closing Welyn North at least peak times and running a bus link to Welwyn GC, could be an interesting pilot that offers a better service to commuters even though their station is shut - they can catch the bus (no more than a few mins walk, no car hassle/parking cost) to WGC where there're more trains as well.

Doubt there would be enough demand for Cambridge - Peterborough local journeys to justify the cost, there are already direct direct trains via Ely. More interesting to promote reopening of the Cambridge - Sandy - Bedford - Northampton line but it would have to be mainly on freight traffic.

Claydon, traffic is growing on all lines and regardless of HS2 (and hopefully HS3 directly releiving ECML/MML some day) a lot of capacity enhancement on exisiting Main Lines is urgently needed. Even this Government have been persuaded to approve the flyover. As the article says it will dramatically reduce delays already happening, it also allows much of the ECML that's currently below full capacity to carry more traffic. The WCML investment will still have to earn a return from sizeable franchise payments and it will be interesting to see how competition with HS2 develops.

Surely with HS2 providing future fast links to Leeds and beyond, there is no need for massive expenditure on the current ECML, just in the same way that all that massive investment on TV4 in Warwickshire and the wider WCML was a waste of money.

Let's get this flyover built first, then worry about the Welwyn bottleneck - which is in any case bound to cost millions. One palliative could be to provide island platforms at Welwyn North to get stopping trains off the main line for a while. But that would cost a lot as well. It's a problem which is just not cheaply solvable and will have to be faced chin first when it is tackled. TINA as Mrs Thatcher used to say. (There is no alternative.)

The remaining bottleneck to the South on the ECML will be the Welwyn tunnels and viaduct. Feasibilty studies costing millions were abandoned a couple of decades ago which at the time even resulted in a public exhibition of the options. I have heard that this section is at full train path capacity at peak times especially as in the twin track section is Welwyn North station where outer suburban FCC trains stop and effectively block the path to all other services to that direction of travel. It seems FCC are increasing the length of trains in some part to overcome this.
This problem was recognised and plans were apparently put forward before WW II to increase ECML capacity by providing quadruple tracks through this bottleneck - will it ever happen?

What about two Northern spurs off the new flyover on both the up and down sides at a little more cost . To give Cambridge,Royston ,Letchworth and Baldock a direct service to Arlsey,Sandy ,Biggleswade ,St Neots and Huntingdon( and Peterborough) without changing.You could make the flyover bi directionally signalled then add another spur off the up slow,facing south, to join the new flyover and another spur off the flyover facing north to join the down slow . No? Perchance to dream! I expect the junction would be so complicated it would make the cost of prohibitive.