Posted 7th October 2010 | 3 Comments
New Eurostar train goes on display in London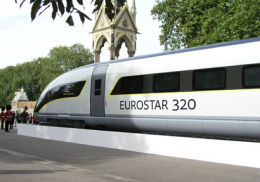 The mock-up of a Eurostar e320 went on show in Hyde Park
AFTER months of secrecy, Eurostar has confirmed that it is to buy 10 Siemens trainsets as the major part of a £700 million capital investment in its fleet.

The new e320 trainsets, which will be the latest member of the already well-established Velaro family, will be to a 'bespoke specification', and their wide route availability will allow the company to extend its operations to more European cities which potentially include Geneva and Lyon as well as the already-discussed routes to Amsterdam and Frankfurt.

Eurostar is not revealing the cost of the new trains, but it is believed to be in the region of £525 million. The remainder will be spent on a major upgrade of the existing fleet of 28 Eurostar sets from next year.

An example of the new 320km/h, 900-seat train was unveiled in London at an event attended by transport secretary Philip Hammond.

Journey times on existing routes are also set to be reduced, with London to Paris, presently 2h15 on the fastest trains, coming down to 'just over two hours'. New routes will offer such journey times as London to Amsterdam in under four hours and London to Geneva in around five hours.

The new fleet is being funded by a combination of cash and bank borrowing.

Eurostar said: 'Following completion of a competitive tender process, Eurostar has advised the participants of its decision to award the contract for the manufacture of new trainsets, subject to negotiation of final terms, to the train manufacturer, Siemens Plc.'

Eurostar has also unveiled details of its plans to upgrade its existing fleet, using the Italian designers Pininfarina.

It said: 'The interiors and external livery of both the e320 and the upgraded existing fleet will be designed by Pininfarina to a specification unique to Eurostar. This design draws on extensive passenger feedback and includes a number of innovative features that will create an exceptional travel experience for customers.
'In addition to offering a contemporary, stylish environment in which passengers can work or relax, the new Eurostar fleet will be equipped with the most advanced wi-fi and on-board 'info-tainment' on any train in Europe. This will include real-time travel and destination information as well as interactive entertainment including video-on-demand, music and news-feeds.'

It is already known that the choice of a German supplier has angered the French government. SNCF owns 55 per cent of Eurostar, and in the past all French High Speed trains have been built by the country's own train maker Alstom.

Reader Comments:
Views expressed in submitted comments are that of the author, and not necessarily shared by Railnews.
Wow!! What an impressive piece of kit.

I do hope the new E320 trains will have more room than current eurostar fleet, the journey to Paris and elswhere is very cramped and uncomfortable.......not to mention the fares, which are expensive in comparison to the german company DB. The (ICE) offers superb travel, good value and plenty of ROOM!!
The time when DB start their London-Frankfurt run cannot come soon enough.......