Posted 4th October 2010 | 15 Comments
Eurostar chooses Siemens, but French tempers rise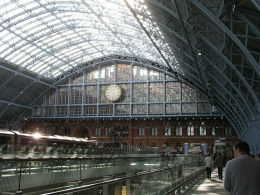 The first German train is due to arrive at St Pancras on 19 October
THE board of Eurostar has voted to proceed with a deal worth at least 600 million Euros to acquire 10 Siemens Velaro-D trains, each 400m long. They would allow Eurostar to operate new routes to the Netherlands and Germany, but the proposal is causing ripples in France, where ministers are opposing the purchase of foreign trains by an affiliate company of the state-owned rail operator SNCF.

Eurostar is gearing up to meet the competition which is posed by the introduction of open access on international EU routes at the start of this year, and the first visible manifestation of the new, liberal rules will be the arrival of a Deutsche Bahn ICE set under test at St Pancras International on 19 October.

DB wants to run trains between London and key German cities such as Frankfurt and Cologne, and various start dates have been quoted, including 2012 and 2013.

There are spare 'north of London' Eurostars in existence, which should have been used for regional Eurostars to British provincial cities. These services were never launched because journey times would have been uncompetitive compared to those offered by budget airlines.

Even though the NOL sets would theoretically be available to run on new routes, too many additional on-board systems would be needed to make them compatible with the lines in the Netherlands and Germany.

New trains, however, can be designed from the start to allow for these systems, which will include ERTMS as well as domestic Dutch signalling and traction current.

A further advantage of the new fleet will be its size: as the Velaros will never need to run on the British domestic network, unlike the original Eurostars when they used Waterloo, the 'next generation' Eurostars will be built to full European loading gauge.

As such, they would also be suitable for HS2 within Britain when that is built, and could run beyond London to Birmingham, Manchester and Leeds.

But even as Eurostar starts to sketch its new, enlarged network, tempers are rising in France at the prospect of a company partly owned by SNCF buying trains built in Germany.

The French government is said to be urging Eurostar to buy its trains only from French-owned Alstom, and there are accusations from the German side that the Anglo-French Inter Governmental Commission, which governs Channel Tunnel operating rules, will also be pressed not to permit Velaros to operate in service through the Tunnel on the grounds of safety.

This particular political row has to be carried on in whispers, because officially favouring one state's train-builder over another in this way would be a breach of European Union law.
Reader Comments:
Views expressed in submitted comments are that of the author, and not necessarily shared by Railnews.
Well French German or Matiens, Train sets crossing the channel tunel must be 400m throughout, must have no engine power generators under cariages to avoid fires , thats exactly the versus of the cheap killing german ICe, i will not hope a ICe derailement, but when this monster derail it kill peoples, i don't even know how EU let Seimens building this Jacknife unreliable train set across europe , i'll never ever get into this train, i was into the TGV who derailed at nearly 300km/h, i'm still alive because Alstom build the safetiest train in the world, any bullet train without using advanced Jacob Bogies technologies should never ever able to run ppls at those speeds!

Courious to know if the Eur 6 billion deal that Deutsche Bahn is negotiating with Siemens for Velaro trains in Germany was an open bid to all trainmakers.

Both the Siemens Velaro and Alstom AGV have distributed traction, so neither can run through the tunnel with the present regulations in place. Eurostar power cars have halon fire suppression, and could be detached in the event of fire. These new trains would not have any ability to separate, but would they have fire suppression on every motor? Also Siemens trains do not have articulated shared bogies like TGVs, and so proven less stable in (God forbid) derailments and accidents.

It's true Eurostar's current train fleet cannot run to Germany because 15kv current isnt sufficient to produce the power required. However there just isn't sufficient room in the drivers cab or in the power car for a further 4 signalling systems!! (German classic & high speed cab signalling, Dutch classic and ERTMS). The new trains would have this designed into them.

Interestingly, Eurostar's press event hints to new destinations - Netherlands, Switzerland, and south of France. No mention of Germany...hmmm...

Wonderful news. Those French narrow trains made me claustrophobic, even when not in the tunnel.

Hopefully a decent connection from Amsterdam to London in two years time without a two hour check in at an airport. In those two hours this train would have passed Brussels already.

And to France I would just say two words.... Get lost.

All this competiton is good news fro the traveller. However are both the ICE and Velaro trians to comply with the rigorous fire safety specifactions, using non combustable/toxic materials and have 30 minute fire barries between cars, as currently specifed for existing Eurostars. ( & the ill fated Nightstock).
Will safety in the tunnel be compromised by these new trains?

> David

Whether there is a risk to passenger trains or not, there are existing safty regulations that any new rail vehicals using the chunnel will need to comply with.

This interference by the French Government is an extension of their efforts to keep DB out of the French market. It is a clear case of political interference and of anti-competative behaviour.


Long time coming. The HS1 line is very much under used and at the moment is a white elephant.

Should be giving it to a British Builder.... 300kph Parry People Mover!!

As a French resident I'd advise Siemens not to consider this contract safe even when it's signed. Don't ever underestimate the sheer naked chauvinism of French governments of all persuasions, and the power of French public opinion.

France has 50 years' experience of finding highly effective ways of sidestepping all EU rules and legislation - just look at how the French domestic market is in theory, and under strict EU rules, now technically open to competitive operators, yet... quel surprise... 99% of all services are still run by SNCF!

Britain is the only major European country to have lost both its 'national champion' operator and its ability to build high speed trains, yet politicians of all hues seem blithely unconcerned about this shameful situation.

'Unlikely' isn't 'impossible'... Risk must be negligible but so must impact. Insurance compensates but doesn't prevent the event. Pre-emptive planning means belt and braces but at least we're alive afterwards. High-speed running is higher risk, greater stress on everything, therefore protection must be greater. Everything's invisible until it goes wrong...

Interesting that, even though it is against the rules, the French politicians still get upset that Eurostar have ordered French trains.

Compare that to the UK politicians... they continue to place orders for trains built outside the UK, blissfully unaware that they will destroy what left of our manufacturing.

Smth. is wrong with Alstom, they are losing one large contract after another in the transport market. Seems like they have entered in a period of complacency and are having problems weaking up and realizing that there are others in the high speed train market, let alone the conventional trains. What they are selling lately are just a couple of trams here and there.

Good news to see that Eurostar is looking to expand its services.

It seems like the French are attacking the relaxation of the rules on distributed traction, but seeing as Alstom was offering the AGV, isn't that kind of shooting themselves in the foot?

As for refurbishing the NoL sets, one of the issues is that the TGV family doesn't have the power to weight ratio needed to traverse the Cologne - Frankfurt NBS on 15kV, so like Thalys, Eurostar would never be able to offer services to Frankfurt if they used these sets.

But the whole argument seems to hinge on there having already been fires in the tunnel - yet I have not seen one commentator point out that these were on lorry shuttles, not the controlled environment of electric trains carrying no fuel and wholly owned by the train company. The French are trying to overplay the risk of something that is very unlikely.