Posted 19th August 2010 | 3 Comments
Video shows '49 second margin' in tube runaway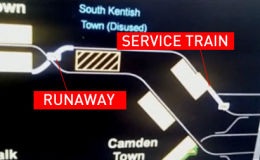 A LEAKED video of an Underground control room diagram suggests that a runaway rail grinding vehicle was less than a minute behind a Northern Line train with passengers on board.

The incident happened early on 13 August, when a failed rail grinder became uncoupled from a rescue train at Archway and ran out of control for 6km, only coming to a stand when it encountered a rising gradient at Warren Street.

As the grinder made its way south without a driver, Underground controllers cleared the Charing Cross branch of the Northern Line and diverted all trains on to the City branch.

It is also reported that the driver of the brakeless rail grinding vehicle jumped clear at Highgate, and that passengers on a train ahead of the runaway were told to move to the front cars in case the runaway caught up. For a while the gap was allegedly as little as 49 seconds.

The grinder was being used by Amey, under contract to the TfL-owned company Tube Lines. The former public-private partnership company was bought by Transport for London in June after the PPP Arbiter said the funding needed for Tube Lines to continue independently as a PPP contractor was a 'financial impossibility'.

Transport for London is not commenting on the details of the leak, made to the BBC. A full inquiry has been launched by the Rail Accident Investigation Branch which will publish its findings.

A TfL spokesman said: "Safety is our top priority and the events last Friday remain under investigation. We would not wish to pre-empt the outcome, but once all the facts have been verified we will publish the report, making all its conclusions clear.
"We once again pay tribute to our quick-thinking line control staff who acted swiftly to ensure that risk was minimised."
Reader Comments:
Views expressed in submitted comments are that of the author, and not necessarily shared by Railnews.
It is more likely as another case of sloppy workmanship on the part of those responsible for ensuring the vehicle was properly coupled up.

These things happen I am just surprised that it made it into the paper because normally they don't!!

How much longer is it going to take(and how many more near misses)
to make the industry realise privatisation is a complete disaster!

This would not have happened under the 'old' LT and giving the track contracts
to a cowboy company isnt the answer, and i will bet the workers involved werent even
British either.